Eco de l'info
Google Secretly Invested $100+ Million In Zynga, Preparing To Launch Google Games. Google has quietly (secretly, one might say) invested somewhere between $100 million and $200 million in social gaming behemoth Zynga, we've confirmed from multiple sources.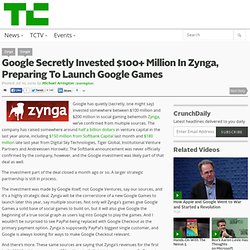 The company has raised somewhere around half a billion dollars in venture capital in the last year alone, including $150 million from Softbank Capital last month and $180 million late last year from Digital Sky Technologies, Tiger Global, Institutional Venture Partners and Andreessen Horowitz. The Softbank announcement was never officially confirmed by the company, however, and the Google investment was likely part of that deal as well. The investment part of the deal closed a month ago or so. A larger strategic partnership is still in process. The investment was made by Google itself, not Google Ventures, say our sources, and it's a highly strategic deal. Facebook, Zynga, Groupon... la valeur des stars du web social a bondi de 300% en un an.
L'emballement des investisseurs pour les étoiles montantes du web ne faiblit pas.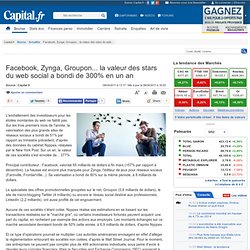 Sur les trois premiers mois de l'année, la valorisation des plus grands sites de réseaux sociaux a bondi de 51% par rapport au trimestre précédent, d'après des données du cabinet Nyppex, relayées par le New York Post. Sur un an, la valeur de ces sociétés s'est envolée de... 377%. Report: Zynga Worth More Than $3.3 Billion. A new report by Global Silicon Valley Partner's NeXt Up Research states that Zynga, the world's top Facebook Application developer, may have a valuation of more than $3.3 billion.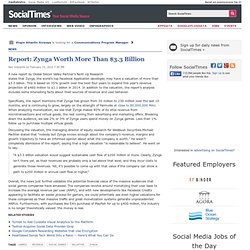 This is based on 35% growth over the next four years to expand this year's revenue projection of $460 million to $1.1 billion in 2014. In addition to the valuation, the report's analysis includes some interesting facts about their sources of revenue and user behavior. Specifically, the report mentions that Zynga has grown from 30 million to 230 million over the last 10 months, and is continuing to grow, largely on the strength of Farmville at close to 80,000,000 MAU.
Zynga by the Numbers. By this point everyone has heard of Zynga, the company behind Facebook megahit FarmVille and a slew of other hit social games.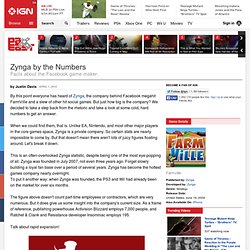 But just how big is the company? We decided to take a step back from the rhetoric and take a look at some cold, hard numbers to get an answer. Zynga Pushing Nine Figures In Revenues Thanks To Micro-Transactions. Zynga, the online gaming publisher, is making a ton of money.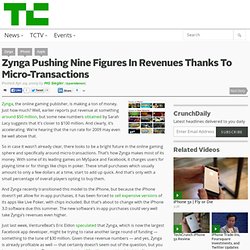 Just how much? Well, earlier reports put revenue at something around $50 million, but some new numbers obtained by Sarah Lacy suggests that it's closer to $100 million. And clearly, it's accelerating. We're hearing that the run rate for 2009 may even be well above that. So in case it wasn't already clear, there looks to be a bright future in the online gaming sphere and specifically around micro-transactions. Scamville: The Social Gaming Ecosystem Of Hell. Last weekend I wrote about how the big social gaming companies are making hundreds of millions of dollars in revenue on Facebook and MySpace through games like Farmville and Mobsters.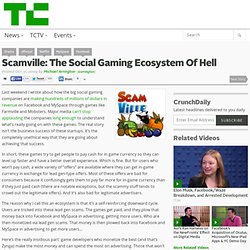 Major media can't stop applauding the companies long enough to understand what's really going on with these games. The real story isn't the business success of these startups. It's the completely unethical way that they are going about achieving that success. The Zynga Statistics: Games, Platforms, Timeline and Revenue Analysis. One of the hottest startups right now is, without a doubt, Zynga.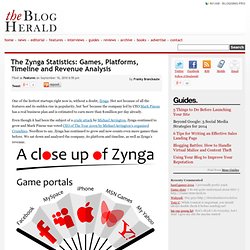 Hot not because of all the features and its sudden rise in popularity, but 'hot' because the company led by CEO Mark Pincus has a real business plan and is estimated to earn more than $1million per day already. Even though it had been the subject of a crude attack by Michael Arrington, Zynga continued to grow and Mark Pincus was voted CEO of The Year 2009 by Michael Arrington's organised Crunchies.
Needless to say, Zynga has continued to grow and now counts even more games than before. We sat down and analysed the company, its platform and timeline, as well as Zynga's revenue. Many thanks to the team of Infographiclabs who created this graphic for us. Zynga Reveals Profit And Revenues As It Looks To Raise $500 Million - Agustino Fontevecchia - Moral Hazard. Farmville, la poule aux œufs d'or de Zynga. Le Monde.fr | • Mis à jour le | Par Laurent Checola Trois ans seulement après sa création, Zynga a remporté la bataille des applications ludiques sur Facebook.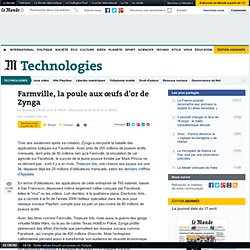 Avec près de 250 millions de joueurs actifs mensuels, dont près de 80 millions rien qu'à Farmville, la simulation de vie agricole sur Facebook, le succès de la jeune pousse fondée par Mark Pincus ne se dément pas : sorti il y a un mois, Treasure Isle, une chasse aux joyaux sur une île, dépasse déjà les 25 millions d'utilisateurs mensuels, selon les derniers chiffres d'Appdata. En terme d'utilisateurs, les applications de cette entreprise de 760 salariés, basée à San Francisco, dépassent même largement celles conçues par Facebook, telles le "mur" ou les vidéos. Loin derrière, à la quatrième place, Electronic Arts, qui a racheté à la fin de l'année 2009 l'éditeur spécialisé dans les jeux pour réseaux sociaux Playfish, compte pour sa part un peu moins de 60 millions de joueurs actifs.
The Latest Stats on Zynga: New Traffic, Revenue and a $1 Billion Valuation? As the largest and most aggressive social gaming company on the market today, Zynga is a great target for rumor, speculation and criticism.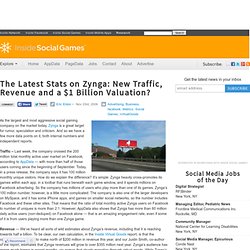 And so we have a few more data points on it, both internal numbers and independent reports. Traffic – Last week, the company crossed the 200 million total monthly active user market on Facebook, according to AppData — with more than half of those users coming since the beginning of September. We Estimate Zynga Revenues Around $270M In 2009 And $240M In 2010 YTD. This is a guest post by Jeremy Liew, a managing director at Lightspeed Venture Partners where he invests in the internet and mobile sectors.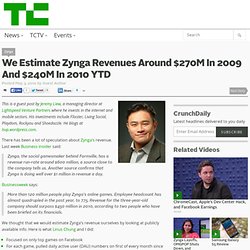 His investments include Flixster, Living Social, Playdom, Rockyou and Shoedazzle. He blogs at lsvp.wordpress.com. We estimate Zynga revenues around $270M in 2009 and $240M in 2010 YTD. This also appears as a guest post on Techcrunch There has been a lot of speculation about Zynga's revenue. Last week Business insider said:
---