Eco de l'info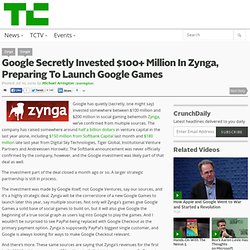 Google has quietly (secretly, one might say) invested somewhere between $100 million and $200 million in social gaming behemoth Zynga, we've confirmed from multiple sources. The company has raised somewhere around half a billion dollars in venture capital in the last year alone, including $150 million from Softbank Capital last month and $180 million late last year from Digital Sky Technologies, Tiger Global, Institutional Venture Partners and Andreessen Horowitz.
Google Secretly Invested $100+ Million In Zynga, Preparing To Launch Google Games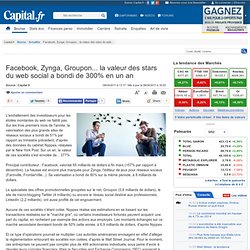 L'emballement des investisseurs pour les étoiles montantes du web ne faiblit pas. Sur les trois premiers mois de l'année, la valorisation des plus grands sites de réseaux sociaux a bondi de 51% par rapport au trimestre précédent, d'après des données du cabinet Nyppex, relayées par le New York Post. Sur un an, la valeur de ces sociétés s'est envolée de... 377%.
Facebook, Zynga, Groupon... la valeur des stars du web social a bondi de 300% en un an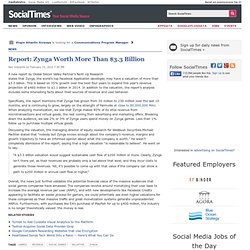 A new report by Global Silicon Valley Partner's NeXt Up Research states that Zynga, the world's top Facebook Application developer, may have a valuation of more than $3.3 billion.
Report: Zynga Worth More Than $3.3 Billion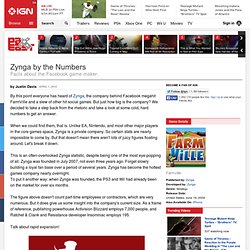 By this point everyone has heard of Zynga , the company behind Facebook megahit FarmVille and a slew of other hit social games. But just how big is the company? We decided to take a step back from the rhetoric and take a look at some cold, hard numbers to get an answer.
Zynga by the Numbers
Zynga Pushing Nine Figures In Revenues Thanks To Micro-Transactions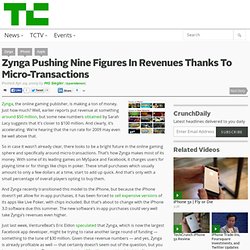 Zynga, the online gaming publisher, is making a ton of money. Just how much?
Last weekend I wrote about how the big social gaming companies are making hundreds of millions of dollars in revenue on Facebook and MySpace through games like Farmville and Mobsters.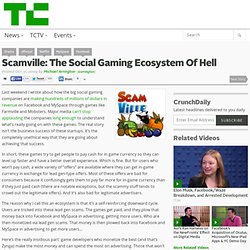 Scamville: The Social Gaming Ecosystem Of Hell
The Zynga Statistics: Games, Platforms, Timeline and Revenue Analysis
Le Monde.fr | • Mis à jour le | Par Laurent Checola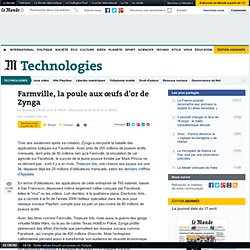 Farmville, la poule aux œufs d'or de Zynga
As the largest and most aggressive social gaming company on the market today, Zynga is a great target for rumor, speculation and criticism. And so we have a few more data points on it, both internal numbers and independent reports. Traffic – Last week, the company crossed the 200 million total monthly active user market on Facebook, according to AppData — with more than half of those users coming since the beginning of September.
The Latest Stats on Zynga: New Traffic, Revenue and a $1 Billion Valuation?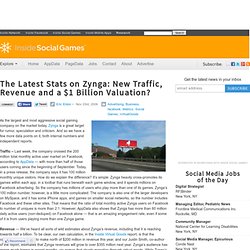 We Estimate Zynga Revenues Around $270M In 2009 And $240M In 2010 YTD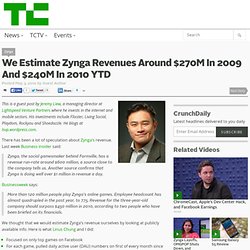 This is a guest post by Jeremy Liew, a managing director at Lightspeed Venture Partners where he invests in the internet and mobile sectors. His investments include Flixster, Living Social, Playdom, Rockyou and Shoedazzle. He blogs at lsvp.wordpress.com.
We estimate Zynga revenues around $270M in 2009 and $240M in 2010 YTD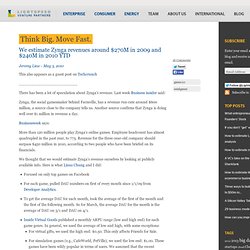 This also appears as a guest post on Techcrunch There has been a lot of speculation about Zynga's revenue. Last week Business insider said: