Curators: who are they?
The 7 Needs of Real-Time Curators — I keep hearing people throw around the word "curation" at various conferences, most recently at SXSW.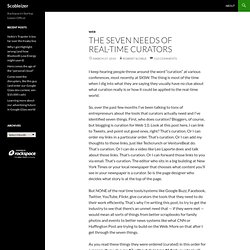 The thing is most of the time when I dig into what they are saying they usually have no clue about what curation really is or how it could be applied to the real-time world. So, over the past few months I've been talking to tons of entrepreneurs about the tools that curators actually need and I've identified seven things. First, who does curation? Bloggers, of course, but blogging is curation for Web 1.0. Look at this post here, I can link to Tweets, and point out good ones, right? The curator attributes and skills. What skills do I need to have if I want to be an effective real-time news curator?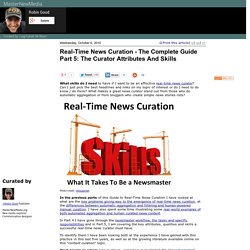 Can I just pick the best headlines and links on my topic of interest or do I need to do know / do more? What makes a great news curator stand out from those who do automatic aggregation or from bloggers who create simple news stories lists? Photo credit: thesuperph In the previous parts of this Guide to Real-Time News Curation I have looked at what are the key problems giving way to the emergence of real-time news curation, at the differences between automatic aggregation and filtering and human-powered manual curation. I have also spent some time illustrating some real-world examples of both automated aggregation and human curated news content. Why Is The Content Curator The Key Emerging Online Editorial Role Of The Future? What is content curation and why is it so important for the future of web content publishers?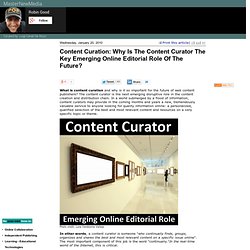 The content curator is the next emerging disruptive role in the content creation and distribution chain. In a world submerged by a flood of information, content curators may provide in the coming months and years a new, tremendously valuable service to anyone looking for quality information online: a personalized, qualified selection of the best and most relevant content and resources on a very specific topic or theme. Photo credit: Luna Vandoorne Vallejo In other words, a content curator is someone "who continually finds, groups, organizes and shares the best and most relevant content on a specific issue online".
The Digital Curator in Your Future. The Clip Report: An eBook on the Future of Media In the early 1990s when I began my career in PR there were clip reports.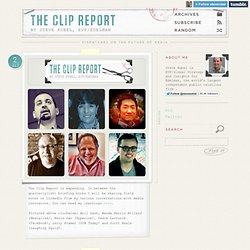 These were physical books that contained press clips. It seems downright archaic now but that's how I learned about the press - by cutting, pasting up and photocopying clippings. My fascination with the media never abated.
---