Stratégie/Curation/Strategy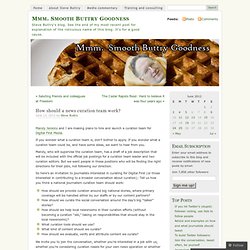 June 13, 2012 by Steve Buttry Mandy Jenkins and I are making plans to hire and launch a curation team for Digital First Media. If you wonder what a curation team is, don't bother to apply.
How should a news curation team work?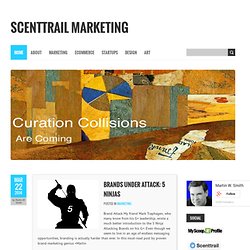 5 Content Curation Secrets ScentTrail Marketing
I have a few curating secrets I haven't seen widely written or shared.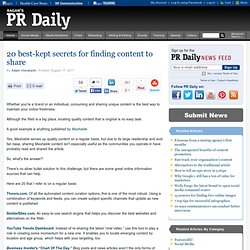 Whether you're a brand or an individual, consuming and sharing unique content is the best way to maintain your online freshness. Although the Web is a big place, locating quality content that is original is no easy task. A good example is anything published by Mashable. Yes, Mashable serves up quality content on a regular basis, but due to its large readership and avid fan base, sharing Mashable content isn't especially useful as the communities you operate in have probably read and shared the article. So, what's the answer?
News curators must collect, summarize, make sense, add value, attribute, link, intrigue and entice.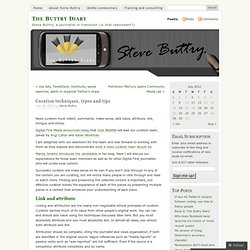 Curation techniques, types and tips
I recently attended The Creators Project in San Francisco, a globe-roaming two day free event that celebrates an eclectic mix of avant-garde music and arts installations, and attracted tens of thousands of people. It could have easily been re-named "The Curators Project" because of the superb collection of bands, artists, installations, and even food trucks -- all carefully selected by a small team of curators.
Intel's multi-million dollar "Creators Project' - can great curation build brands?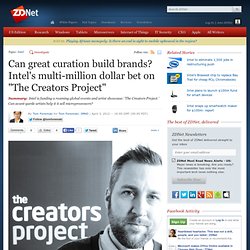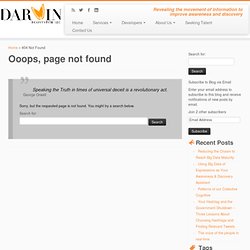 The 7 Roadblocks to Content Curation
The 7 Roadblocks to Content Curation
J'ai eu le privilège de donner une conférence/formation à près de 70 bibliothécaires, archivistes et agents de recherche de Bibliothèque et Archives nationales du Québec (BAnQ) à la mi-février 2012.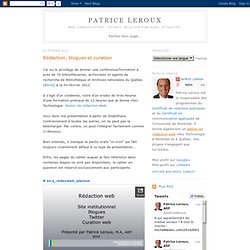 Rédaction, blogues et curation
Voici ma présentation (intégrée à partir de Slideshare dans un billet) donnée à près de 70 bibliothécaires, archivistes et agents de recherche de Bibliothèque et Archives nationales du Québec en février 2012. by lerouxpa Feb 20
Social Media Influencers' 5Ws For Content Curation
01net le 14/03/11 à 16h00 Etymologie La pratique qui consiste à sélectionner, éditorialiser et partager du contenu a été baptisée par les Américains curation ou Content Curation, par analogie avec la mission du curator, le commissaire d'exposition chargé de sélectionner des œuvres d'art et de les mettre en valeur pour une exposition. Les termes curation et curator prennent leurs racines étymologiques dans le latin cura, le soin.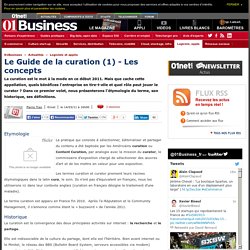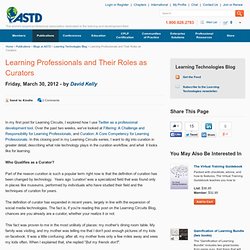 Learning Professionals and Their Roles as Curators
In my first post for Learning Circuits, I explored how I use Twitter as a professional development tool.
L'influence dans les médias sociaux : Les 10 étapes de la curation de contenus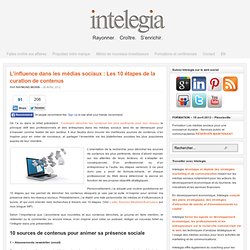 On l'a vu dans le billet précédent : Comment dénicher les contenus les plus pertinents pour son réseau, le principal défi des professionnels et des entreprises dans les médias sociaux sera de se démarquer pour s'imposer comme leader de son secteur. Il leur faudra donc trouver les meilleures sources de contenus, s'en inspirer pour en créer de nouveaux, et partager l'ensemble via les plateformes sociales les plus populaires auprès de leur clientèle.
I keep hearing people throw around the word "curation" at various conferences, most recently at SXSW. The thing is most of the time when I dig into what they are saying they usually have no clue about what curation really is or how it could be applied to the real-time world. So, over the past few months I've been talking to tons of entrepreneurs about the tools that curators actually need and I've identified seven things. First, who does curation?
Content marketing is powerful, but with blogging, article marketing, content curation and more, there are tons of options to consider.
Content Curation vs. Content Creation: Finding the Right Combination « « Writtent.com: Internet Marketing Blog.
Peut-être avez-vous lu l'article du dossier sur la curation dans Documentaliste Sciences de l'information de mars 2012 ? Comme je l'expliquai voici quelques minutes sur Eric-Delcroix.com dans dossier Curation de Documentaliste Sciences de l'information ce n'est que l'extrait d'un article plus long que voici.
curation et community management - curateur et community manager : quel rapports - Les z'edLes z'ed