Meant to Inspire
Places, thoughts and wisdom that help keep an open mind and expand my world
Four Keys To Apple's Success - Tech Europe. Joswiak: Try to be the best, or don't enter the market Dressed in a suitably flamboyant shirt, Greg Joswiak ("Call me "Jos"') is part of the product marketing team who brought us the iPod, the iPhone and the iOS.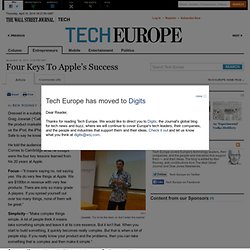 Safe to say he knows about marketing. He told the audience at Silicon Valley Comes to Cambridge what he thought were the four key lessons learned from his 20 years at Apple. Focus—"It means saying no, not saying yes. 20Calendars. Ispirati e scatta Scarica gratuitamente da iTunes l'App Lavazza 20Calendars e scatta le tue foto.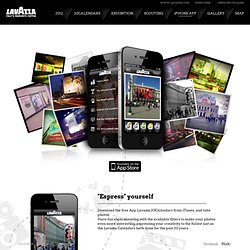 Divertiti ad applicare i filtri a tua disposizione per rendere le tue foto ancora più interessanti portando alla massima espressione la tua creatività proprio come accade da 20 anni nei Calendari Lavazza. "Espress" yourself. How to Pitch an Idea to Your Boss, Colleagues and Customers. Enterprising beings are always in the hunt for good ideas on how to pitch better solutions.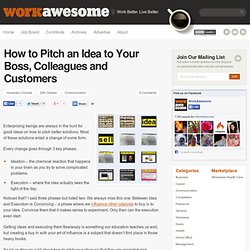 Most of these solutions entail a change of some form. Every change goes through 3 key phases: The Power of Uncertainty. Projects fail all the time because we unwittingly bake the end solution into our initial objective.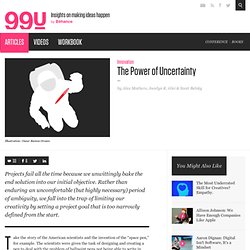 Rather than enduring an uncomfortable (but highly necessary) period of ambiguity, we fall into the trap of limiting our creativity by setting a project goal that is too narrowly defined from the start. Take the story of the American scientists and the invention of the "space pen," for example. 7 Tips For Rapid Iteration (aka The Quirky Approach) My career has been all about rapid iteration – generating lots of ideas and then quickly testing them to find the ones worth pursuing.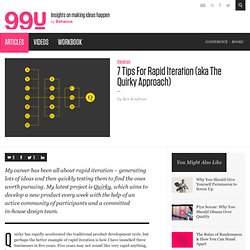 My latest project is Quirky, which aims to develop a new product every week with the help of an active community of participants and a committed in-house design team. Quirky has rapidly accelerated the traditional product development cycle, but perhaps the better example of rapid iteration is how I have launched three businesses in five years. For Great Leadership, Clear Your Head - Joshua Ehrlich. By Joshua Ehrlich | 10:17 AM September 14, 2011 Getting stuff done is overrated. Knowing where you are going and how to get there — strategy — is everything. But many managers still spend too much time doing and not enough time thinking. Your first challenge is learning how to stop the action. But focusing and thinking about the big picture are not as simple as blocking out time and turning off your devices. The Creativity Crisis? What Creativity Crisis? - Michael Schrage. By Michael Schrage | 4:06 PM August 25, 2010 The most important thing to understand about America's "crisis of creativity" is that there isn't one.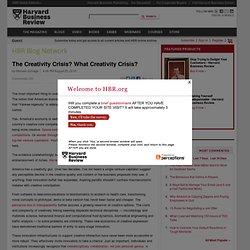 The notion that American business creativity is either at risk or in decline is laughable. Arguments that "Yankee ingenuity" is ebbing into oxymoron are ludicrous. Four Destructive Myths Most Companies Still Live By - Tony Schwartz. By Tony Schwartz | 11:17 AM November 1, 2011 Myth #1: Multitasking is critical in a world of infinite demand.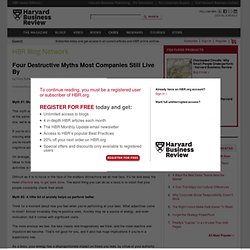 This myth is based on the assumption that human beings are capable of doing two cognitive tasks at the same time. The Nine Passions Of 3M's Mauro Porcini. Mauro loves his pink lion.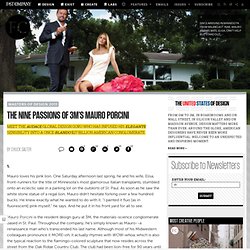 One Saturday afternoon last spring, he and his wife, Elisa, front-runners for the title of Minnesota's most glamorous Italian transplants, stumbled onto an eclectic sale in a parking lot on the outskirts of St. Paul. As soon as he saw the white stone statue of a regal lion, Mauro didn't hesitate forking over a few hundred bucks. 10 Amazing Life Lessons You Can Learn From Albert Einstein. Einstein has made great contributions to the scientific world, including the theory of relativity, the founding of relativistic cosmology, the prediction of the deflection of light by gravity, the quantum theory of atomic motion in solids, the zero-point energy concept, and the quantum theory of a monatomic gas which predicted Bose–Einstein condensation, to name a few of his scientific contributions.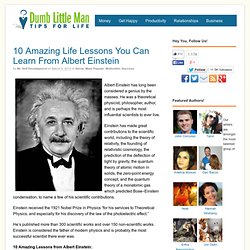 Einstein received the 1921 Nobel Prize in Physics "for his services to Theoretical Physics, and especially for his discovery of the law of the photoelectric effect." He's published more than 300 scientific works and over 150 non-scientific works. 30 Really Informative and Beautiful Infographics. Infographics are another sources of interesting information, when you are in need of some. Reading boring, long, color-less articles isn't such attractive and interesting rather than reading and viewing facts, numbers in an illustrated way. In the round-up of this week, we have compiled more than 30 nice-looking, well-designed and informative posters and infographics.
The Online Communities The following infographic shows us a detailed world map, containing the most popular websites, social networks and communication applications, from all over the world. Critical Thinkers. 79 Totally Awesome Infographics – Creative! Современное образовательное учреждение осуществляют самую разностороннюю деятельность: интеллектуальное развитие, нравственное воспитание детей, развитие творческих способностей, художественного вкуса, укрепление здоровья.
Все это вы найдете в Прогимназии № 1633. Здесь Вашим детям предлагаются только современные образовательные программы, современные учебные классы, лаборатории, игровые. Результаты многих исследований и опыта работы, что ученикам дошкольных учреждений и начальной школы самостоятельно достаточно сложно определить сферу своих интересов. Поэтому в задачах прогимназии – познакомить детей с самыми разными видами деятельности и помочь определиться с выбором. В учебном заведении действует психолого-педагогическая служба, которая может порекомендовать ученикам и родителям подходящую учебную программу, организована помощь социального педагога и логопеда.
Interactive. The World of Seven Billion The map shows population density; the brightest points are the highest densities. Each country is colored according to its average annual gross national income per capita, using categories established by the World Bank (see key below).
Some nations— like economic powerhouses China and India—have an especially wide range of incomes. But as the two most populous countries, both are lower middle class when income is averaged per capita. The 10 Commandments of Steve Jobs [Infographic] Newsweek's The Daily Beast published an interesting infographic on Steve Jobs and his supposed playbook for managing the creative process at Apple. The "10 Commandments of Steve" are: Go for perfectTap the expertsBe ruthlessShun focus groupsNever stop studyingSimplifyKeep your secretsKeep teams smallUse more carrot than stickPrototype to the extreme Click on the image, visit NewsWeek, or jump below to see a larger version of the infographic and read the subtext.
It'll be interesting to see how closely these ideals are followed now that Steve stepped down from the CEO position, but I'd bet things won't change much at Apple for quite some time. Steve Jobs: Parting Quotes For Today's Entrepreneurs. By now you've likely heard that Steve Jobs has resigned as CEO of Apple and plans to continue as chairmen of the board. COO, Tim Cook, who has filled in for Jobs in recent years during his various medical leaves while he first battled pancreatic cancer and then recovered from a liver transplant, will step in as CEO. There is much to be analyzed and reported on regarding this announcement. Every newspaper, blog and tech news outlet in the world is weighing in right now with their take on what this means for Apple, the tech industry itself, Steve Jobs and his legacy.
In today's world of 2011, we tend to focus on only Steve Jobs, the CEO. What I Learned From Steve Jobs. A Manifesto For Free Radicals: Less Paperwork, Less Waiting, More Action. 19 Reasons To Ignore Everybody And Follow Your Dreams. Nine Things Successful People Do Differently - Heidi Grant Halvorson. Entrepreneurship as Disease - Jeff Stibel. The Four Capacities Every Great Leader Needs (And Very Few Have) - Tony Schwartz. Six Keys to Changing Almost Anything - Tony Schwartz. 11 Inspiring Life Lessons from Bruce Lee.
---