Rpg
Asguaard (2009) screenshots - MobyGames
The Wekufe also known as huecufe , wekufü , watuku , huecufu , huecubo , huecubu , huecuvu , huecuve , huecovoe , giiecubu , güecubo , güecugu , uecuvu , güecufu; is an important type of harmful spirit or demon in Mapuche mythology . The word wekufe comes from the Mapudungun word wekufü meaning "demon, outside being". [ edit ] Concept In the Mapuche language, Mapudungun , the word wekufe can be attributed to any person that tells lies or is deceptive. It was only after the arrival of Catholicism when the Mapuche people had gained the concept of evil that the word becoming associated with demons.
Wekufe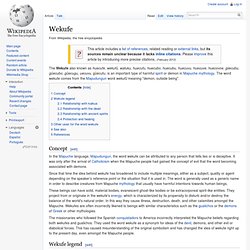 "The Pirates of Dark Water" -- An AD&D Campaign Setting
That was the opening monologue from the Pirates of Dark Water cartoon series. The above words pretty much summarize the entire plot of the show. It aired for only 21 episodes back in the mid- to late-1980's.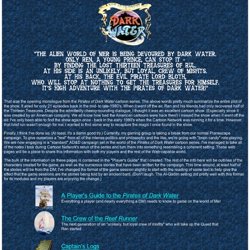 Civil War Battlefields - Learn About The American Civil War | Civil War Preservation Trust
Town and City Maps on #Cartography-Guild - deviantART
#Paizonians deviantART Gallery
House Rules: Parry,Toughness, Pace, and Charisma – Radiation Sings…
You may not have noticed, but two of the many things I enjoy are math and consistency. By and large, Savage Worlds is math-lite, which is often a good thing when creating characters or running games on the fly. I appreciate and enjoy that. Savage Worlds is also very consistent, setting a standard target number and applying bonuses and penalties to players' rolls. This keeps things from getting too complicated and further reduces the math load on our poor brains. Touche, mon ami!
FATE , Fantastic Adventures in Tabletop Entertainment , is a generic role-playing game system based on the FUDGE gaming system. It has no fixed setting, traits, or genre and is almost entirely customizable. It is designed to offer the least possible obstruction to role-playing by assuming that players do not want to make large amounts of dice rolls.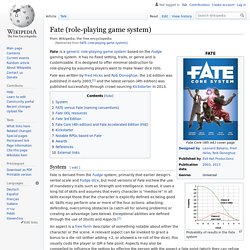 FATE (role-playing game system)
Cartoon Action Hour
Cartoon Action Hour is a role-playing game (RPG) designed to emulate classic action-adventure cartoons, such as ThunderCats , He-Man , Transformers , G.I. Joe , Visionaries , Inhumanoids , Centurions , Thundarr the Barbarian , M.A.S.K. , and Bravestarr . [ 1 ] It was e-published by Spectrum Games as a PDF role-playing game in early 2002, [ 1 ] where it garnered a sizable cult following. This prompted Z-Man Games to offer to publish the game as a hardcopy edition.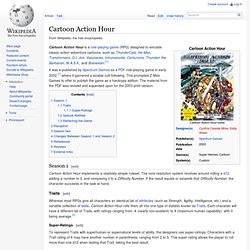 My Life With Master is a roleplaying game of " villainy, self-loathing, and unrequited love " where players take on the roles of The Igors serving under a mad scientist or other evil Master, the latter played by the Game Master but collectively created by the group. It is one of the standout modern indie rpgs, to be namedropped at every occasion for the sake of your indie rpg cred.
My Life With Master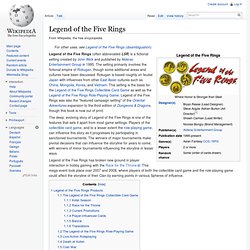 Legend of the Five Rings (often abbreviated L5R ) is a fictional setting created by John Wick and published by Alderac Entertainment Group in 1995. The setting primarily involves the fictional empire of Rokugan , though some additional areas and cultures have been discussed. Rokugan is based roughly on feudal Japan with influences from other East Asian cultures such as China , Mongolia , Korea , and Vietnam . This setting is the basis for the Legend of the Five Rings Collectible Card Game as well as the Legend of the Five Rings Role-Playing Game . Legend of the Five Rings was also the "featured campaign setting" of the Oriental Adventures expansion to the third edition of Dungeons & Dragons , though this book is now out of print. The deep, evolving story of Legend of the Five Rings is one of the features that sets it apart from most game settings.
Legend of the Five Rings
Adventure! Action! Amusement!
Spartan Games
SLA Industries RPG - Cubicle 7 Entertainment Web Store
boxninja.com
Fading Suns is a science fiction space opera role-playing game published by Holistic Design . The setting was also used for a PC game ( Emperor of the Fading Suns ), a live action role-playing game ( Passion Play ), and for a space combat miniature game ( Noble Armada ). [ edit ] Game setting
Fading Suns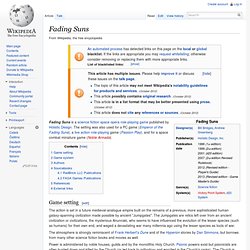 RPG - shared folder - free file sharing and storage
Traveller (game)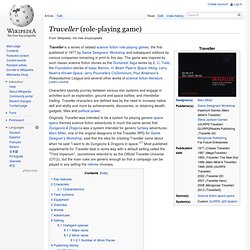 Traveller is a series of related science fiction role-playing games , the first published in 1977 by Game Designers' Workshop and subsequent editions by various companies remaining in print to this day. The game was inspired by such classic science fiction stories as the Dumarest Saga series by E. C. Tubb , the Foundation stories of Isaac Asimov , H. Beam Piper 's Space Viking , Larry Niven 's Known Space , Jerry Pournelle 's CoDominium , Poul Anderson 's Polesotechnic League and several other works of science fiction literature [ citation needed ] . Characters typically journey between various star systems and engage in activities such as exploration, ground and space battles, and interstellar trading.
The Metabarons Roleplaying Game is a role-playing game set within the mystically-inclined and oppressive space opera setting, the Jodoverse created by Alexandro Jodorowsky originally in the form of French language comic books . In the game, players play, not the Metabarons themselves, but common folk in the same universe affected by the Metabarons. Progress in the game depends heavily on adhering to a personal (and in many cases, self-created) honor code , though not one usually based on a simple good/evil or wrong/right dichotomy, and on resisting the Necrodream, representing complacency, laziness and apathy . [ edit ] Books and Supplements
The Metabarons Roleplaying Game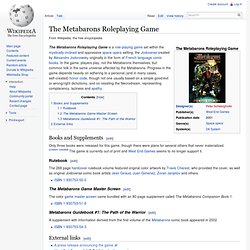 The Morser 3 by ~Landstormer on deviantART
Warhammer 40,000 Roleplay
Warhammer 40,000 Roleplay is a role-playing game with multiple source books that share a common system and share the dark, gothic background prevalent within the Warhammer 40,000 fantasy universe. The first source book, Dark Heresy , concentrates on agents of the Inquisition . Originally the games future was uncertain as Games Workshop decided to shut down Black Industries , however the label was picked up by Fantasy Flight Games which has released all further materials. Rogue Trader covers interstellar travel, traders, and xenos . Deathwatch allows players to create Space Marines . A fourth source book, Black Crusade , was published in 2011.
modular charsheets
This is a list of role-playing games , subdivided by genre (although many games do not fit clearly into one genre or another). It does not include role-playing video games , MMORPGs , or any other video games with RPG elements. Most of these games are tabletop role-playing games ; other types of games are noted as such where appropriate. [ edit ] Contemporary action/adventure/espionage/military
List of role-playing games by genre
Dice roller