WANT
Tentsile, the Portable Treehouse. Want to go camping, but afraid of bugs, snakes, or bears?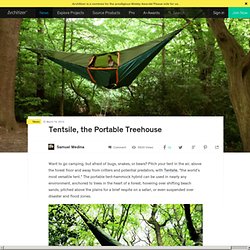 Pitch your tent in the air, above the forest floor and away from critters and potential predators, with Tentsile, "the world's most versatile tent. " The portable tent-hammock hybrid can be used in nearly any environment, anchored to trees in the heart of a forest, hovering over shifting beach sands, pitched above the plains for a brief respite on a safari, or even suspended over disaster and flood zones. Add To Collection Save this image to a collection Handmade in the UK, the tents are fire retardant as well as UV and water resistant. They are comprised of layered fabric and polyester fabric infill panels, with a insect mesh sandwiched in between to trap all invading pesks. Items Just Off the Truck. Dining Accessories, Kitchen Gifts, Kitchenware. Would-be Hoboes: Your Dream House Has Arrived. Treehugger points us to this very clever design for a jacket with pouches in its lining that can be unfurled to reveal a personal tent.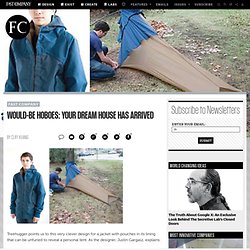 As the designer, Justin Gargasz, explains: Individuals feel the need to escape interactions in their environment everyday. Materials. Sandisk reveals world's fastest 128GB SDXC Card. SanDisk has announced that its new 128GB Extreme SDXC UHS-I card, which boasts read/write speeds of up to 45 MB/s, is now shipping About eighteen months ago, SanDisk revealed the world's fastest 32GB SDHC media card, pushing the format's data transfer speeds up to a rather lively 30 megabytes per second (MB/s).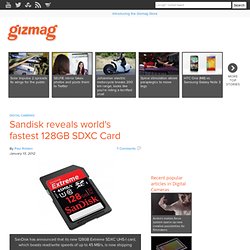 Since then, the SDXC standard has been let loose on the world, with the promise of theoretical capacities of anything up to 2TB and file transfer rates up to 104 MB/s for the UHS-I flavor and 312MB/s for UHS-II. While we're not quite there yet, SanDisk is again claiming the "world's fastest" crown with its new 128GB Extreme SDXC UHS-I card, which boasts read/write speeds of up to 45 MB/s. Now that today's high end digital cameras are capable of churning out 30 megapixel images in quick succession, professionals and enthusiasts are driving media card manufacturers to produce storage that offers shot-to-shot performance to suit.
Sport Earphones, Developed by Athletes for Athletes, Never Fall Out | Yurbuds. The Deglon Meeting Knife Set. Designed by Mia Schmallenbach, the Deglon Meeting Knife Set won first prize in the 5th European Cutlery Design Awards.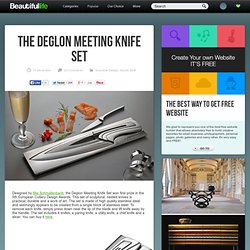 This set of sculptural, nested knives is practical, durable and a work of art. The set is made of high quality stainless steel and seemingly appears to be created from a single block of stainless steel. Emile Henry Flame Top Pizza Stone, Black: Kitchen & Dining. EcoSphere Closed Aquatic Ecosystem, Small Sphere: Pet Supplies. Tool Logic CC1SB Credit Card Companion with 1/2-Inch Knife, Translucent Black: Home Improvement. The Hungover Cookbook (9780307886316): Milton Crawford. The Spaghetti-Pasta-Noodle Fork.
ThisIsWhyImBroke.com - ThisIsWhyImBroke is where you'll find cool gift ideas, unique products, and awesome birthday and christmas gift ideas. With hundreds of reasons to spend every penny you've got, ThisIsWhyImBroke features amazing products you can buy. What Happened Bandages. Tattoo Johnny Tattoo Store. Give yourself a satisfaction guarantee, avoid mistakes, and have fun test-driving your tattoo.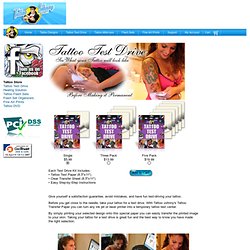 Before you get close to the needle, take your tattoo for a test drive. With Tattoo Johnny's Tattoo Transfer Paper you can turn any ink jet or laser printer into a temporary tattoo test center. By simply printing your selected design onto this special paper you can easily transfer the printed image to your skin. Taking your tattoo for a test drive is great fun and the best way to know you have made the right selection. How a FREE TATTOO TEST DRIVE Can Save You From a Lifetime of Regret. Magic-Pro PCI-Express SATA-III Raid Caddy. If you're a PC gamer facing slow frame rates, upgrading your graphics card generally gives you the best improvement.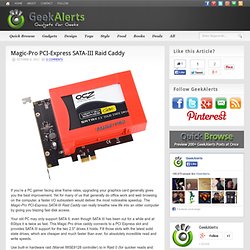 Yet for many of us that generally do office work and web browsing on the computer, a faster I/O subsystem would deliver the most noticeable speedup. The Magic-Pro PCI-Express SATA-III Raid Caddy can really breathe new life into an older computer by giving you blazing fast disk access. Your old PC may only support SATA II, even though SATA III has been out for a while and at 6Gbps it is twice as fast. This Magic Pro drive caddy connects to a PCI Express slot and provides SATA III support for the two 2.5″ drives it holds. Fill those slots with the latest solid state drives, which are cheaper and much faster than ever, for absolutely incredible read and write speeds. Soundscience Rockus 3D 2.1 Computer Speakers. With high resolution monitors and integrated Blu-ray drives, high definition videos, and digital music, computers should deliver an amazing multimedia experience.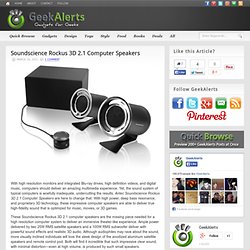 Yet, the sound system of typical computers is woefully inadequate, undercutting the results. Antec Soundscience Rockus 3D 2.1 Computer Speakers are here to change that. With high power, deep bass resonance, and proprietary 3D technology, these impressive computer speakers are able to deliver true high-fidelity sound that is optimized for music, movies, or 3D games. These Soundscience Rockus 3D 2.1 computer speakers are the missing piece needed for a high resolution computer system to deliver an immersive theater-like experience. Holy Sweater Batman! 001 - Gallium Metal - GalliumSource. Miracle Berry Fruit Tablets. Ferrofluid Science Project Set 60cc Bottle and Assorted Magnets: Office Products.
---