Architecture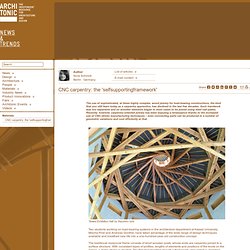 Two students working on load-bearing systems in the architecture department at Kassel University, Mischa Proll and Andreas Günther, have taken advantage of the wide range of design techniques available and breathed new life into a one-hundred-year-old construction concept. The traditional reziprocal frame consists of short wooden joists, whose ends are carpentry-joined to a surface structure. With consistant types of profiles, lengths of elements and positions of the knots on the axises, a dome shape is created. The first documenting of such a framework, also called a "mandala roof", dates back to the 12th century, according to the students' research, when a Buddhist monk by the name of Chogen created designs for temples, whose influence can still be seen today in the architecture of domes in China and Japan. The variation of individual parameters, for instance changing the join between two elements, leads to a change in all the other subsequent joins.
Soft gravitational pull towards fleshy architectural bodies. Pin It External Stimuli : Ernesto Neto at the Armoury , Themes : Architecture , Sculpture Nodes : densities , Ernesto Neto , organic , soft , surreal , transparency , womb Archive Info Facebook Twitter Pinterest Tumblr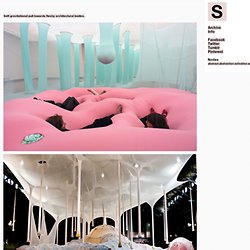 Posted by Scout on September 19th, 2011 Last week, I was scouting office space in a building in Queens. My guide brought me to this totally unassuming elevator: Really, I have to show you this as I encountered it: WOW.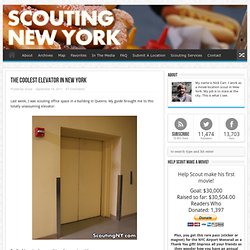 Over the past seven years, at our creative agency, Access , we have worked with a number of residential and commercial property developers from Abu Dhabi to Sydney, helping them with development and strategy. Yet we see so often the sad sight of yet another mediocre building going up. We see city councils approving mediocre design and we see cities looking uglier because of it. We see property developers rushing to get their building up, wanting to make a quick sale and profit, and not really caring or thinking about the aesthetics of the building. Does the building enhance the surrounding area or make it worse? Will the building still look great 10, 15 or 20 years from now?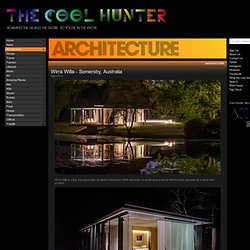 Colorful Seashell House Designed by Javier Senosiain | Swag So Fresh
I'm sure you've seen this office plenty of times on the internet. This office is all about fun: it has a lot of specially decorated rooms in which employees can do their work. There's even a game room for relaxation and a gym where you can work out. Check it out: