Tools & tutos
Journalistools. Recite. Cheap & useful tools that can help entrepreneurial journalists be more efficient. When it comes to tools, entrepreneurial journalists have the advantage of being free.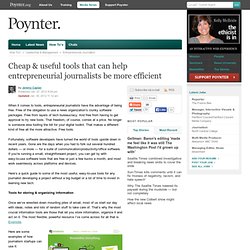 Free of the obligation to use a news organization's clunky software packages. Free from layers of tech bureaucracy. Journalisme web : 10 tendances tech & 30 outils. Voici le cru 2011 des 10 tendances technologiques utiles au journalistes en ligne, flairées par Amy Webb, et présentées hier à Boston lors de la conférence de l'ONA.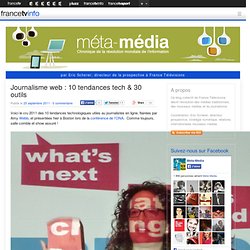 Comme toujours, salle comble et show assuré ! Voici le cru 2011 de son top 10 : Information venue du Web, check! Crédit: DR Comment être sûr qu'un témoignage, publié sur un réseau social, est authentique?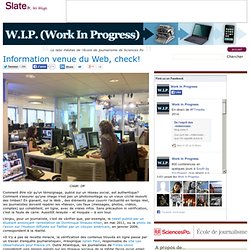 Comment s'assurer qu'une image n'est pas un photomontage ou un vieux cliché ressorti des limbes? En glanant, sur le Web , des éléments pour couvrir l'actualité en temps réel, les journalistes doivent repérer les «fakes», ces faux (messages, photos, vidéos, comptes) qui cohabitent, en ligne, avec de vraies infos.
Sans précaution ni vérification, c'est la faute de carre. Aussitôt relayée – et moquée – à son tour. 8 Google Chrome Extensions for Journalists. When you're browsing the web for information to help write your story, no browser helps you pull together your work better than Google Chrome.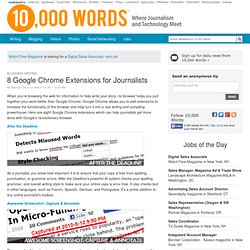 Google Chrome allows you to add extensions to increase the functionality of the browser and help turn it into a real writing and compiling powerhouse. Here are eight Google Chrome extensions which can help journalists get more done with Google's revolutionary browser. After the Deadline As a journalist, you know how important it is to ensure that your copy is free from spelling, punctuation, or grammar errors. 40 Important Lectures for Journalism Students. Journalism and media are in the midst of a major transition as citizen reporting, technology and new opportunities for profit are popping up.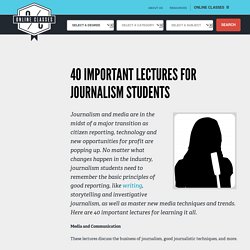 No matter what changes happen in the industry, journalism students need to remember the basic principles of good reporting, like writing, storytelling and investigative journalism, as well as master new media techniques and trends. Here are 40 important lectures for learning it all. Flash Journalism updates - Journalists' Toolkit. I have been hard at work updating the Flash Journalism website.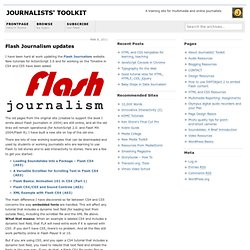 New tutorials for ActionScript 3.0 and for working on the Timeline in CS4 and CS5 have been added. The old pages from the original site (created to support the book I wrote about Flash journalism in 2004) are still online, and all the old links will remain operational (for ActionScript 2.0. and Flash MX 2004/Flash 8). I have built a new site on top of the old one. A fantastic tool for presenting debates – come play. Someone should ask Stef Lewandowski to look after children more often.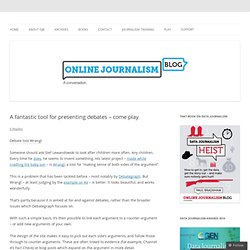 Any children. Every time he does, he seems to invent something. His latest project – made while cradling his baby son – is Wrangl, a tool for "making sense of both sides of the argument". This is a problem that has been tackled before – most notably by Debategraph. But Wrangl – at least judging by the example on AV – is better: it looks beautiful, and works wonderfully. More free Web tools. It's quite possible to find something useful and free online every day.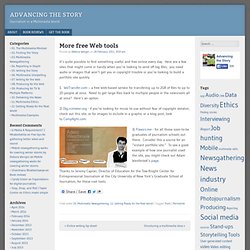 Here are a few sites that might come in handy when you're looking to send off big files, you need audio or images that won't get you in copyright trouble or you're looking to build a portfolio site quickly. 1. WeTransfer.com – a free Web-based service for transfering up to 2GB of files to up to 20 people at once. Need to get large files back to multiple people in the newsroom all at once? Here's an option. Journalists' Toolkit. Scraping for Journalism: A Guide for Collecting Data. Photo by Dan Nguyen/ProPublica Our Dollars for Docs news application lets readers search pharmaceutical company payments to doctors.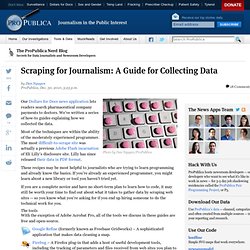 We've written a series of how-to guides explaining how we collected the data. Eight Tools for effective explanation | Explainer.Net. Explainers often have lofty goals in their subject matter, but we know that different people have different styles of learning.
Explainers utilize many tools to break down complicated subjects beyond just a block of text, and we've collected eight of the best. Some of them are visual, interactive, or entertaining, but all of them help users easily digest intricate topics. Infographics Infographics are visual representations of data. Chartle.net - interactive charts online! 5 Tools for Online Journalism, Exploration and Visualization - ReadWriteCloud. In our last post on data journalism, we ran across a number of tools that would be helpful for anyone who is interested in how to make sense of data. The tools represent a renaissance in how we make sense of our information culture. They provide context and meaning to the often baffling world of big data. This is a snapshot of what is available.
Storify facilite le « journalisme de réseaux sociaux » Avec Storify, une nouvelle forme de journalisme vient peut-être de naître. En tout cas, cette plateforme pousse dans sa logique la plus radicale, ce que l'on pourrait appeler le « journalisme de réseaux sociaux. » Ici, les sources d'information s'appellent Twitter, Facebook, Flickr, YouTube, les flux RSS et Google. L'outil offre la possibilité de les trier, sélectionner, organiser, mixer, avec une facilité déconcertante. Il ne reste plus au journaliste qu'à ajouter ses propres informations, éventuellement ses commentaires et ses analyses, et à éditer l'ensemble. Outils Froids. Common copyright mistakes that can still get you sued :: 10,000 Words :: where journalism and technology meet.
By Mark S. Luckie The internet makes it incredibly easy to save a photo from a website, copy and paste text, and download and re-upload video and audio…a little too easy perhaps. The desire to instantly share content on the web means some web users are ripping others off, violating copyright laws, and possibly opening themselves up to legal action.
---