Philosophy
Positive Atheism's Big List of Voltaire Quotations. Voltaire [François Marie Arouet] (1694-1778)French philosopher and writer whose works epitomize the Age of Enlightenment, often attacking injustice and intolerance Let us therefore reject all superstition in order to become more human; but in speaking against fanaticism, let us not imitate the fanatics: they are sick men in delirium who want to chastise their doctors.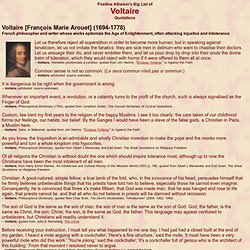 Let us assuage their ills, and never embitter them, and let us pour drop by drop into their souls the divine balm of toleration, which they would reject with horror if it were offered to them all at once.-- Voltaire, Homélies prononcées à Londres, quoted from Jim Herrick, "Écrasez l'Infâme," in Against the Faith Common sense is not so common. (Le sens commun n'est pas si commun.)-- Voltaire (attributed: source unknown) Western Philosophy.
Book - 9 insights on life. 02-2012-01-41-35-thedalailamawhenaskedwhatsurprisedhimmostabouthumanityansweredmanbecausehesacrificeshishealthinordertomakemoney.jpeg (JPEG Image, 720×490 pixels) Philosophy Timeline.
---