Kod
On HTML and CSS best practices. 11 December, 2011 Best practices are exactly that; best.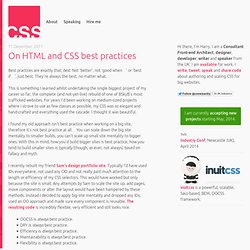 Not 'better', not 'good when…' or 'best if…', just best. Test run php code online, right here - WriteCodeOnline.com/PHP. Dirty Markup · Tidy and Beautify your HTML, CSS, and JavaScript code. HTML / HTML5 / XHTML / WCAG / Section 508 / CSS / Links / Spelling. Free - List of freely available programming books. HTML5 enabling script. 7 Jan Since HTML5 is getting more attention by way of marking up our new pages, and the only way to get IE to acknowledge the new elements, such as <article>, is to use the HTML5 shiv, I've quickly put together a mini script that enables all the new elements.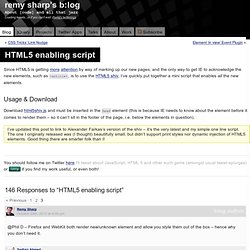 Download html5shiv.js and must be inserted in the head element (this is because IE needs to know about the element before it comes to render them – so it can't sit in the footer of the page, i.e. below the elements in question). I've updated this post to link to Alexander Farkas's version of the shiv – it's the very latest and my simple one line script. The one I originally released was (I thought) beautifully small, but didn't support print styles nor dynamic injection of HTML5 elements. Good thing there are smarter folk than I! 40+ Must-Bookmark PHP Classes & Libraries For Developing Faster. PHP, being the most popular scripting language, has lots of documentation, tutorials and resources about itself.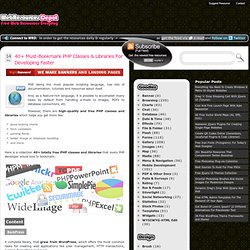 And, as a feature-rich language, it is possible to accomplish many tasks by default from handling e-mails to images, PDFs to database connections, etc. However, there are high-quality and free PHP classes and libraries which helps you get more like: good looking chartsform validationparsing feedsbetter image or database handlingand more. Here is a collection 40+ totally free PHP classes and libraries that every PHP developer would love to bookmark: Content. 28 Useful Front End Web Developer Cheat Sheets. Advertisement Cheat Sheets are useful because web-developers need to remember more things.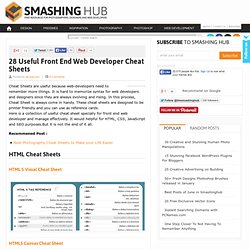 It is hard to memorize syntax for web developers and designers since they are always evolving and rising. Flash Tutorials, Flash website creation tutorials. 5 Great Resources To Learn How To Code. However, more often than not, there seems to be a problem of actually finding good content online that can teach you to code.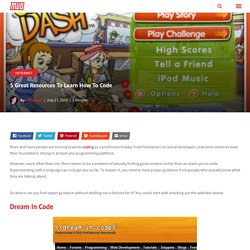 Experimenting with a language can only get you so far. To master it, you need to have proper guidance from people who actually know what they are talking about. So where can you find expert guidance without shelling out a fortune for it? You could start with checking out the websites below: Dream In Code. A Video Series Teaching Web Design To Anyone Who's Afraid Of Code | Co. Design. Anyone who has ever tried to build a website for the first time knows that awful feeling when confronted with lines of HTML, CSS, and PHP, languages as foreign as any known to man.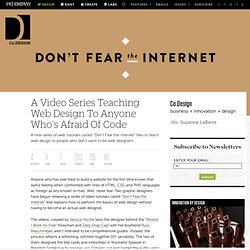 Well, never fear. Two graphic designers have begun releasing a series of video tutorials called "Don't Fear the Internet" that explains how to perform the basics of web design without having to become an actual web designer. The videos, created by Jessica Hische (also the designer behind the "Should I Work for Free" flowchart and Daily Drop Cap) with her boyfriend Russ Maschmeyer, aren't intended to be comprehensive guides.
Instead, the process reflects a refreshing, stitched-together DIY sensibility. The two of them designed the title cards and interstitials in Illustrator (typeset in Brandon Grotesque by Hannes von Döhren), cut and pasted the audio using GarageBand, and slapped it all together in iMovie. Mixare Free Open Source Augmented Reality Engine. jScrollPane - cross browser styleable scrollbars with jQuery and CSS. Drupal Tutorials - How to Create KnockOut Drupal Websites - Learn How to Master Drupal in 6 Hrs. How JavaScript & HTML5 Are Remaking the Web.
The Future Web Series is supported by Elsevier's SciVerse Application Marketplace and Developer Network.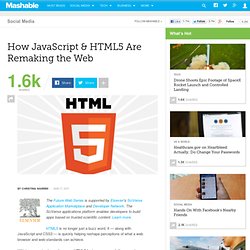 The SciVerse applications platform enables developers to build apps based on trusted scientific content. Learn more. HTML5 is no longer just a buzz word. 20 APIer på 20 minuter – min DrupalCamp presentation « API – Mashup.se. Idag har jag presenterat APIer på DrupalCamp Stockholm , jag hade 20 minuter på mig så jag klämde in en genomgång av 20 APIer.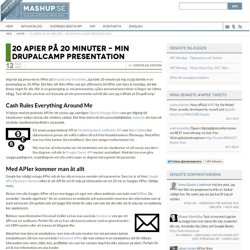 Det blev allt ifrån APIer som ger affärsnytta till APIer som bara är konstiga, det bör finnas något för alla. Här är en genomgång av min presentation, själva presentationen hittar ni längst ner i detta inlägg. Tack till alla som kom och lyssnade på min presentation och till alla som jag träffade på DrupalCamp! Cash Rules Everything Around Me. Essential tools for Blogger template design (Blogger Template Design Series) A test blog When building a completely customized template, I would strongly advise you to do this using a test blog.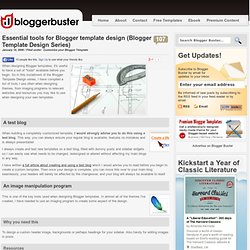 This way, you can always ensure your regular blog is available, features no mistakes and is always presentable! I always create and test new templates on a test blog, filled with dummy posts and sidebar widgets so I can easily see what needs to be changed, redesigned or altered without affecting my main blogs in any way. I have written a full article about creating and using a test blog which I would advise you to read before you begin to create a custom template. Har frilanseren opphavsretten på kode-delen av en webdesignjobb? | Webforumet.no Blogg. Skrevet av Atle Hansson den 17.09.2009 Artikkelen er skrevet av Atle Hansson fra Frilansinfo.no, og er et tilpasset utdrag fra håndboka "Frilans!".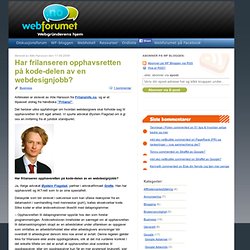 Det hersker ulike oppfatninger om hvordan webdesignere skal forholde seg til opphavsretten til sitt eget arbeid. Vi spurte advokat Øystein Flagstad om å gi oss en innføring fra et juridisk standpunkt. Har frilanseren opphavsretten på kode-delen av en webdesignjobb? Ja, ifølge advokat Øystein Flagstad, partner i advokatfirmaet Grette. How to Add Social Sharing Buttons to Your Website. Email Me Form™ - HTML Forms, Web Forms, PHP Forms. Making a Custom YouTube Video Player With YouTube's APIs. Martin Angelov Video presentations are a great addition to any product page.
With a presentation you can showcase your product's features without making the visitor read through long paragraphs of text. But apart from producing the video, you still need to manually convert it and find (or code) some sort of flash player that will display it on your site. How To Code a Blog Theme Concept in HTML & CSS. Last week we went through the process of creating a clean blog theme layout in Photoshop. Now, let's transform the visual concept into a working HTML/CSS prototype web page before finishing everything up as a complete theme next week.
We'll build the page structure with clean HTML, then style up as much as possible using CSS styling to create a lean website design that still replicates the original concept. If you missed last week's tutorial, we created the homepage concept for a WordPress theme called Ticket Stub. It's based on the idea of movie review, but the clean layout and basic styling keeps it generic enough to be used for any topic. Useful HTML-, CSS- and JavaScript Tools and Libraries - Smashing Coding. Advertisement Front-end development is a tricky beast. It's not difficult to learn, but it's quite difficult to master. PHP Advent 2010 / Everyone Loves PHP. A year ago today, I started at Facebook. I've been using PHP for the last twelve years, and before I got there, I thought I had seen most PHP-related problems. I had deployed software on all manners of systems, but since I've worked at Facebook, my appreciation for how important PHP is has changed.
Earlier this year, another implementation of the PHP runtime emerged. Cplusplus.com - The C++ Resources Network.
Javascript. Wordpress. App. CSS. If PHP Were British - Added Bytes Web Application Development. When Rasmus Lerdorf first put PHP together, he - quite sensibly, despite his heritage - chose not to write it in Greenlandic or Danish. Good job too - that would have been rather unpleasant to work with. He opted instead, being in Canada, for a more local tongue. No, not French. XML Sitemap Generator, Editor + Keyword Analyzer - XML Sitemaps Online.
20+ New Apps and Websites for Designers Sep. 2010. Create a mobile site for your blog or website in minutes - MobStac. Adobe Flash Tutorials – Best of - Smashing Magazine. How to Display Wordpress Sidebar on Other (Non WP) Sites. Browserling - interactive cross-browser testing in your browser. 10 Cross-Browser Compatibility Tools For Designers. Bädda in ljudklipp - Funktioner i vår spelare - Support. 40 Online Generators for Web Designers Should Bookmark. Introduces SML™ (Social Markup Language) 11 Outstanding Online Resources for Web Developers.
---