thinking
Get flash to fully experience Pearltrees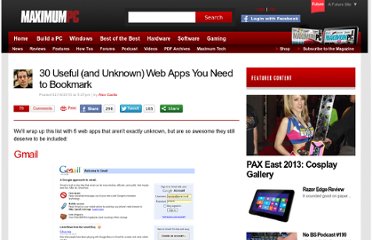 We'll wrap up this list with 5 web apps that aren't exactly unknown, but are so awesome they still deserve to be included: Gmail As far as web apps go, it's hard to get more famous than Gmail, the favorite webmail client of the technologically in-the-know. When it launched, it was immediately famous for its immense storage provisions (1 GB at a time when Hotmail offered a whopping 2 MB of storage), revolutionary thread-based email display, and controversy surrounding the privacy ramifications of advertisements based on your emails' contents.
The art of data visualization
Teaching Copyright Handouts and Support Documents Books By Lawrence Lessig, Stanford Law Professor and founder of Creative Commons The Future of Ideas Free Culture Code and Other Cyber Laws Code Version 2.0 Remix: Making Art and Commerce Thrive in the Hybrid Economy (October 2008 release) By Cory Doctorow, Science Fiction Author Content: Selected Essays on Technology, Creativity, Copyright, and the Future of the Future Little Brother
By Tiffany Davis Reading a book is fun, but when you forget it at home, are bored at work, looking to get ahead on your reading for your online bachelor degree class, or are just curious to get a sneak peek at whatever you ordered from Amazon, online book sites can be handy too. Below is a list of over 100 free (and legal) sites to find great literature for download.