Nocito
RUTAS ROMANICAS POR LA COMARCA DE LA HOYA DE HUESCA-A.Garcia Omedes
Pour un programme sur mesure ...
Séjours Trail - randophile.com
The page you are looking for might have been removed, had its name changed, or is temporarily unavailable.
SEJOUR RANDO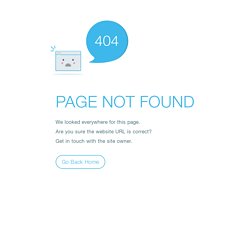 Plaisir-nomade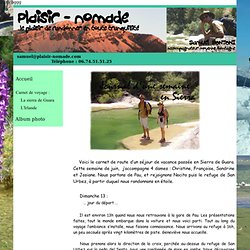 Voici le carnet de route d'un séjour de vacance passée en Sierra de Guara. Cette semaine de juin, j'accompagne 4 dames : Christine, Françoise, Sandrine et Josiane.
BOLEA – ARGUIS – NOCITO Km. 33,7
Cuadernos de Viaje de Juan Holgado
Tozal de Guara
NOCITO-Rutas romanicas por el altoaragon-A.Garcia Omedes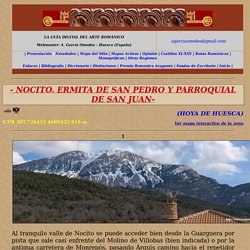 1 Al tranquilo valle de Nocito se puede acceder bien desde la Guarguera, por pista que sale casi enfrente del Molino de Villobas (bien indicada) o por la antigua carretera de Monrepós, pasando Árguis camino hacia el repetidor y antes de entrar en el túnel de la Manzaneda tomaremos el desvío a la derecha que nos encamina hacia Nocito pasando junto a Belsué, Santa María de Belsué y Lúsera. Rebasada la cola del embalse de Belsué la pista zigzaguea ganando altura hasta una llanura donde está la Pardina de Orlato y el " esbarre Ibirque " (desvío hacia Ibirque, en forma local de expresión).