Laugh and the World Laughs with You
Butler Baiting and Umbrella Jousting? It can only be the Chap Olympiad. Condoms in Los Angeles get the catch phrase suit up. LOS ANGELES Fri Jun 29, 2012 12:21am BST LOS ANGELES (Reuters) - The words "Suit Up" - familiar to fans of a popular TV comedy show - were chosen on Thursday to emblazon the wrappers of a million condoms in a Los Angeles area public health contest.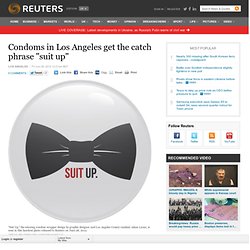 The winning condom wrapper design was chosen by vote in an online contest organized by the Los Angeles County Department of Public Health, aimed at reducing the spread of sexually transmitted diseases, or STDs, in the Los Angeles area. The department borrowed the idea for the contest from a similar campaign in New York, said True Beck, the program's manager at the department.
A DRAMATIC SURPRISE ON A QUIET SQUARE. British humour. A strong theme of sarcasm and self-deprecation, often with deadpan delivery, runs throughout British humour.[2] Emotion is often buried under humour in a way that seems insensitive to other cultures.[3] Jokes are told about everything and almost no subject is taboo, though often a lack of subtlety when discussing controversial issues is considered crass.[4] Many UK comedy TV shows typical of British humour have been internationally popular, and have been an important channel for the export and representation of British culture to the international audience.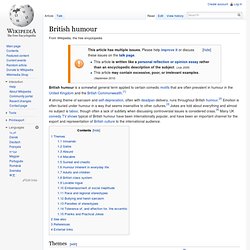 Themes[edit] Some themes (with examples) that underpinned late 20th century British humour were:[5]
Xtranormal | Movie Maker. Bored.com - Fun Stuff To Do When You Are Bored. Misc. Men Behaving Badly. Only Fools and Horses. One Foot in the Grave. Popular Movies - Watch Most Viewed Movies Online - Watch Movies. Black Adder.
---