Des Choses Qui Aident
Online/summer courses. Untitled. In-Between Believing: The Implicit Racist. Many Caucasians in academia sincerely profess that all races are of equal intelligence.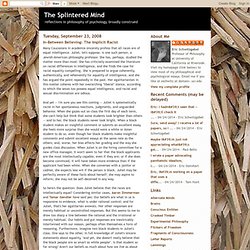 Juliet, let's suppose, is one such person, a Jewish-American philosophy professor. She has, perhaps, studied the matter more than most: She has criticially examined the literature on racial differences in intelligence, and she finds the case for racial equality compelling. UNHCR. Sports Enhancement. Spring in America brings flowers, sweet warm breezes, and the thwack of a bat striking a baseball.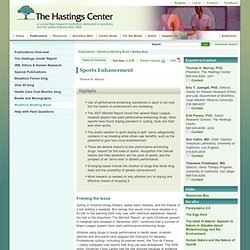 But swings that would once have resulted in a fly ball to the warning track may now, with chemical assistance, deposit the ball in the bleachers. The Mitchell Report, an early Christmas present to baseball fans released in December 2007, confirmed that a number of Major League players have used performance-enhancing drugs. Athletes using drugs to boost performance is hardly news. Anabolic steroids and stimulants have plagued the Olympics for decades. Professional cycling—including its premier event, the Tour de France—nearly collapsed over reports that drug use was widespread. New Technologies. A/CONF.151/26 (Vol. I) REPORT OF THE UNITED NATIONS CONFERENCE ON ENVIRONMENT AND DEVELOPMENT.
Géoportail. A [Internet Encyclopedia of Philosophy] Help. This is Money: Be your own financial adviser - predictions, advice & tips. The Roman Empire: in the First Century. The Roman Empire. Emperors. Emperors. The story of Rome's Emperors in the first century AD has got it all – love, murder and revenge, fear and greed, envy and pride.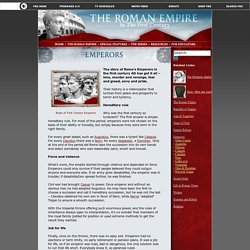 Their history is a rollercoaster that lurches from peace and prosperity to terror and tyranny. Hereditary rule.
TPE - désir de vie et mort après la 2nde guerre mondiale. Water. Israel & water. Online Books, Poems, Short Stories - Read Print Library - StumbleUpon. Dossier pédagogique : La Première Guerre Mondiale. Au cours du premier conflit mondial, d'août 1914 à novembre 1918, 8 millions de soldats français ont combattu.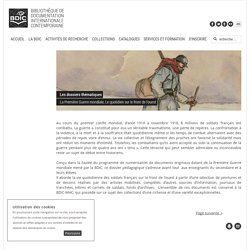 La guerre a constitué pour eux un véritable traumatisme, une perte de repères. La confrontation à la violence, à la mort et à la souffrance était quotidienne même si les temps de combat alternaient avec des périodes de repos voire d'ennui. La vie collective et l'éloignement des proches ont favorisé la solidarité mais ont réduit les moments d'intimité. Toutefois, les combattants qu'ils aient accepté ou subi la continuation de la guerre pendant plus de quatre ans ont « tenu ». Cette ténacité qui peut sembler admirable ou inconcevable reste un sujet de débat entre historiens.
Smarpthone a clavier
Environnement. Vienna Declaration and Programme of Action. WORLD CONFERENCE ON HUMAN RIGHTS Vienna, 14-25 June 1993 Note by the secretariat Attached is the text of the Vienna Declaration and Programme of Action, as adopted by the World Conference on Human Rights on 25 June 1993.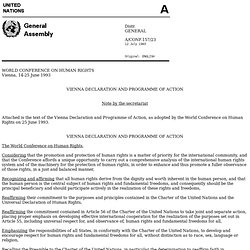 ---
clovissimard2 Sep 28 2012

Blog(fermaton.over-blog.com)No.28 - THÉORÈME TEMPERUM. -Le temps ?
---