Nine unknown
Project Avalon - Klaus Dona: The Hidden History of the Human Race - StumbleUpon. Click here for the PDF version of this interview (20 pages) Click here for the video presentation March 2010 **Ed note: Some transcripts contain words or phrases that are inaudible or difficult to hear and are, therefore, designated in square brackets.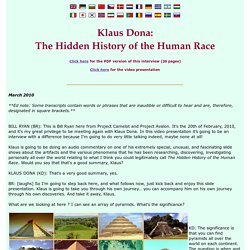 . ** Nine Unknown Men. In occult lore, the Nine Unknown Men are a millennia-old secret society founded by the Indian Emperor Asoka c. 270 BCE.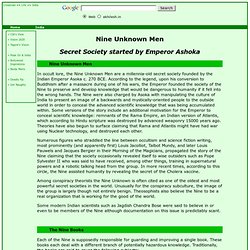 According to the legend, upon his conversion to Buddhism after a massacre during one of his wars, the Emperor founded the society of the Nine to preserve and develop knowledge that would be dangerous to humanity if it fell into the wrong hands. The Nine were also charged by Asoka with manipulating the culture of India to present an image of a backwards and mystically-oriented people to the outside world in order to conceal the advanced scientific knowledge that was being accumulated within.
Ancient City Found in India, Irradiated from Atomic Blast. Radiation still so intense, the area is highly dangerous.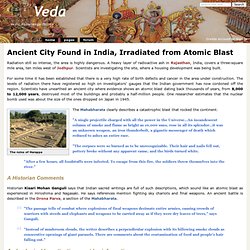 A heavy layer of radioactive ash in Rajasthan, India, covers a three-square mile area, ten miles west of Jodhpur. Scientists are investigating the site, where a housing development was being built. For some time it has been established that there is a very high rate of birth defects and cancer in the area under construction. The Ancient Web - The Ancient World's Great Civilizations. Vimanas: Ancient Indian Flying Machines, UFOs, or Sanskrit Sci-fi? The Ancient Web - The Ancient World's Great Civilizations. The Ancient Web - The Ancient World's Great Civilizations.
Deadly time vortex appears over Antarctica. Sector of erupting anomalies.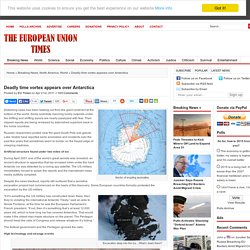 Disturbing news has been leaking out from the giant continent at the bottom of the world. Some scientists manning lonely outposts under the drifting and shifting aurora are nearly paralyzed with fear. Their clipped reports are being reviewed by astonished superiors back in the home countries. Russian researchers posted near the giant South Pole sub-glacial Lake Vostok have reported eerie anomalies and incidents over the past few years that sometimes seem to border on the frayed edge of creeping madness. Top 10 Mysteries Surrounding Ancient Aliens. Mysteries Ancient aliens is the idea that aliens visited earth in the past.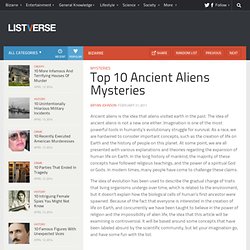 The idea of ancient aliens is not a new one either. Imagination is one of the most powerful tools in humanity's evolutionary struggle for survival. As a race, we are hardwired to consider important concepts, such as the creation of life on Earth and the history of people on this planet. At some point, we are all presented with various explanations and theories regarding the expansion of human life on Earth.
Atlantis or Someone Else? The report is about an Earth based scenario, a combination of the possibilities inherent in a background Earth story, some possible hypotheses by me, and then some visual evidence to add into the mix.
It will be up to you to decide if there is any merit. First we'll start with the background story. In more modern times, the story of ancient Atlantis has fascinated generations and some to obsession as a real place. As many of you may know, it is acknowledged that the story of Atlantis was first introduced into public awareness via dialogues by the Greek philosopher Plato around 355–360 BC. The Ancient Web - The Ancient World's Great Civilizations.
The Lost Journals of Nikola Tesla - HAARP, Chemtrails and The Secret of Alternative 4. Godfather_gr. Shangri-La. Many scholars believe that Shangri-La is Shambhala, a mythical kingdom in Tibetan Buddhist tradition, which was sought by Eastern and Western explorers.[2] Etymology[edit] The phrase "Shangri-La" most probably comes from the Tibetan Standard Tibetan: ཞང་,"Shang" - a district of Ü-Tsang, north of Tashilhunpo[3]" + Standard Tibetan: རི, pronounced "ri", "Mountain" = "Shang Mountain" + Standard Tibetan: ལ, Mountain Pass, which suggests that the area is accessed to, or is named by, "Shang Mountain Pass".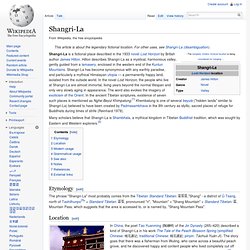 Shambhala. In Tibetan Buddhist and Indian Hindu/Buddhist traditions, Shambhala (also spelled Shambala or Shamballa; Tibetan: བདེ་འབྱུང་; Wylie: bde 'byung, pron. de-jung; Chinese: 香巴拉; pinyin: xiāngbālā) is a kingdom hidden somewhere in Inner Asia.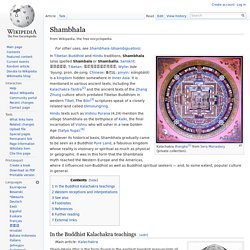 It is mentioned in various ancient texts, including the Kalachakra Tantra[2] and the ancient texts of the Zhang Zhung culture which predated Tibetan Buddhism in western Tibet. The Bön[3] scriptures speak of a closely related land called Olmolungring. Hindu texts such as Vishnu Purana mention Shambhala as the birth place of Kalki, the final incarnation of Vishnu who will usher in a new Golden Age (Satya Yuga).[4] Whatever its historical basis, Shambhala gradually came to be seen as a Buddhist Pure Land, a fabulous kingdom whose reality is visionary or spiritual as much as physical or geographic.
A Glossary of Pali and Buddhist Terms. This glossary covers many of the Pali words and technical terms that you may come across in the books and articles available on this website.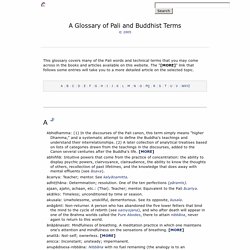 The "[MORE]" link that follows some entries will take you to a more detailed article on the selected topic. Abhidhamma: Beyul. Guru Padmasambhava forecasted beyul while in the presence of Tibetan King Trisong Detsen and others at Samye Monastery :– "in the future when there will be warfare, strife, and difficult circumstances in the world, good people and dharma practitioners should travel to 'Beyuls' or hidden valleys situated south of the Tibetan Himalayan range for refuge."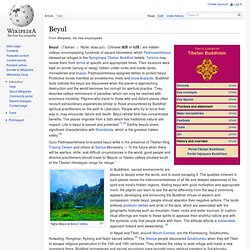 In Buddhism, sacred environments are places to deeply enter the world, and to avoid escaping it. The qualities inherent in such places reveal the interconnectedness of all life and deepen awareness of the spirit and mind's hidden regions. Visiting beyul with good motivation and appropriate merit, the pilgrim can learn to see the world differently from the way it commonly appears, developing and enhancing the Buddhist virtues of wisdom and compassion. Inside beyul, people should abandon their negative actions. Kunlun Mountains. The Kunlun Mountains (simplified Chinese: 昆仑山; traditional Chinese: 崑崙山; pinyin: Kūnlún Shān; Wade–Giles: K'un1-lun2 Shan1, pronounced [kʰu̯ə́nlu̯ə̌n ʂán]; Mongolian: Хөндлөн Уулс Hundlun) are one of the longest mountain chains in Asia, extending more than 3,000 km.
In the broadest sense, it forms the northern edge of the Tibetan Plateau south of the Tarim Basin and the Gansu Corridor and continues east south of the Wei River to end at the North China Plain. The exact definition of this range seems to vary. An old source[1] uses Kunlun to mean the mountain belt that runs across the center of China, that is, Kunlun in the narrow sense, Altyn Tagh, Qilian Mountains and Qin Mountains. Chakravartin. Chakravartin/Chakraborty (Sanskrit: चक्रवर्ति; Pali: cakkavatti) is an ancient Indian term used to refer to an ideal universal ruler, who rules ethically and benevolently over the entire world. Such a ruler's reign is called sarvabhauma. It is a bahuvrīhi, literally meaning "whose wheels are moving", in the sense of "whose chariot is rolling everywhere without obstruction".
It can also be analyzed as an 'instrumental bahuvrīhi: "through whom the wheel is moving" in the meaning of "through whom the Dharmacakra ("Wheel of the Dharma) is turning" (most commonly used in Buddhism and Hinduism). Cakkavatti Sutta: The Wheel-turning Emperor. The body of this sutta consists of a narrative illustrating the power of skillful action. In the past, unskillful behavior was unknown among the human race.
As a result, people lived for an immensely long time — 80,000 years — endowed with great beauty, wealth, pleasure, and strength. Over the course of time, though, they began behaving in various unskillful ways. This caused the human life span gradually to shorten, to the point where it now stands at 100 years, with human beauty, wealth, pleasure, and strength decreasing proportionately. In the future, as morality continues to degenerate, human life will continue to shorten to the point were the normal life span is 10 years, with people reaching sexual maturity at five. LOST HORIZON. Title: Lost Horizon Author: James Hilton * A Project Gutenberg of Australia eBook * eBook No.: 0500141h.html Language: English Date first posted: Jan 2005 Most recent update: Apr 2013 This eBook was produced by Don Lainson and updated by Roy Glashan Project Gutenberg of Australia eBooks are created from printed editions which are in the public domain in Australia, unless a copyright notice is included.
We do NOT keep any eBooks in compliance with a particular paper edition. Copyright laws are changing all over the world. Be sure to check the copyright laws for your country before downloading or redistributing this file. This eBook is made available at no cost and with almost no restrictions whatsoever. Horizons perdus (1937.
---