database
Get flash to fully experience Pearltrees
SQL (Structured Query Language) is a computer language aimed to store, manipulate, and query data stored in relational databases. The first incarnation of SQL appeared in 1974, when a group in IBM developed the first prototype of a relational database. The first commercial relational database was released by Relational Software (later becoming Oracle). Standards for SQL exist. However, the SQL that can be used on each one of the major RDBMS today is in different flavors. This is due to two reasons: 1) the SQL command standard is fairly complex, and it is not practical to implement the entire standard, and 2) each database vendor needs a way to differentiate its product from others.
Font size: What is Apache Derby? Apache Derby, an Apache DB subproject , is an open source relational database implemented entirely in Java and available under the Apache License, Version 2.0 . Some key advantages include:
The upcoming Derby 10.5 release will contain a long-awaited feature: an in-memory storage backend. With this backend, your entire database will be stored in main memory instead of on disk. But isn't the whole point of using a database that the data should be stored safely on disk or some other kind of persistent storage?
Un article de Wikipédia, l'encyclopédie libre. En informatique , NoSQL désigne une catégorie de systèmes de gestion de base de données (SGBD) qui n'est plus fondée sur l'architecture classique des bases relationnelles . L'unité logique n'y est plus la table , et les données ne sont en général pas manipulées avec SQL .
L'éditeur propose une version beta gratuite d'un programme qui apporte aux administrateurs et aux développeurs une meilleure compréhension de ce qui est stocké dans les bases de données non-relationnelles. « Pour certaines catégories d'applications, un modèle NoSQL est parfaitement judicieux et peut même se révéler nécessaire dans un environnement cloud. Cependant, des problèmes persistent pour son adoption au sein des entreprises », souligne Guy Harrison, directeur de R&D chez Quest. Toad pour Cloud Database, une version spécialisée de l'outil d'administration Toad pour bases de données, répond à ces interrogations.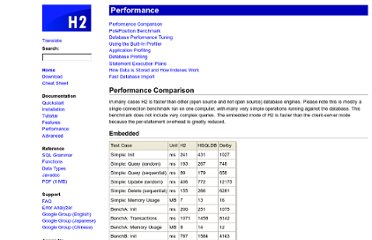 Performance Comparison PolePosition Benchmark Database Performance Tuning Using the Built-In Profiler Application Profiling Database Profiling Statement Execution Plans How Data is Stored and How Indexes Work Fast Database Import Performance Comparison In many cases H2 is faster than other (open source and not open source) database engines. Please note this is mostly a single connection benchmark run on one computer, with many very simple operations running against the database. This benchmark does not include very complex queries.
Un article de Wikipédia, l'encyclopédie libre. En informatique , les propriétés ACID ( atomicité , cohérence, isolation et durabilité) sont un ensemble de propriétés qui garantissent qu'une transaction informatique est exécutée de façon fiable. Dans le domaine des bases de données , une opération sur les données est appelée une transaction ou transaction informatique. Par exemple, un transfert de fonds d'un compte de banque à un autre, même s'il implique plusieurs actions comme le débit d'un compte et le crédit d'un autre, est une seule transaction.