Ancient history
AncientWorlds. Project Avalon - Klaus Dona: The Hidden History of the Human Race - StumbleUpon. Click here for the PDF version of this interview (20 pages) Click here for the video presentation March 2010 **Ed note: Some transcripts contain words or phrases that are inaudible or difficult to hear and are, therefore, designated in square brackets.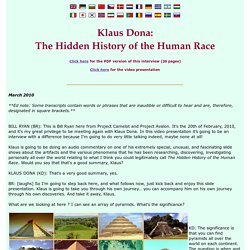 . ** Women in the Ancient world. The Ancient Web - The Ancient World's Great Civilizations. Internet Sacred Text Archive Home. Mayan Calendar Tools. - StumbleUpon. Graphic Maya Calendar Converter. Operating instructions: Initially the applet gets the current date from your computer and converts it into the Maya calendar dates.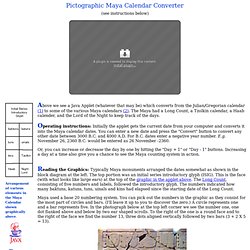 You can enter a new date and press the "Convert" button to convert any other date between 3000 B.C. and 4000 A.D. For B.C. dates enter a negative year number. E.g. November 26, 2360 B.C. would be entered as 26 November -2360. Or, you can increase or decrease the day by one by hitting the "Day + 1" or "Day - 1" buttons.
---