Music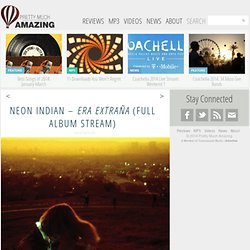 Neon Indian – Era Extraña (Full Album Stream) at Pretty Much Amazing
Don't miss out. Follow us on Twitter for new music. Don't forget: use the left and right arrow keys on your keyboard to move between posts quickly and easily. Next Tuesday, September 13th, Static Tongues will release Neon Indian's sophomore album, Era Extraña , the follow-up to 2009's much loved Psychic Chasms LP. As per internet custom, you get to listen to the album for free an entire week before its designated release date. Stream it in the player below:
We Are Hunted - The Online Music Genre Charts
FrostClick.com Audio :: 100% Legal Downloads for FrostWire - Free Movies, Videos, Music, Software, Graphics
Loading ... Download Album An Introduction To... is a collection of several blues and R&B tracks sung by soulful group The Revelations featuring Tre Williams. If you have a special place in your heart for lovely blues music; then this album will be a terrific find. It has all the right elements of the genre and exudes awesome talent as well as fine musicianship. This 9-track album served as a sampler for fans prior to The Revelations releasing their full length record, Concrete Blues .
Chernobyl Cultural
•║█║▌iиDie2000.blogspot .coʍ ™║█║•
Musica Para Tus Orejas
Lenny Kravitz - Discografia
Recovered Young Empires - The Earth Plates Are Shifting | HD - Y