Devotionals
He who dwells in the shelter of the Most High Will abides in the shadow of the Almighty. I will say to the LORD, "My refuge and my fortress, My God, in whom I trust!" - Psalm 91:1-2 Anxiety disorders cost Americans more than $40 billion annually. Anxiety disorders manifest themselves in two ways—specific phobias, like fear of spiders or flying, and social phobias, fear of scrutiny, embarrassment or humiliation in the eyes of others. We fear being exposed to threats and we fear our flaws being exposed to other people.
October 18, A Daily Word with Dr. Ed Young - Winning Walk Radio with Dr. Ed Young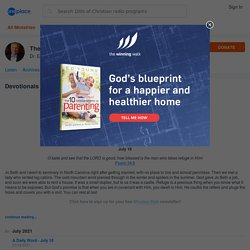 Welcome to Thru the Bible Radio--The Bible Study Program Taught by Dr. J. Vernon McGee! - Thru the Bible Radio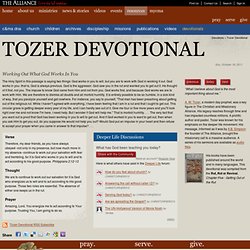 Sun, October 16, 2011 Working Out What God Works In You The Holy Spirit in this passage is saying two things: God works in you to will, but you are to work with God in working it out. God works in you--that is, God is always previous.
Calling upon the Name of the Lord—Prayer to and Worship of Jesus « The Bible and Culture
Mere C.S. Lewis
Leading The Way: Home
"A Blessing In Disguise"
"A Blessing in Disguise" is an original Christian poem submitted by an About.com member. It was written in remembrance of a dear mother who has gone on to live in heaven . Do you have an original Christian prayer that would encourage or benefit a fellow believer? Perhaps you've written a unique poem you'd like to share with others. We are looking for Christian prayers and poems to encourage our readers in their communication with God.
Bishop Alan's Blog
Confession and Petition Holy Lord, I have sinned times without number, and been guilty of pride and unbelief, of failure to find Thy mind in Thy Word, of neglect to seek Thee in my daily life. My transgressions and short-comings present me with a list of accusations, but I bless Thee that they will not stand against me, for all have been laid on Christ. Go on to subdue my corruptions, and grant me grace to live above them. Let not the passions of the flesh nor lustings of the mind bring my spirit into subjection, but do Thou rule over me in liberty and power. I thank Thee that many of my prayers have been refused.
Puritan Prayers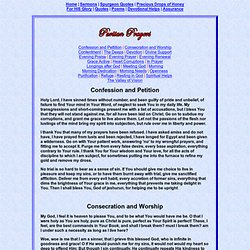 Richard Littledale's Preacher's A - Z
Baptist Times - Home
J. Vernon McGee – A Man of God Devotional | Jesus Devotionals.or
I like the preview, but the link appears broken on my system. by gordonsta Oct 17
Jesus Devotionals.org - www.jesusdevotionals.org jesusdevotionals