Education
The Top 100 Productivity and Lifehack Blogs for College Students. Having a little trouble getting motivated?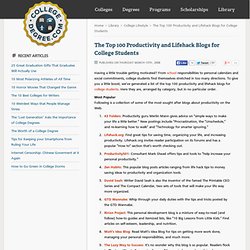 From school responsibilities to personal calendars and social commitments, college students find themsselves stretched in too many directions. To give you a little boost, we've generated a list of the top 100 productivity and lifehack blogs for college students. Here they are, arranged by category, but in no particular order. Most Popular Following is a collection of some of the most sought after blogs about productivity on the Web. 100 Incredible YouTube Channels for History Buffs. If you love history, or just want to learn more about it, YouTube has exactly what you need.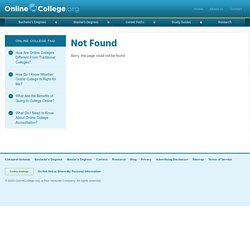 Always up to the challege of providing thorough, accurate information, YouTube delivers channels from leading names in historical studies, from The Smithsonian to the Discovery Channel. You're sure to find just the right information you need for your lecture, lesson plan, or perhaps just your personal viewing pleasure. General History These videos can give your students a better insight into historical events. 15 Web Alternatives to Popular Desktop Software. Web applications have come a long way.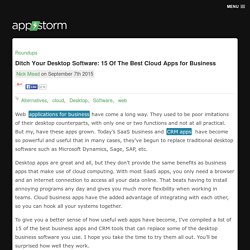 They used to be amateur imitations of their desktop counterparts, with only one or two functions and not at all practical. But my, have these web apps grown. Cryptozoology Online: Centre for Fortean Zoology (CFZ) - the world's best cryptozoology organisation - main page. Book-A-Minute Classics. Got another book report to do?
English teachers have the inconsiderate habit of assigning mammoth-sized works of literature to read and then actually expecting you to do it. This wouldn't be so bad except that invariably the requisite reading is as boring as fly fishing in an empty lake. Half of those books don't even have discernible plots. Learn Sanskrit through self study. Top 100 Speeches of the 20th Century by Rank. 6359.
15 styles of Distorted Thinking. 15 styles of Distorted Thinking Filtering: You take the negative details and magnify them while filtering out all positive aspects of a situation.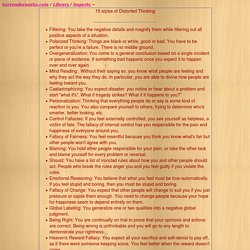 Polarized Thinking: Things are black or white, good or bad. You have to be perfect or you're a failure. There is no middle ground. 500+ Atheism vs. Theism Debates. Critical Thinking By Example. 1.1 Two Conventions for Standardizing To standardize an argument is to break it down into its components in a manner that shows the logical relationships between the parts.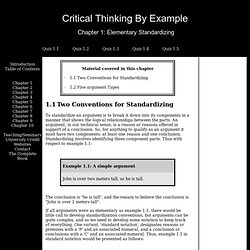 An argument, in our technical sense, is a reason or reasons offered in support of a conclusion.
---