Spinoff wikileaks
Inside Story - The Wikileaks copycats - What do you think?
New Whistleblowing sites http://wlcentral.org/node/665 Online whistleblowing conduits appear to be an exciting new trend. From technological tools to what looks a lot like old fashioned investigative journalism, here are some of the up and coming whistle blowing sites. IndoLeaks Jakarta Globe says this appeared on December 10. Rospil An extension of popular Russian blogger Alexei Navalny's website, he is actively seeking documentation of corruption in the higher echelons of the national government and economy.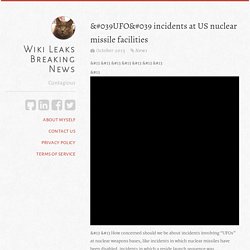 Crowdsigliere: Plouffe Asks for a Little Public Guidance
The Obama White House's latest effort to use this here Internet to connect members of the public with folks working inside the executive branch is a little project they're calling "Advise the Advisor," where-in an administration official frames what's happening on the presidential front and then asks for feedback from anyone who cares to give it. Think of it as "Your Direct Line to the White House," said the White House at the program's launch yesterday, and in the first installment, David Plouffe, the Obama campaign manager who joined the administration in a formal capacity last month, asks for takes from the masses on what they're seeing in the world of innovation, and in particular what seems to be stymieing it in the United States at the moment. The White House breaks down how "Advise the Advisor" is meant to work: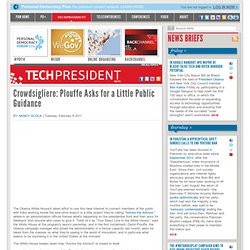 Launched in January 2011, the Al Jazeera Transparency Unit (AJTU) aims to mobilize its audience - both in the Arab world and further afield - to submit all forms of content (documents, photos, audio & video clips, as well as "story tips") for editorial review and, if merited, online broadcast and transmission on our English and Arabic-language broadcasts. We believe that this initiative will allow Al Jazeera's supporters to shine light on notable and newsworthy government and corporate activities which might otherwise go unreported. From human rights to poverty to official corruption, AJTU will fairly evaluate and pursue all leads and content submitted, without geographical, political, cultural, or religious bias. All submitted content is subjected to a rigorous vetting and authentication process that encompasses respect for individual privacy, contextualization, and fierce adherence to our tradecraft commitment of "journalism of depth."
Transparency Unit | Al Jazeera
The New York Times May Start Its Own Version of WikiLeaks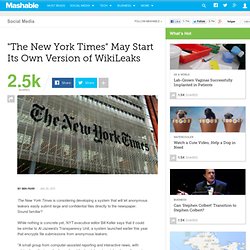 The New York Times is considering developing a system that will let anonymous leakers easily submit large and confidential files directly to the newspaper. Sound familiar? While nothing is concrete yet, NYT executive editor Bill Keller says that it could be similar to Al Jazeera's Transparency Unit, a system launched earlier this year that encrypts file submissions from anonymous leakers. "A small group from computer-assisted reporting and interactive news, with advice from the investigative unit and the legal department, has been discussing options for creating a kind of EZ Pass lane for leakers," Keller told Yahoo's The Cutline. The potential confidential leaking system is a direct response to the rise of WikiLeaks.
One Per Cent: WikiLeaks business model gains traction with big media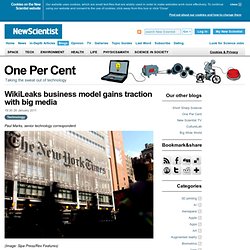 Paul Marks, senior technology correspondent (Image: Sipa Press/Rex Features) Back in December, New Scientist predicted that the impact of the US embassy cable releases by WikiLeaks would likely inspire a legion of leak-publishing imitators to spring up - and this is indeed coming to pass. But it's far from clear how the newbies in this fast-emerging leaky landscape are going to behave. Will they exercise some kind of editorial restraint, or will they publish everything the get their hands on? And how will they protect their sources?
Although the mission of WikiLeaks is to "open governments," it's done quite a lot to make us think about how to open journalism as well. We've seen a number of new whistleblower sites crop up - OpenLeaks and Rospil, for example - as well as major news organizations - Al Jazeera, and perhaps even The New York Times - investigate ways to facilitate more whistle-blowing and leaking. But why wait for local newspapers to roll out their own anonymous tips pipeline when a project from CUNY Graduate School's Entrepreneurial Journalism program has designed just that thing. Using Localeaks, you can send an anonymous tip, including a file, to over 1400 newspapers in the U.S. through one online form.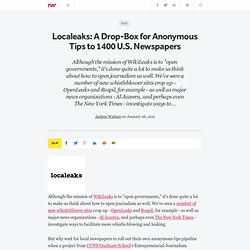 Localeaks: A Drop-Box for Anonymous Tips to 1400 U.S. Newspapers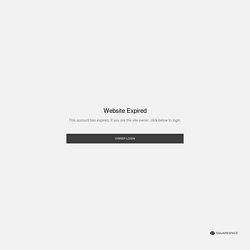 Monday, 7 March 2011 Just found a new site, SelectOut , that determines how many websites are tracking you, and gives you the option to opt-out of being tracked by some or all of the 100+ sites that it knows about. SelectOut also offers a Google Chrome extension to manage cookie tracking in real time. (On first run, SelectOut seemed to have tripped my anti-virus due to the suspicious actions it does on cookies – I suspect that any warnings are benign). There is another Google Chrome extension., Ghostery , that performs similar protection. Facebook Disconnect blocks all traffic from third-party sites to Facebook servers, but still lets you access Facebook itself.
Openspee.Ch
L'histoire commence le 23 octobre 2001, quand décède, après dix jours de coma, Daniel Wildenstein, le plus célèbre collectionneur et marchand d'art du XXe siècle. Pour sa veuve, Sylvia, c'est à l'époque un double choc, affectif d'abord, mais ensuite aussi financier, parce que les enfants que son mari a eus d'un premier mariage, Guy et Alec, lui apprennent assez vite qu'il n'a pas laissé derrière lui, comme elle le pensait, une immense fortune mais qu'il est mort ruiné. Mais les choses sont beaucoup moins claires que cela.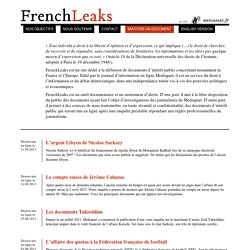 HBGary Emails