Smear
Wikileaks founder accused of rape | Media
Swedish authorities have withdrawn an arrest warrant for Wikileaks founder Julian Assange, stating that the accusation of rape against him was unfounded. The move came just a day after a warrant was issued by Sweden's prosecutors' office in Stockholm in response to accusations of rape and molestation in two separate cases. "I don't think there is reason to suspect that he has committed rape," the chief prosecutor, Eva Finne, said.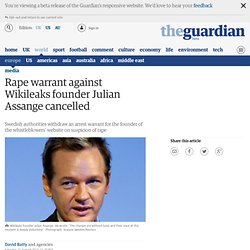 aklagare.se official statement Assange no longer wanted
The Swedish Prosecution Authority is an independent organisation. It is independent from both the courts and the police.The Prosecution Authority, like all other Swedish authorities, is not a department in the Ministry of Justice or any other ministry. The role of the Swedish prosecutor Compared with many other countries, the Swedish prosecutor is very powerful. The prosecutor conducts both the investigation and brings the case to court. Swedish prosecutors have three main duties:• to lead and direct the preliminary investigations of crime• to make decisions on prosecution issues• to appear in court to process actions in criminal cases
Wikileaks founder slams sexual abuse charges
Assange arrest warrant 'no mistake'
[a followup post on this story is available here] The "why" of the quickly-withdrawn 'case' against Wikileaks founder Julian Assange seems clear enough--it has all the initial indicators of a fabricated attempt to defame him. But the "how" of this attempt is murky. Here's an admittedly rough translation of part of the Swedish Prosecution Authority FAQ on their actions to date regarding Assange (Google translation edited for clarity):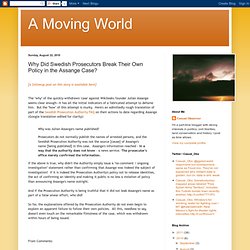 Why Did Swedish Prosecutors Break Their Own Policy in the Assange Case?
Former Swedish chief prosecutor demands explanation for arrest order
De vorige paus, Benedictus, zou in 2011 en 2012 bijna vierhonderd priesters hebben ontslagen... In een huis in de nieuwbouwwijk Nieuwland in Amersfoort is een elfjarige jongen dood gevonden. In... De vinger van het beroemde beeld van Jezus de Verlosser in Rio de Janeiro, Brazilië, is gebroken....
Elsevier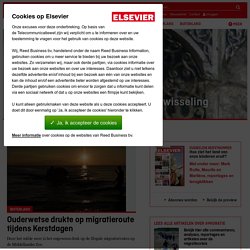 Google Translate
21 August 2010Last updated at 07:22 ET Julian Assange was cited as saying the release of the allegations was "deeply disturbing" Swedish authorities say they have issued an arrest warrant for Wikileaks founder Julian Assange, on accusations of rape and molestation. The warrant was issued late on Friday, said Karin Rosander, communications head at Sweden's prosecutors' office.
Wikileaks founder Julian Assange accused of rape
The founder of WikiLeaks, Julian Assange, was himself the subject of a rapidly spreading online story when news cascaded across the internet for several hours at the weekend mistakenly saying he was being sought in Sweden on rape charges. Before Stockholm's chief prosecutor made clear on Saturday afternoon that Assange was in fact neither charged with rape nor due to be arrested, the story had spread, generating more than 1,200 articles, available through internet news search, that received more than 1m hits. "It was 7am when a friend who is Swedish and has been out on the net told me about the allegations," Assange told Stockholm daily newspaper Aftonbladet, which has hired him as a columnist : "It was shocking. I have been accused of various things in recent years, but nothing so serious as this." He said none of his sexual relations had ever been built on anything other than totally consensual activity.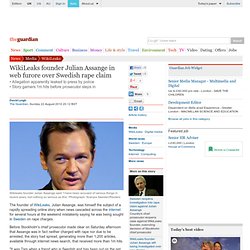 WikiLeaks founder Julian Assange in web furore over bogus rape claim | Media
The WikiLeaks founder, Julian Assange, is tonight facing growing legal problems around the world, with the US announcing that it was investigating whether he had violated its espionage laws. Assange's details were also added to Interpol's worldwide wanted list. Dated 30 November, the entry reads: "sex crimes" and says the warrant has been issued by the international public prosecution office in Gothenburg, Sweden. "If you have any information contact your national or local police."
WikiLeaks: Interpol issues wanted notice for Julian Assange | Media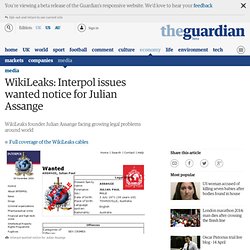 Sweden Orders Detention of WikiLeaks Founder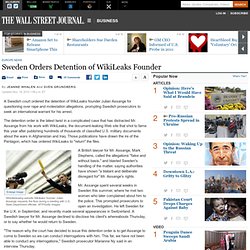 A Swedish court ordered the detention of WikiLeaks founder Julian Assange for questioning over rape and molestation allegations, prompting Swedish prosecutors to seek an international warrant for his arrest. The detention order is the latest twist in a complicated case that has distracted Mr. Assange from his work with WikiLeaks, the document-leaking Web site that shot to fame this year after publishing hundreds of thousands of classified U.S. military documents about the wars in Afghanistan and Iraq. Those publications...
Video - WikiLeaks Founder Julian Assange Faces Charges of Rape and Sexual Molestation
Interpol zet WikiLeaks-oprichter op lijst
Zweden wil toch onderzoek naar WikiLeaks-oprichter
Interpol op zoek naar WikiLeaks-oprichter Asange
WikiLeaks founder Julian Assange is questioned about his organization and personal attacks before ending the interview.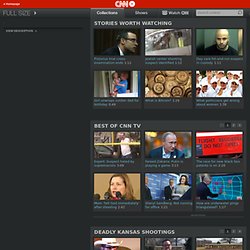 Canine combat vet guards Pentagon halls1:56Soldier's shocking airport surprise1:52Gay Olympian: We've come a long way2:20WWII veteran receives special gift2:27Gay skater thought Olympics was impossible2:57Donor puts $3,500 ring in donation bucket1:27 W. Virginia Governor: 'It's pretty bad'4:29Mayor: Chemical spill is like a prison1:58Material has impacted the water supply2:15Chemical leak contaminates water source1:54Manchin: We'll find the culprit in spill2:48Fed. emergency in West Va. chemical leak2:35Chemical spill contaminates water Many without water after chemical spill GOP members gloat over Christie troubles2:39Who is former aide Bridget Anne Kelly?3:09New documents shed light on scandal1:50Christie denies involvement in scandal Giuliani: Dumb political prank backfired Christie: I fired Kelly because she lied Gov.
Yesterday Alexander Cockburn reminded us of the news Israel Shamir and Paul Bennett broke at Counterpunch in September. Julian Assange's chief accuser in Sweden has a significant history of work with anti-Castro groups, at least one of which is US funded and openly supported by a former CIA agent convicted in the mass murder of seventy three Cubans on an airliner he was involved in blowing up. Anna Ardin (the official complainant) is often described by the media as a "leftist". She has ties to the US-financed anti-Castro and anti-communist groups.
Assange Accuser Worked with US-Funded, CIA-Tied Anti-Castro Group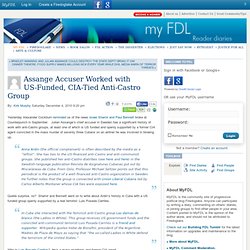 Published: 19 Jan 2009 15:50 GMT+01:00Updated: 19 Jan 2009 15:50 GMT+01:00 Former justice minister Thomas Bodström and former prime minister Göran Persson have been reported to the Riksdag's constitutional committee over the expulsion of two terror suspects Sweden to Egypt in 2001. Sweden pressured in 2001 terror case: report (19 Jan 09)
Bodström reported over CIA terror deportations
Thomas Bodström is the son of Lennart Bodström, Swedish Minister for Foreign Affairs 1982–1985 in the Olof Palme government. In his youth, however, Thomas Bodström was not involved in party politics. Instead, his first brush with media attention came as a football player in AIK, a team in the Premier Division of the Swedish Football league, 1987–1989. In 1990 he graduated from Stockholm University with a Bachelor of Laws degree. After that, he worked as a lawyer for ten years. During his career he took interest in international affairs and in 1999 he joined the board of the Swedish branch of the international organisation Lawyers Without Borders.
Thomas Bodström
Home » Industry Watch (» The Technological) (» Hall of Monkeys) (» Heroes Banquet) » Assange in Sweden: The Police Protocol (Translated) The unfinished police statement of Sofia Wilén. STOCKHOLM/LONDON (Rixstep) — Sofia Wilén and Anna Ardin arrived at the Klara police station in downtown Stockholm on Friday afternoon 20 August 2010. The interrogation of Sofia was conducted by criminal inspector Irmeli Krans that same day. Krans and Wilén were informed during the interrogation that Julian Assange had been arrested in absentia and that the police were hunting for him in the Stureplan nightclub area.
The unfinished police statement of Sofia Wilén.
The master list of email delivery terminology It has to be the most ironic twist ever to befall Julian Assange, crusader for a cause he calls "radical transparency." A hundred pages of official documents in an investigation that the WikiLeaks founder sexually molested two Swedish women have been leaked onto the net. According to Juha Saarinen writing for Wired.com, the documents' most explosive allegations were already reported in late December by The Guardian. Saarinen writes:
Documents in Assange rape probe leak onto the net