Project Vigilant
Project VIGILANT secures the ability to "Attribute Actions to Actors". We have sworn to defend the Constitution of the United States of America, and our providing this research strengthens the common defence.
Projectvigilant.us - Project Vigilant
Cybercop Login Page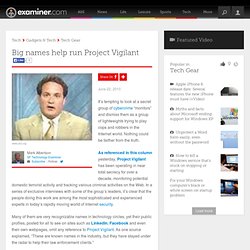 Big names help run Project Vigilant
It's tempting to look at a secret group of cybercrime "monitors" and dismiss them as a group of lightweights trying to play cops and robbers in the Internet world. Nothing could be farther from the truth.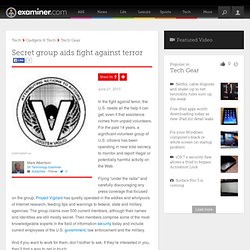 Secret group aids fight against terror
In the fight against terror, the U.S. needs all the help it can get, even if that assistance comes from unpaid volunteers.
Forbes' technology writer Andy Greenberg reports that at the Defcon Security Conference yesterday, an individual named Chet Uber appeared with revelations about the case of accused WikiLeaks leaker Bradley Manning and government informant Adrian Lamo.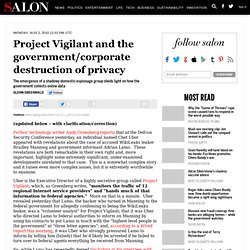 Project Vigilant and the government/corporate destruction of privacy - Glenn Greenwald
BBHC Global LLC | Applied Information Theory
Mark Rasch - LinkedIn
Chet Uber's Page - The Center for Internet Research
kevin manson - LinkedIn
Ira Winkler
InfraGard Public Private partnership between the FBI and the private sector.