Profiling
predict advertise suggest
In information science, profiling refers to the process of construction and application of profiles generated by computerized data analysis. The technical process of profiling can be separated in several steps:
Profiling practices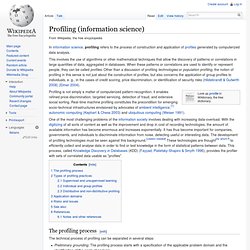 Data mining (the analysis step of the "Knowledge Discovery and Data Mining" process, or KDD),[1] an interdisciplinary subfield of computer science,[2][3][4] is the computational process of discovering patterns in large data sets involving methods at the intersection of artificial intelligence, machine learning, statistics, and database systems.[2] The overall goal of the data mining process is to extract information from a data set and transform it into an understandable structure for further use.[2] Aside from the raw analysis step, it involves database and data management aspects, data pre-processing, model and inference considerations, interestingness metrics, complexity considerations, post-processing of discovered structures, visualization, and online updating.[2]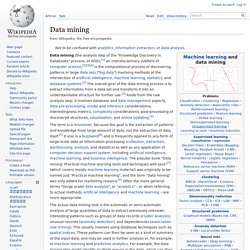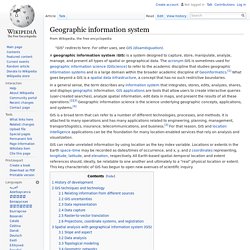 A geographic information system (GIS) is a system designed to capture, store, manipulate, analyze, manage, and present all types of geographical data. The acronym GIS is sometimes used for geographical information science or geospatial information studies to refer to the academic discipline or career of working with geographic information systems and is a large domain within the broader academic discipline of Geoinformatics.[1]
GIS Geographic information system
The Information That Is Needed to Identify You: 33 Bits - Digits
2020 The Future of Behavioural Targeting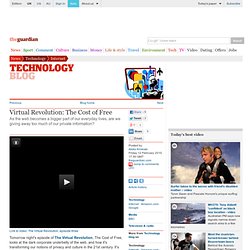 VirtualRevol: Cost of Free
Tomorrow night's episode of The Virtual Revolution, The Cost of Free, looks at the dark corporate underbelly of the web, and how it's transforming our notions of privacy and culture in the 21st century. It's also the one that excites me the most. I am a dystopian from way back, and I'm both thrilled and terrified to see how we have been complicit in our own 1984. What does Google have on us? How is Amazon's recommendation system contradicting the most powerful opportunity for new inforamtion that the web offers – serendipity – and manipulating us into homogenous proles for its own benefit?
Why Social Media Monitoring Tools Are About to Get Smarter
Jim Tobin is president of Ignite Social Media, where he works work with clients including Microsoft, Intel, Nature Made, The Body Shop, Disney and more implementing social media marketing strategies.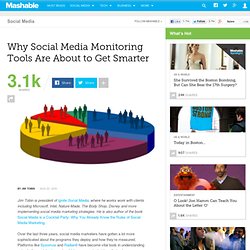 Social Media Is A Cocktail Party:Jim Tobin, Lisa Braziel
WSJ's What They Know (WhatTheyKnow) on Twitter
The Web's New Gold Mine: Your Secrets
emilysteel (emilysteel) on Twitter
Personal Details Exposed Via Biggest U.S. Websites
What They Know About You
Video - How Advertisers Use Internet Cookies to Track You
We collect but do not link personal and activity data.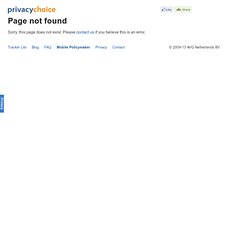 TrackerScan: Install FirefoxWebbrowser tool to see real-time analysis of the tracking companies that are collecting informati
So Many Trackers, So Little Time - Digits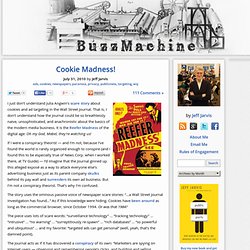 Cookie Madness!
I just don't understand Julia Angwin's scare story about cookies and ad targeting in the Wall Street Journal. That is, I don't understand how the Journal could be so breathlessly naive, unsophisticated, and anachronistic about the basics of the modern media business. It is the Reefer Madness of the digital age: Oh my God, Mabel, they're watching us! If I were a conspiracy theorist — and I'm not, because I've found the world is rarely organized enough to conspire (and I found this to be especially true of News Corp. when I worked there, at TV Guide) — I'd imagine that the Journal ginned up this alleged exposé as a way to attack everyone else's advertising business just as its parent company skulks behind its pay wall and surrenders its own ad business. But I'm not a conspiracy theorist. That's why I'm confused.
The Data Bubble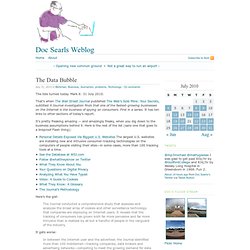 The tide turned today.
The Wall Street Journal has stirred up a discussion of online privacy with its "What They Know" series of reports. These reports reveal again the existence and some workings of the information economy behind the Internet and World Wide Web. (All that content didn't put itself there, y'know!)
What They Know Is Interesting—But What Are You Going to Do About It?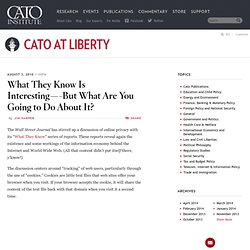 Opposing view on Internet privacy: Don't fear Internet tracking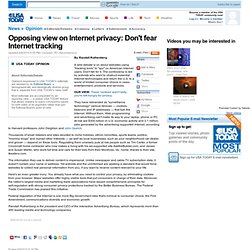 By Randall Rothenberg A wild debate is on about websites using "tracking tools" to "spy" on American Internet users. Don't fall for it. The controversy is led by activists who want to obstruct essential Internet technologies and return the U.S. to a world of limited consumer choice in news, entertainment, products and services. They have rebranded as "surveillance technology" various devices — cookies, beacons and IP addresses — that fuel the Internet.
Ahhhhhhhhhahhhaha! The inmates are now running the asylum.
Fear And Loathing At The Wall Street Journal
Referrer URLs and Privacy Risks | Rapleaf
The Wall Street Journal's recent article in the "What They Know" series discussed the problem of Facebook IDs being passed to ad networks. This is a serious potential privacy risk – and most Facebook applications are impacted by this issue. The underlying issue is with a piece of the HTTP header called the referrer URL. We recognize that referrer URLs are a major industry-wide problem with the structure of internet security, so Rapleaf has taken extra steps to strip out identifying information from referrer URLs.
HTTP referer (originally a misspelling of referrer) is an HTTP header field that identifies the address of the webpage (i.e. the URI or IRI) that linked to the resource being requested.
HTTP referrer
Facebook in Privacy Breach (Wall Street Journal)
At this moment, the must-read stories in technology are scattered across hundreds of news sites and blogs. That's far too much for any reader to follow. Fortunately, Techmeme arranges all of these links into a single, easy-to-scan page.
MySpace, Apps Leak User Data
Wall Street Journal Investigation Into MySpace Was Quietly Killed
A few days ago the Wall Street Journal published a series of articles about a supposed Facebook privacy breach.
AOLBringsOut thePenguins to Explain Ad Targeting - Bits Blog
Paying the price for a free web
To Aim Ads, Web Is Keeping Closer Eye on You
Rapleaf's Web: How You Are Profiled on the Web: Tech News «
Auren Hoffman (auren) on Twitter
Summation Auren Hoffman's blog
Rapportive Makes Gmail More Useful: Business Collaboration News «
Xobni – Business Collaboration Solutions: WebWorkerDaily
Gmail Plugin for Contacts and Attachments | MailBrowser
MailBrowser: A Plugin to Manage Gmail Contacts and Attachments: Business Collaboration News «
Rapleaf - The Wall Street Journal Online - Interactive Graphics
Flowtown (Flowtown) on Twitter
Ethan Bloch (ebloch) on Twitter
Rapleaf and the Facebook Privacy Ruckus: Tech News ?
Almost Famous: Flowtown's Ethan Bloch VIDEO
BlueKai :: Home
eXelate
eXelate Raises $15 Million For Behavioral Targeting Data Marketplace
TRAFFIQ — Premium Advertising Marketplace
Mobile Analytics | Mobile Advertising | iPhone Analytics | Andro
Mixpanel Brings Real-Time Analytics to Android Apps
Retargeting Ads Follow Surfers to Other Sites
You Deleted Your Cookies? Think Again | Epicenter 
EU Push on Cookies Fizzles Out