Journalism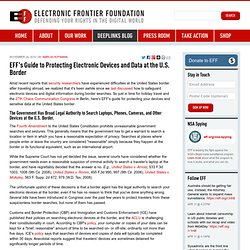 Amid recent reports that security researchers have experienced difficulties at the United States border after traveling abroad, we realized that it's been awhile since we last discussed how to safeguard electronic devices and digital information during border searches. So just in time for holiday travel and the 27th Chaos Communication Congress in Berlin, here's EFF's guide for protecting your devices and sensitive data at the United States border. The Government Has Broad Legal Authority to Search Laptops, Phones, Cameras, and Other Devices at the U.S. Border. The Fourth Amendment to the United States Constitution prohibits unreasonable government searches and seizures.
s Guide to Protecting Electronic Devices and Data at the U.S. Border
A manifesto for the simple scribe – my 25 commandments for journalists | Tim Radford | Science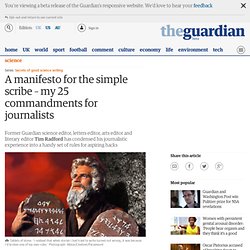 I wrote these 25 commandments as a panic response 15 or more years ago to an invitation to do some media training for a group of Elsevier editors.
If you read the literature on journalism's professional ideology – or just follow any argument about journalists-versus-the-rest-of-the-world – you'll notice particular themes recurring. Like any profession, journalism separates itself from other fields of work through articulating how it is different. Reading Mark Deuze's book Media Work recently I was struck by how a similar, parallel, ideology is increasingly articulated by bloggers.
Culture Clash: Journalism?s ideology vs blog culture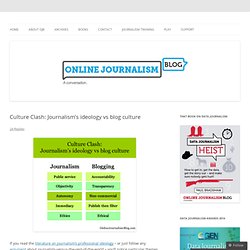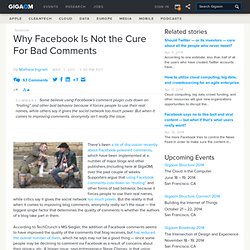 Why Facebook Is Not the Cure For Bad Comments: Tech News and Analysis «
There's been a lot of discussion recently about Facebook-powered comments, which have been implemented at a number of major blogs and other publishers (including here at GigaOM) over the past couple of weeks. Supporters argue that using Facebook comments cuts down on "trolling" and other forms of bad behavior, because it forces people to use their real names, while critics say it gives the social network too much power. But the reality is that when it comes to improving blog comments, anonymity really isn't the issue — the biggest single factor that determines the quality of comments is whether the authors of a blog take part in them. According to TechCrunch's MG Siegler, the addition of Facebook comments seems to have improved the quality of the comments that blog receives, but has reduced the overall number of them, which he says may not be a good thing — since some people may be declining to comment via Facebook as a result of concerns about their privacy, etc.
Attacks on the Press in 2010
January 12, 2009 Audience Atomization Overcome: Why the Internet Weakens the Authority of the Press In the age of mass media, the press was able to define the sphere of legitimate debate with relative ease because the people on the receiving end were atomized-- connected "up" to Big Media but not across to each other. And now that authority is eroding. I will try to explain why.
Why the Internet Weakens the Authority of the Press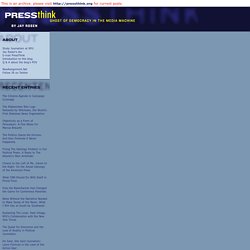 FrontlineClub WL Holding up a mirror to journalism?
Inside Story - The WikiLeaks copycats
wikileaks team "cloned" version of http://pear.ly/ssMj
Klokkenluideronline
Drie jaar geleden begon ik met veel enthousiasme met Leugens.nl. Na een turbostart en niet doorgegane deelnemingen van PCM en de Telegraaf Media Groep ging het weldra bergafwaarts, ondanks een subsidie van het Stimuleringsfonds voor de Pers. Zonder twijfel is dat mijn schuld. Maar het lijkt me verschrikkelijk leuk om er mee door te gaan, bij voorkeur in een team van journalisten. Wie doet er mee? Leugens.nl is de naam voor een site die onwaarheden en onthullingen verzamelt uit verschillende media en er zelf met onderzoek eigen verhalen aan toevoegt.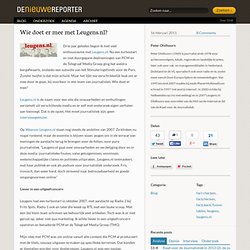 Wie doet er mee met Leugens.nl? | De nieuwe reporter
Leugens.nl, op zoek naar de waarheid
OWNI.fr Digital Journalism Home
IMMI Icelandic Modern Media Initiative
President Obama yesterday signed into US law legislation aimed at protecting American authors, journalists and academics from Britain's libel laws.
Obama signs US legislation to stymie Britain's libel law | Media
Freedom of Expression inEU wikileaks-1.01
ALEV] Freedom of Expression in Europe
GAP Government Accountability Project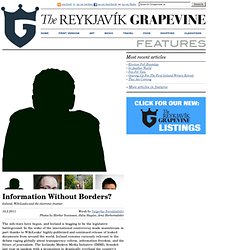 The Reykjavik Grapevine Features / Information Without Borders?
The info-wars have begun, and Iceland is begging to be the legislative battleground. In the wake of the international controversy made mainstream in part thanks to WikiLeaks' highly-publicized and continued release of leaked documents from around the world, Iceland remains curiously relevant to the debate raging globally about transparency reform, information freedom, and the future of journalism. The Icelandic Modern Media Initiative (IMMI), founded last year in tandem with a proposition to drastically overhaul the country's freedom of information laws, is responding to the new info-climate by proposing a legislative framework that could effectively make Iceland into an international transparency safe-haven.
I will be delivering a welcome address at a really cool computer security conference in Amsterdam on Thursday July 1st. The conference is called "Hack In The Box", which originates from Malaysia and is run by really knowledgeable, nice and friendly people. It's two days, so July 1st and 2nd. There's a special hacker community deal, and the program is jam-packed with interesting talks. Check out some of the highlights: The entire program is here and registration is here.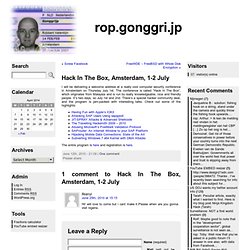 HackInTheBox A'dam1-2 July2010 keep knowl
Hack In The Box (hackinthebox) on Twitter
rop.gonggri.jp
Rop Gonggrijp (rop_g) on Twitter
Rop Gonggrijp in 2010 Robbert Valentijn Gonggrijp[1] (Amsterdam, 14 februari 1968) is een Nederlandse hacker en medeoprichter van internetprovider XS4ALL. Gonggrijp was hoofdredacteur van het hackerstijdschrift Hack-Tic (1989-1994) dat hij samen met een ander heeft opgericht.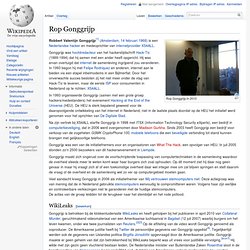 Rop Gonggrijp
PART 1/6 Rop Gonggrijp - Frank Rieger - We lost the war - 22nd Chaos Communication Congress
PART 2/6 Rop Gonggrijp - Frank Rieger - We lost the war - 22nd Chaos Communication Congress
Right here exactly five years ago Frank Rieger and myself held a lecture that was called "We lost the war". It was about how we felt the fight over privacy and wider civil rights was going. For those of you who weren't there: it wasn't a very happy story. It was at the height of the post 9/11 paranoia.
My keynote at 27C3
ICFJ International Center for Journalists
ICFJ on Twitter
5 Innovative Websites That Could Reshape the News
This series is supported by The Poynter Institute's Mobile Media blog – your guide to the intersection of mobile and media. Sign up to receive the blog in newsletter format and be entered into a drawing to win an iPad at Poynter.org/ipadgiveaway. Few industries are experiencing greater upheaval at the hands of technological progress than the news media. New ideas are popping up every day, so we've collected five of the most interesting ones for your consideration. The previous generation of sites that redefined the news birthed several household names — Twitter, YouTube and Digg, to name a few. It's no secret that newspapers have struggled as blogs and social networking sites have grown in prominence, but in the rapidly changing worlds of mobile and web technology, the distribution methods for news information are once again shifting.
The Bureau of Investigative Journalism
TBIJ (TBIJ) on Twitter
Iain Overton (iainoverton) on Twitter
RSF / RWB (RSF_RWB) on Twitter
Knight | MIT Comm-Forum
knightfdn on Twitter
Knight Foundation Hands Out Grants to 12 Groups, but Not WikiLea
WikiLeaks: Knight grants $2.74Mio to
Leak case spotlights an MIT divide
It was once called the Pentagon on the Charles, a campus of imposing limestone structures connected by long corridors where some of the nation's most significant military advancements were hatched. Here, at the Massachusetts Institute of Technology, scientists developed radar used to help track and direct fire at German cruise missiles during World War II. During the Cold War, university researchers designed the nation's air defense and missile guidance systems. More recently, its professors and graduate students have been working with the Army on nanotechnologies to protect soldiers on the battlefield. But MIT, which has received billions in military funding over the past six decades, has also been home to some of the Defense Department's most notorious antagonists. Daniel Ellsberg, the former Marine officer famous for leaking the Pentagon Papers, spent a year there as a research fellow prior to the 1971 publication of the secret history of US involvement in Vietnam.
Earlier today, Monitor Institute and the Foundation Center released a new report called Harnessing Collaborative Technologies: Helping Funders Work Together Better. As part of the research, we looked at more than 170 different technological tools now available to funders, dove deeply into the literature on philanthropic collaboration, analyzed the results of recent Foundation Center surveys, and spoke with a wide range of experts from the worlds of both technology and philanthropy. The report's main headlines won't come as a huge surprise to MORE ››
Networks and Engaged Communities: Beginning a Conversation about Knight Foundation Research
Working Wikily (WorkingWikily) on Twitter
cij Center of Investigative Journalism
Global Investigative (gijn) on Twitter
Vrijspraak voor AIVD'ers
Two state judges in Pennsylvania recently ordered newspapers to take down online stories about criminal cases after charges against the defendants were expunged. The newspapers refused, citing the First Amendment's prohibition against the government restricting the freedom of the press. Last week, the judges relented, and the papers were allowed to keep the stories online in their public archives.
Online, news archives never die, nor do they fade away
Championing Independent Journalism
Frontline Club :: London, UK
Ushahidi in 3G: How media outlets could extend the mapping platform beyond crisis communications
Julian Assange: The end of secrets? - opinion - 16 August 2010
Society of Professional Journalists
Press Freedom Online
CPJ (pressfreedom) on Twitter
IJNet | A World of Opportunities in News Media
IJNet (IJNet) on Twitter
Z Communications
Cryptome
Website for Leaked Data Shines Spotlight on WikiLeaks
Wikileaks Website to Be Abandoned
Columbia University Graduate School of Journalism
The Original WikiLeaker | The New York Observer
Newstweek: news modification demonstration on Vimeo
2011-01-07-device-distorts-news-on-wireless-neworks
Wolfgang Buechner (wbuechner) on Twitter
WAN-IFRA (NewspaperWorld) on Twitter
U.S. to Host World Press Freedom Day in 2011
World Press Freedom (WPFD2011) on Twitter
http://www.connect.connect.facebook.com/WPFD2011
Chaîne de WPFD2011
Biography of Irina BOKOVA | UNESCO
Newseum Home
Newseum (Newseum) on Twitter
Philip J. Crowley (PJCrowley) on Twitter
The seven deadly sins of journalism companies
Clay Shirky predicts widespread disruptions for syndication
Credit where credit is due
jonathanstray: @chsirky predicts that the
New rule: Cover what you do best. Link to the rest ? BuzzMachine
Syndication
Vertical Acuity
Cartoon Movement Launches | VJ Movement
How to Crack the New York Times Most-Emailed List
All the President's Men
All the President's Men (film)
6 Corporate Media Giants Control Majority of Mainstream News
Independent News Organizations & Media
News Corporation
News Corporation (NWScorp) on Twitter
News Corporation
Murdoch onder druk door nieuwe 'phone hacking'-onthullingen « De nieuwe reporter
Journalism at City University London - City University London
CityJournalism (cityjournalism) on Twitter
Why the NYT will lose to HuffPo | Analysis & Opinion |
Who reads the papers? - Yes, Prime Minister - BBC comedy