Journalism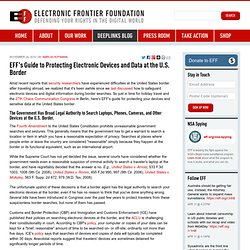 Amid recent reports that security researchers have experienced difficulties at the United States border after traveling abroad, we realized that it's been awhile since we last discussed how to safeguard electronic devices and digital information during border searches. So just in time for holiday travel and the 27th Chaos Communication Congress in Berlin, here's EFF's guide for protecting your devices and sensitive data at the United States border. The Government Has Broad Legal Authority to Search Laptops, Phones, Cameras, and Other Devices at the U.S. Border. The Fourth Amendment to the United States Constitution prohibits unreasonable government searches and seizures.
s Guide to Protecting Electronic Devices and Data at the U.S. Border
A manifesto for the simple scribe – my 25 commandments for journalists | Tim Radford | Science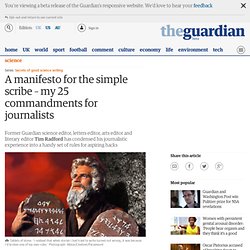 I wrote these 25 commandments as a panic response 15 or more years ago to an invitation to do some media training for a group of Elsevier editors. I began compiling them because I had just asked myself what was the most important thing to remember about writing a story, and the answer came back loud and clear: "To make somebody read it." Ultimately, there's no other reason for writing. Journalists write to support democracy, sustain truth, salute justice, justify expenses, see the world and make a living, but to satisfactorily do any of these things you have to have readers. Fairness and accuracy are of course profoundly important.
If you read the literature on journalism's professional ideology – or just follow any argument about journalists-versus-the-rest-of-the-world – you'll notice particular themes recurring. Like any profession, journalism separates itself from other fields of work through articulating how it is different. Reading Mark Deuze's book Media Work recently I was struck by how a similar, parallel, ideology is increasingly articulated by bloggers.
Culture Clash: Journalism?s ideology vs blog culture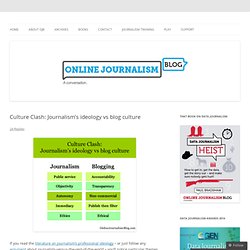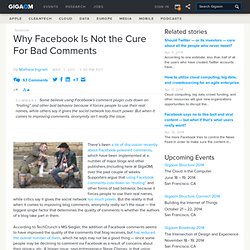 Why Facebook Is Not the Cure For Bad Comments: Tech News and Analysis «
There's been a lot of discussion recently about Facebook-powered comments, which have been implemented at a number of major blogs and other publishers (including here at GigaOM) over the past couple of weeks. Supporters argue that using Facebook comments cuts down on "trolling" and other forms of bad behavior, because it forces people to use their real names, while critics say it gives the social network too much power. But the reality is that when it comes to improving blog comments, anonymity really isn't the issue — the biggest single factor that determines the quality of comments is whether the authors of a blog take part in them. According to TechCrunch's MG Siegler, the addition of Facebook comments seems to have improved the quality of the comments that blog receives, but has reduced the overall number of them, which he says may not be a good thing — since some people may be declining to comment via Facebook as a result of concerns about their privacy, etc.
Attacks on the Press in 2010
January 12, 2009 Audience Atomization Overcome: Why the Internet Weakens the Authority of the Press In the age of mass media, the press was able to define the sphere of legitimate debate with relative ease because the people on the receiving end were atomized-- connected "up" to Big Media but not across to each other. And now that authority is eroding. I will try to explain why.
Why the Internet Weakens the Authority of the Press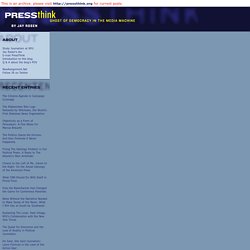 Inside Story - The WikiLeaks copycats
wikileaks team "cloned" version of http://pear.ly/ssMj
Sinds 5 juni 2012 is de vernieuwde Telecommunicatiewet in werking getreden. Wij zijn daarom verplicht om aan iedere bezoeker van Rechtspraak.nl toestemming te vragen voor het plaatsen van cookies. Rechtspraak.nl maakt gebruik van cookies voor het bijhouden van webstatistieken en incidenteel voor andere doeleinden zoals een gebruikersenquête.
Klokkenluideronline
Drie jaar geleden begon ik met veel enthousiasme met Leugens.nl. Na een turbostart en niet doorgegane deelnemingen van PCM en de Telegraaf Media Groep ging het weldra bergafwaarts, ondanks een subsidie van het Stimuleringsfonds voor de Pers. Zonder twijfel is dat mijn schuld. Maar het lijkt me verschrikkelijk leuk om er mee door te gaan, bij voorkeur in een team van journalisten. Wie doet er mee? Leugens.nl is de naam voor een site die onwaarheden en onthullingen verzamelt uit verschillende media en er zelf met onderzoek eigen verhalen aan toevoegt.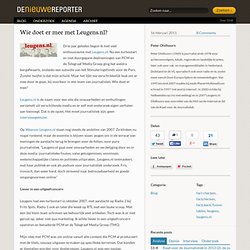 Wie doet er mee met Leugens.nl? | De nieuwe reporter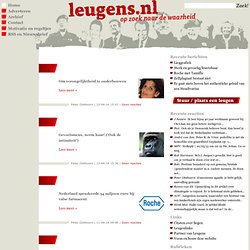 Stop, hou op IBAN-flop in voorbij Europa 'Allemaal om het de burgers makkelijker te maken' Lees meer »
Leugens.nl, op zoek naar de waarheid
OWNI.fr Digital Journalism Home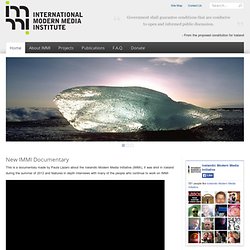 Press release // The Internet, February 28th, 2013 // For immediate release Today, a group of forty security, privacy and human rights advocates and organizations from around the world released an open letter to Ögmundur Jónasson, Icelandic minister of interior, regarding the ongoing discussions on the possibility of establishing Internet pornography censorship in Iceland. The group, consisting of individuals and organizations from 19 countries, including Germany, Poland, the United Kingdom, Palestine, Argentina, Peru, Guatemala, Egypt, Tunisia, Morocco, Jordan, and the United States, objects to the manner in which the discussion has been carried forth, saying that "it is tempting to regard filtering the internet as a quick and easy way to restrict unwanted speech, opinions, or media, which the government regards as harmful for either them or the people. The right to see the world as it is, is critical to the very tenets and functions of a democracy and must be protected at all costs."
IMMI Icelandic Modern Media Initiative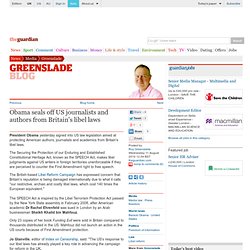 President Obama yesterday signed into US law legislation aimed at protecting American authors, journalists and academics from Britain's libel laws. The Securing the Protection of our Enduring and Established Constitutional Heritage Act, known as the SPEECH Act, makes libel judgments against US writers in foreign territories unenforceable if they are perceived to counter the First Amendment right to free speech. The British-based Libel Reform Campaign has expressed concern that Britain's reputation is being damaged internationally due to what it calls "our restrictive, archaic and costly libel laws, which cost 140 times the European equivalent." The SPEECH Act is inspired by the Libel Terrorism Protection Act passed by the New York State assembly in February 2008, after American academic Dr Rachel Ehrenfeld was sued in London by an Arab businessman Sheikh Khalid bin Mahfouz.
Obama signs US legislation to stymie Britain's libel law | Media
Freedom of Expression inEU wikileaks-1.01
ALEV] Freedom of Expression in Europe
GAP Government Accountability Project
The Reykjavik Grapevine Features / Information Without Borders?
The info-wars have begun, and Iceland is begging to be the legislative battleground. In the wake of the international controversy made mainstream in part thanks to WikiLeaks' highly-publicized and continued release of leaked documents from around the world, Iceland remains curiously relevant to the debate raging globally about transparency reform, information freedom, and the future of journalism. The Icelandic Modern Media Initiative (IMMI), founded last year in tandem with a proposition to drastically overhaul the country's freedom of information laws, is responding to the new info-climate by proposing a legislative framework that could effectively make Iceland into an international transparency safe-haven.
I will be delivering a welcome address at a really cool computer security conference in Amsterdam on Thursday July 1st. The conference is called "Hack In The Box", which originates from Malaysia and is run by really knowledgeable, nice and friendly people. It's two days, so July 1st and 2nd. There's a special hacker community deal, and the program is jam-packed with interesting talks. Check out some of the highlights: The entire program is here and registration is here.
HackInTheBox A'dam1-2 July2010 keep knowl
Have an account? Sign in New to Twitter? Join Today » Forgot password?
Hack In The Box (hackinthebox) on Twitter
I am in awe. I've been working on making sense of "it all" myself recently. But I could not even dream to come close to expressing it remotely as well as Eben does. Free up an undisturbed hour of your life and watch this. Make it today if you can. I would pose that this will become widely recognised to be one of the more important speeches of our time.
rop.gonggri.jp
Rop Gonggrijp (rop_g) on Twitter
Rop Gonggrijp in 2010 Robbert Valentijn Gonggrijp[1] (Amsterdam, 14 februari 1968) is een Nederlandse hacker en medeoprichter van internetprovider XS4ALL. Gonggrijp was hoofdredacteur van het hackerstijdschrift Hack-Tic (1989-1994) dat hij samen met een ander heeft opgericht.
Rop Gonggrijp
PART 1/6 Rop Gonggrijp - Frank Rieger - We lost the war - 22nd Chaos Communication Congress
PART 2/6 Rop Gonggrijp - Frank Rieger - We lost the war - 22nd Chaos Communication Congress
My keynote at 27C3
ICFJ International Center for Journalists
ICFJ on Twitter
5 Innovative Websites That Could Reshape the News
The Bureau of Investigative Journalism
TBIJ (TBIJ) on Twitter
Iain Overton (iainoverton) on Twitter
RSF / RWB (RSF_RWB) on Twitter
Knight | MIT Comm-Forum
knightfdn on Twitter
Knight Foundation Hands Out Grants to 12 Groups, but Not WikiLea
WikiLeaks: Knight grants $2.74Mio to
Networks and Engaged Communities: Beginning a Conversation about Knight Foundation Research
Working Wikily (WorkingWikily) on Twitter
cij Center of Investigative Journalism
Global Investigative (gijn) on Twitter
Vrijspraak voor AIVD'ers
Online, news archives never die, nor do they fade away
Championing Independent Journalism
Frontline Club :: London, UK
Ushahidi in 3G: How media outlets could extend the mapping platform beyond crisis communications
Julian Assange: The end of secrets? - opinion - 16 August 2010
Society of Professional Journalists
Press Freedom Online
CPJ (pressfreedom) on Twitter
IJNet | A World of Opportunities in News Media
IJNet (IJNet) on Twitter
Z Communications
Cryptome
Website for Leaked Data Shines Spotlight on WikiLeaks
Wikileaks Website to Be Abandoned
Columbia University Graduate School of Journalism
Newstweek: news modification demonstration on Vimeo
2011-01-07-device-distorts-news-on-wireless-neworks
Wolfgang Buechner (wbuechner) on Twitter
WAN-IFRA (NewspaperWorld) on Twitter
U.S. to Host World Press Freedom Day in 2011
World Press Freedom (WPFD2011) on Twitter
http://www.connect.connect.facebook.com/WPFD2011
Chaîne de WPFD2011
Biography of Irina BOKOVA | UNESCO
Newseum Home
Newseum (Newseum) on Twitter
Philip J. Crowley (PJCrowley) on Twitter
The seven deadly sins of journalism companies
Clay Shirky predicts widespread disruptions for syndication
Credit where credit is due
jonathanstray: @chsirky predicts that the
New rule: Cover what you do best. Link to the rest ? BuzzMachine
Syndication
Vertical Acuity
Cartoon Movement Launches | VJ Movement
How to Crack the New York Times Most-Emailed List
All the President's Men
All the President's Men (film)
6 Corporate Media Giants Control Majority of Mainstream News
Independent News Organizations & Media
News Corporation
News Corporation (NWScorp) on Twitter
News Corporation
Murdoch onder druk door nieuwe 'phone hacking'-onthullingen « De nieuwe reporter
Journalism at City University London - City University London
CityJournalism (cityjournalism) on Twitter
Why the NYT will lose to HuffPo | Analysis & Opinion |
Who reads the papers? - Yes, Prime Minister - BBC comedy