PRESS ARTICLES
Bees' Decline Linked to Pesticides, Studies Find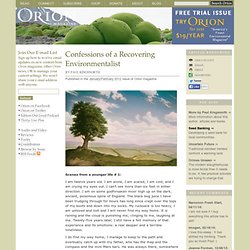 by Paul Kingsnorth Scenes from a younger life # 1: I am twelve years old.
Confessions of a Recovering Environmentalist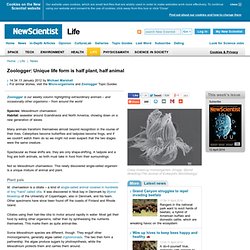 Zoologger is our weekly column highlighting extraordinary animals – and occasionally other organisms – from around the world Species: Mesodinium chamaeleonHabitat: seawater around Scandinavia and North America, chowing down on a new generation of slaves Many animals transform themselves almost beyond recognition in the course of their lives.
Zoologger: Unique life form is half plant, half animal - life - 13 January 2012
Some animals, like turtles, can live for decades. But most turtle studies only last a few years (one big reason is that many studies are conducted by graduate students and, contrary to popular belief, students do in fact want to graduate quickly). So, because turtles live for decades and most studies are completed after just a couple years, that means that much of what we know about these animals is based on snapshots in time. Since many of us want to know best how to conserve turtle populations, it is important that we have a better understanding about how they change over time. Knowing how populations naturally fluctuate allows us to better understand how they might respond to conservation threats. Establishing this baseline data is particularly important for undisturbed populations.
Living Alongside Wildlife: Trapping Tropical Turtles Today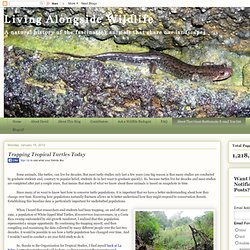 When Atlantic cod stocks went into freefall through the 1980s, while grey seal populations were simultaneously exploding, it has long seemed to Canadian fishermen that there must be a link between the two: that the seals have been eating the fish, and that the 20-year moratorium on the Northern cod fishery was a solution that did not fit the problem. The failure of the cod to rebound even without an active fishery has only bolstered that theory. Yet, all official research seemed to disprove it, with field studies pointing to other unexplained causes of cod mortality, and the limited influence of seals. But now, a study has found that grey seals — top predators that can weigh as much as a bear — do in fact eat a lot of cod, and are largely responsible for the fish's decline. The finding, published in the journal Fisheries Research, is sure to stoke the controversy over a proposed government cull of a quarter million grey seals for the benefit of cod.
Atlantic cod study renews debate over grey seal cull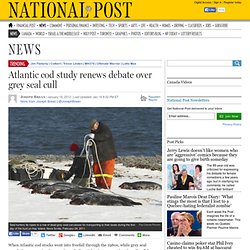 How I became we, which became I again | Not Exactly Rocket Science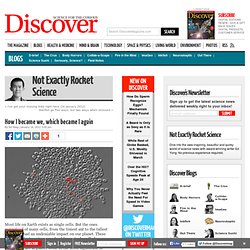 Most life on Earth exists as single cells. But the ones comprised of many cells, from the tiniest ant to the tallest tree, have had an undeniable impact on our planet. These 'multicellular' creatures evolved from single-celled ancestors at least 25 times throughout Earth's history.
Top picks "If this were true adios theory." Darwin's margin scribbles show the evolution of a theory
I've got your missing links right here (2 July 2011) | Not Exactly Rocket Science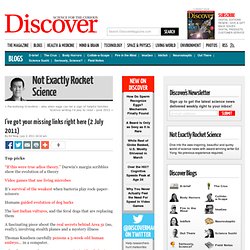 HAL lives, breathes, is infected with toxins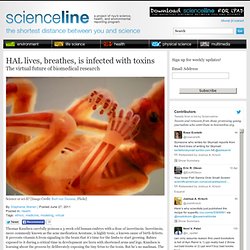 Thomas Knudsen carefully poisons a 3-week-old human embryo with a dose of isoretinoin. Isoretinoin, more commonly known as the acne medication Accutane, is highly toxic, a known cause of birth defects. It prevents vitamin A from signaling to the brain that it's time for the limbs to start growing. Babies exposed to it during a critical time in development are born with shortened arms and legs.
The U.S. Fish and Wildlife Service (FWS) this week granted the Ozark hellbender (Cryptobranchus alleganiensis bishopi) protection under the Endangered Species Act (ESA) but made the unusual decision not to declare critical habitat for the rare, giant salamanders because, it said, doing so could open it to threats from those who would illegally collect the species for the international pet trade. Ozark hellbenders are North America's largest amphibians, often topping off at 60 centimeters in length, and because of that size they are highly valued by collectors. A study published in Applied Herpetology in 2007 found evidence of rampant illegal hellbender collection between 1969 and 1989, including 171 individuals collected during one September weekend in 1980. The study blamed the illegal pet trade as one of the major factors in the 75 percent decline of Ozark hellbender populations over the past few decades.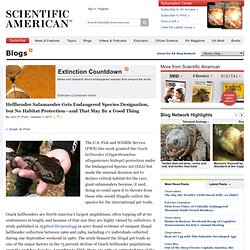 Hellbender Salamander Gets Endangered Species Designation, but No Habitat Protection—and That May Be a Good Thing | Extinction Countdown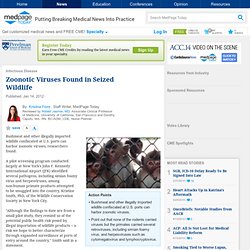 Zoonotic Viruses Found in Seized Wildlife - in Infectious Disease, General Infectious Disease from MedPage Today
Bushmeat and other illegally imported wildlife confiscated at U.S. ports can harbor zoonotic viruses, researchers found. A pilot screening program conducted largely at New York's John F. Kennedy International Airport (JFK) identified several pathogens, including simian foamy virus and herpesviruses, among non-human primate products attempted to be smuggled into the country, Kristine Smith, PhD, of the Wildlife Conservation Society in New York City. "Although the findings to date are from a small pilot study, they remind us of the potential public health risk posed by illegal importation of wildlife products -- a risk we hope to better characterize through expanded surveillance at ports of entry around the country," Smith said in a statement.
www.iias.nl/nl/35/IIAS_NL35_10.pdf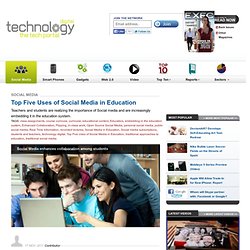 Written By: Cyndi Laurenti Social media use has increased significantly since they caught on a few years ago. A recent study showed 1 in 14 people on Earth has a Facebook account. As social media use has proliferated, businesses have increasingly sought to leverage the advertising opportunities it offers.
Top Five Uses of Social Media in Education
Natalie Heng The Star 20 Dec 11; FOR a wild flower, being desirable is a recipe for disaster. The seductiveness and allure of many orchid species have cost them, dearly. Centuries of plunder have contributed to many species teetering on the brink of extinction. Many are endangered, and a good number have already been wiped off the planet.
Malaysian orchids: The curse of beauty
Guide reveals Amazon's biological bounty
Mark Kinver BBC News 20 Dec 11; The UN has co-produced a study that lists scientific details of Amazon plant species that can be harvested for economic or medicinal purposes. It is estimated that 80% of people in developing nations depend on non-wood forest products, such as fruit, for nutrition and medicine.
Seized RM3.9 million pangolins likely also from Sabah | Daily Express Newspaper Online, Sabah, Malaysia.
Seized RM3.9 million pangolins likely also from Sabah Kota Kinabalu: Sabah Customs has not ruled out the possibility that the 5,000kg of frozen pangolin meat seized in Sandakan last week, may have originated from Sabah islands, Sarawak or neighbouring countries. Its Acting Director Dr Janathan Kandok said the department suspected Sandakan is the collection centre before the suppliers meet up and smuggle it out of Sabah. "In the latest case, over 1,000 packets of frozen pangolin meat were seized from a 40-foot long boat at Batu Sapi waters near Kg Bahagia at about 6.30pm on Dec. 7. "This pangolin meat is believed to have medicinal benefits especially for men and it is being sold at RM800 per kg in the international market and RM150 per kg in the local market," he told Daily Express, Monday.
World AIDS Day Today: Pushing Towards Not Having One in the Future
Prime Indonesian Jungle To Be Cleared For Palm Oil
Jakarta Globe 9 Dec 11; Aceh. The man known as Indonesia's "green governor" chases the roar of illegal chainsaws through plush jungles in his own Jeep. He goes door-to-door to tell families it's in their interest to keep trees standing. That's why 5,000 villagers living the edge of a rich, biodiverse peat swamp in his tsunami-ravaged Aceh province feel so betrayed. Their former hero recently gave a palm oil company a permit to develop land in one of the few places on earth where orangutans, tigers and bears still can be found living side-by-side — violating Indonesia's new moratorium on concessions in primary forests and peatlands.
Durban climate talks: Hidden costs of annual negotiations
A member of Oxfam protesting against the use of coal-based energy on Durban's beachfront yesterday. The UN said it would offset some 1,844 tonnes of greenhouse gas emissions resulting from delegates? journeys to and from the conference. -- PHOTO: REUTERS Grace Chua Straits Times 10 Dec 11; DURBAN: It is a time-honoured irony that each year, thousands of people must travel from all over the world to take part in the annual United Nations climate change negotiations.
Meat diets pose environmental danger: report
Artificial meat? Food for thought by 2050 | Environment
Inside the mind of the octopus
Lynn Margulis, Trailblazing Theorist on Evolution, Dies at 73
Staying relevant
Creativity needed to reduce demand for endangered species
RWS' actuations suggest it has something to hide
Shark Bay stromatolites at risk from climate change
io9. We come from the future.
This beetle larva tricks its predator into becoming prey
Discover Magazine
What You Eat Affects Your Genes: RNA from Rice Can Survive Digestion and Alter Gene Expression | 80beats
Flesh-eating plant inspires super-slippery material that repels everything | Not Exactly Rocket Science
Science & Environment
Non-native species cost 'British economy £1.7bn'
BBC - Earth News - Blue whale's gigantic mouthful measured
Insect that fights Japanese knotweed to be released
BBC - Earth News - Killer whales: What to do with captive orcas?
Science & Environment | Is there an alien in your garden?
British gardeners warned over invasive water plants
Scientific American
A Biology Teacher's Ode to Sir David Attenborough | Budding Scientist
Science Without Borders®
A Male's Tale // Science Without Borders®
Moon_Night_2011.pdf (application/pdf Object)
WildlifeTimesJune2011.pdf (application/pdf Object)
'Porpicide': Bottlenose dolphins killing porpoises | Full Page
Global warming leading to migration of fish | global warming | | Indian Express
Newfound Octopus Impersonates Fish, Snakes
Yale Environment 360: Opinion, Analysis, Reporting & Debate
A Planetary Crisis Is A Terrible Thing to Waste by Christian Schwägerl
The World at 7 Billion: Can We Stop Growing Now? by Robert Engelman
The Crucial Role of Predators: A New Perspective on Ecology by Caroline Fraser
A Huge Oil Palm Plantation Puts African Rainforest at Risk by Rhett Butler and Jeremy Hance
As Shark Slaughter Continues, A Defender Targets Fin Trade by
On Biking, Why Can't the U.S. Learn Lessons from Europe? by Elisabeth Rosenthal
Nissan's Carlos Ghosn Seeks Revenge for the Electric Car by
The Crucial Role of Predators: A New Perspective on Ecology by Caroline Fraser
Colorado River: Running Near Empty by
By Barcoding Trees, Liberia Looks to Save its Rainforests by Fred Pearce
New Model for Aquaculture Takes Hold Far from the Sea by
Green Failure: What's Wrong With Environmental Education? by Michelle Nijhuis
How Fisheries Can Gain From The Lessons of Sustainable Food by John Waldman