Educamp
PilotHandwriting.com
Special Issue - Connectivism: Design and Delivery of Social Networked Learning Diego Ernesto Leal Fonseca EAFIT University, Columbia Abstract This paper describes a learning experience called EduCamp, which was launched by the Ministry of Education of Colombia in 2007, based on emerging concepts such as e-Learning 2.0, connectivism, and personal learning environments. An EduCamp proposes an unstructured collective learning experience, which intends to make palpable the possibilities of social software tools in learning and interaction processes while demonstrating face-to-face organizational forms that reflect social networked learning ideas. The experience opens new perspectives for the design of technology training workshops and for the development of lifelong learning experiences.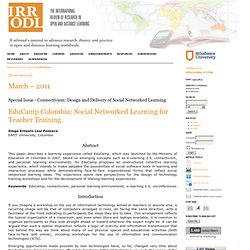 EduCamp Colombia: Social networked learning for teacher training | Leal Fonseca
Broadcast Yourself.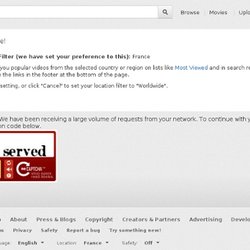 Welcome to YouTube! The location filter shows you popular videos from the selected country or region on lists like Most Viewed and in search results.To change your location filter, please use the links in the footer at the bottom of the page. Click "OK" to accept this setting, or click "Cancel" to set your location filter to "Worldwide". The location filter shows you popular videos from the selected country or region on lists like Most Viewed and in search results. To change your country filter, please use the links in the footer at the bottom of the page.
Top Ten Argument Mapping Tutorials. Six online tutorials in argument mapping, a core requirement for advanced critical thinking.The Skeptic's Dictionary - over 400 definitions and essays. The Fallacy Files by Gary Curtis.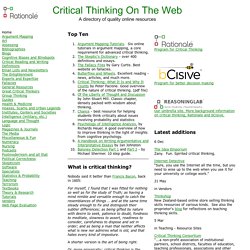 Critical Thinking On The Web
Teaching and Learning with Twitter
Next » Embedding in WordPress If you haven't already, simply install our "Advanced YouTube Embed by EmbedPlus" plugin » (Not to be confused with our other plugin for embedding standard YouTube videos ») After you've installed and activated it on your WordPress blog, you get a new EmbedPlus button that opens this wizard within your editor: If you don't use the rich-text editor, you can still still start the wizard in WordPress. Just go to Settings » EmbedPlus and scroll down (or come back to this page and continue on in the wizard after installation).
A free flash based tool for real-time reactions, movable zoom, slow motion, annotations, chapter / scene skipping, and more with embeds on your video site, blog, vlog, etc. < embed plus >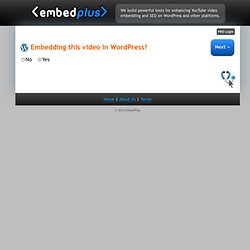 Art Project, powered by Google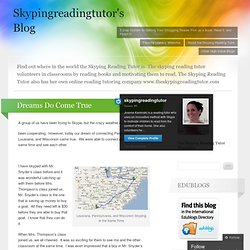 Dreams Do Come True « Skypingreadingtutor's Blog
A group of us have been trying to Skype, but the crazy weather in the East has not been cooperating. However, today our dream of connecting Pennsylvania, Louisiana, and Wisconsin came true. We were able to connect all of us at the same time and see each other. Louisiana, Pennsylvania, and Wisconsin Skyping at the Same Time
DIRECTORY OF LEARNING TOOLS Web meeting, Conferencing and Virtual World Tools Tools for delivering live meetings, screen sharing and accessing/ building virtual worlds Web meetings | Screen sharing | Webcasting | Video conferencing | Virtual worlds is a free tool or a free version is available
Live Tools: A-K
juandon Es posible que haya otros que le gustaría añadir a la lista. Por favor publicarlos en los comentarios de todos nosotros para explorar.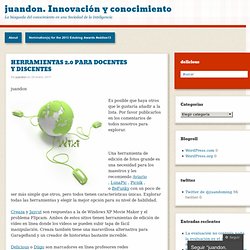 HERRAMIENTAS 2.0 PARA DOCENTES Y DISCENTES
Teaching with Technology - Examples of Web 2.0 Tools
Centre for Innovation and Excellence in Learning is Vancouver Island University's teaching, learning and technology centre. We work strategically in line with VIU's Academic Plan and collaboratively with academic faculties and departments, and faculty members to promote and support innovation and excellence in the creation and development of high quality and curriculum-supported learning opportunities, through the appropriate use and integration of research-informed teaching tools, interactive technologies, and vibrant learning environments, which will help increase student retention and enrolment and enhance learning at Vancouver Island University. ...we support faculty in being excellent teachers in face-to-face and elearning environments ...we support faculty in accessing their elearning experiences, improving their technology skills and having quality learning opportunities
Help us connect all US schools with international communities. | Connect all Schools
APRENDER A SER MEJOR DOCENTE (TIC)
Home > About SOLEs & SOMEs >SOLEs = Self Organizing Learning Environments ; SOMEs = Self Organized Mediation Environments A Note for all those interested in the Project We continue to be overwhelmed and grateful that so many of you, all over the world, have offered to help with interacting with children over the Internet! Many of you have also evinced a desire to know a little more about the project as a whole, apart from the story reading and interaction with children. So we put together a little note and look forward to collaborating with you on this project in many different ways.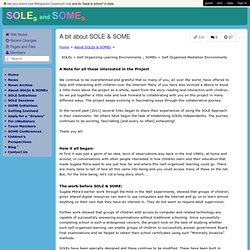 solesandsomes - A bit about SOLE & SOME
RECORTES DE UNA FUTURA MAESTRA...
Esta es mi aportación al libro colaborativo de @bazarlocos. Como todo lo que escribo, seguramente me he enrollado demasiado: menos mal que twitter me va a enseñar a reducir a 140!!! :) Aunque llevo poco, poco, poquísimo tiempo en twitter y aún me queda muchísimo por aprender, no me voy a quedar sin participar en una iniciativa como esta.La verdad es que después de haber leído tantas aportaciones geniales, cuesta decir algo original y diferente, así que, dando por hecho que no voy a ser original, intentaré al menos ser auténtica y contaros un poco mi historia con twitter. Soy una renegada del sistema educativo formal. Desde siempre he tenido facilidad para aprender y no he tenido la necesidad de "empollar" para aprobar los exámenes, pero el sistema era básicamente eso: reproducir lo que dice el libro, más o menos fielmente según el profesor que te toque.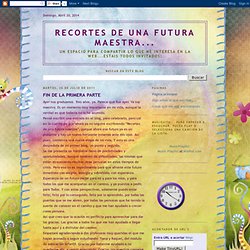 tp://www.educadoresdigitales.org/2010/12/aprender-utilizar-internet-mejor-grovo.html
Learn | Personalized Online Training Center
.:: CEDIPROE ::.
SEMINARIO | TALLER INTERNACIONAL: Innovaciones en Tecnología Educativa: la metodología del Webquest Coordinación general: Dra. Beatriz Fainholc Objetivos:
Ediciones Novedades Educativas | Libros . Recursos . Contenidos
Ellos son docentes 2.0 y quieren impulsar el cambio
Imagen de David Álvarez, de su blog E-APRENDIZAJE Son un nutrido grupo de docentes que han hecho de Internet su claustro. Hablan, experimentan, intercambian ideas y realizar proyectos colaborativos.
Usamos o no usamos Redes Sociales en Educación? Esa es la cuestión.
How To Create An Epic Animation Using Only Google Docs
Shakespeare for Children
One of the requirements for an application to Google Teacher Academy is to create a one minute video on classroom innovation… Here's what I learned: You don't need to know anything about video to create one.Process is far more important then product when it comes to learning (We should always assess that, rather than the end result)If something is worthwhile to you, obstacles can be overcome.You can make up for lack of skill if you are resourceful.A cartoon can deliver a powerful message… useful when time is limited!Support and encouragement can come from interesting, sometimes unexpected places… in this case Vancouver, Brooklyn, Chennai. Like this:
Learning today
TRAITR
Web 2.0 is different: Speed - Broadband connectivity and high speed wireless and mobile connectionshave enabled much of the changes that have occurred.•
Web 2.0 Tools for Teachers
Formación profesores
21 Things That Will Become Obsolete in Education by 2020 - THE DAILY RIFF - edustange's posterous
Why Teachers Should Blog
21 Things That Will Become Obsolete in Education by 2020
Elaboración de Periódicos Digitales
Teach Parents Tech
The Super Book of Web Tools for Educators
Perplejidad docente, Videos del tiempo de ñaupa y pensamiento en acción Proyecto Facebook
My online learning community
Ars Technica.mp4
12 Ways to Create Videos Without a Camera or Software
edcamp - home
Session Board | edcamp NYC
LIP DUB UPF "Wake me up before you go-go" (Barcelona, 2010)
An #edcamp experience | The Principal's Posts
DSC_3352
EdCamp NYC 2010
Sell Tickets Online - Event Registration and Box Office Solutions
20x20 what is it? - PechaKucha 20x20
Convocatoria RAP CEIBAL
Miembros - Red de Apoyo al Plan Ceibal
Herramientas docentes para la vuelta a las aulas
Proyecto SIESTTA 2.0 » SIESTTA 2.0
Edcamp Vancouver
EdCampNYC - We DO, DO you?
Block ads without a plugin - AdOut.org is a free online ad-blocker
Where do ideas come from?
¿Cómo funciona el Educamp? - EduCampMexico2010
The Role of the Educator in the Digital World
5 cosas que (aún) puedes enseñar a tus alumnos
EDUCAMP
Programa - Aplicaciones TICs II | Wiki | USAL Rosario - TIC en educación
EduCamp - Brief
flashmo_098_3d_curve_wall
25 collaboration tools you should not miss
eFront: Facebook for e-Learning
Search - #EducampMonteria
EduCamp Colombia - Montería
Innovación: El camino para el cambio de paradigmas by Hector Melo on Prezi
simplebooklet.com
Modelo tcpk
10 Tips to Help Master Prezi
Google Apps for Education Demonstration Video
Creating Blogger Pages
20 Things I Learned About Browsers and the Web
Promising Practices in Assessment and Evaluation by Dean Shareski on Prezi
Why Blog?
Online converter - convert video, images, audio and documents for free
Learn It In 5 - Home
Dean Shareski: How To Make Better Teachers
Iniciativa Intel® Educación: Programa Intel® Educar
20 Things I Learned About Browsers and the Web
Mashup en estado puro, imperdible… | El caparazon
PIM, la antesala del PLE | Educ@Xip
Personal Information Management: PIM 2009 Workshop - Home
DocumentManagementSoftware - kognite - List of document and information management, thinking and writing software - Project Hosting on Google Code
your class everywhere
Social Learning Tools for the School Classroom
educampco [licensed for non-commercial use only] / Mi Ambiente Personal de Aprendizaje
Brain Rules: Brain development for parents, teachers and business leaders | Brain Rules |
educampco [licensed for non-commercial use only] / Bienvenida
educampco [licensed for non-commercial use only] / FrontPage
Desarrollo del Taller
Lingr
Hoja Herramientas
Aprendizaje en un mundo conectado: Cuando participar (y aprender) es "hacer click"
¿Qué es un EduCamp?
EduCamp Colombia (reloaded)
educampcolombia - Agenda_Monteria