Educamp
PilotHandwriting.com
Special Issue - Connectivism: Design and Delivery of Social Networked Learning Diego Ernesto Leal Fonseca EAFIT University, Columbia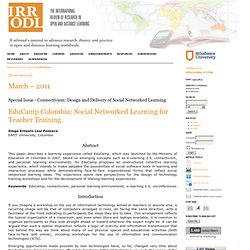 EduCamp Colombia: Social networked learning for teacher training | Leal Fonseca
Broadcast Yourself.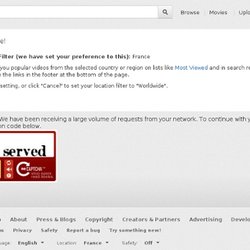 Welcome to YouTube!
Top Ten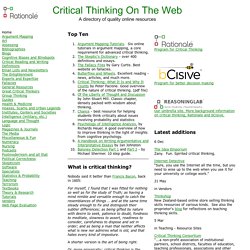 Critical Thinking On The Web
Teaching and Learning with Twitter
Next » Embedding in WordPress
A free flash based tool for real-time reactions, movable zoom, slow motion, annotations, chapter / scene skipping, and more with embeds on your video site, blog, vlog, etc. < embed plus >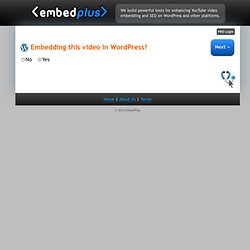 Art Project, powered by Google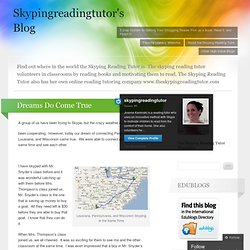 Dreams Do Come True « Skypingreadingtutor's Blog
A group of us have been trying to Skype, but the crazy weather in the East has not
DIRECTORY OF LEARNING TOOLS Web meeting, Conferencing and Virtual World Tools
Live Tools: A-K
juandon Es posible que haya otros que le gustaría añadir a la lista. Por favor publicarlos en los comentarios de todos nosotros para explorar.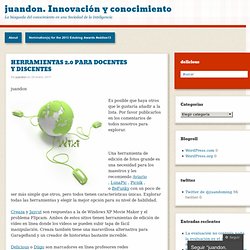 HERRAMIENTAS 2.0 PARA DOCENTES Y DISCENTES
Teaching with Technology - Examples of Web 2.0 Tools
Centre for Innovation and Excellence in Learning is Vancouver Island University's teaching, learning and technology centre.
Help us connect all US schools with international communities. | Connect all Schools
APRENDER A SER MEJOR DOCENTE (TIC)
solesandsomes - A bit about SOLE & SOME
RECORTES DE UNA FUTURA MAESTRA...
tp://www.educadoresdigitales.org/2010/12/aprender-utilizar-internet-mejor-grovo.html
Learn | Personalized Online Training Center
.:: CEDIPROE ::.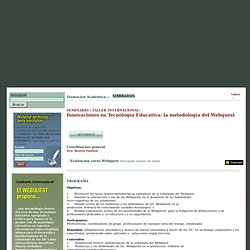 SEMINARIO | TALLER INTERNACIONAL: Innovaciones en Tecnología Educativa: la metodología del Webquest
Ediciones Novedades Educativas | Libros . Recursos . Contenidos
Ellos son docentes 2.0 y quieren impulsar el cambio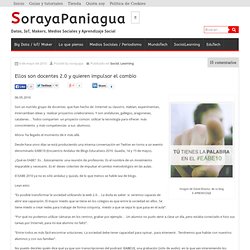 Imagen de David Álvarez, de su blog E-APRENDIZAJE Son un nutrido grupo de docentes que han hecho de Internet su claustro. Hablan, experimentan, intercambian ideas y realizar proyectos colaborativos.
Usamos o no usamos Redes Sociales en Educación? Esa es la cuestión.
How To Create An Epic Animation Using Only Google Docs
Shakespeare for Children
One of the requirements for an application to Google Teacher Academy is to create a one minute video on classroom innovation…
Learning today
TRAITR
Web 2.0 Tools for Teachers
Formación profesores
PDI, objetos educativos digitales, plataformas, herramientas… Todas estas materias y muchas más son las protagonistas de las actividades formativas presenciales y en línea proyectadas por el CITA de la Fundación Germán Sánchez Ruipérez en torno a las tecnologías educativas.
21 Things That Will Become Obsolete in Education by 2020 - THE DAILY RIFF - edustange's posterous
Why Teachers Should Blog
I've never been too big on Descartes.
21 Things That Will Become Obsolete in Education by 2020
Elaboración de Periódicos Digitales
Teach Parents Tech
The Super Book of Web Tools for Educators
Perplejidad docente, Videos del tiempo de ñaupa y pensamiento en acción Proyecto Facebook
My online learning community
Ars Technica.mp4
12 Ways to Create Videos Without a Camera or Software
edcamp - home
Session Board | edcamp NYC
LIP DUB UPF "Wake me up before you go-go" (Barcelona, 2010)
An #edcamp experience | The Principal's Posts
DSC_3352
EdCamp NYC 2010
Sell Tickets Online - Event Registration and Box Office Solutions
20x20 what is it? - PechaKucha 20x20
Convocatoria RAP CEIBAL
Miembros - Red de Apoyo al Plan Ceibal
Herramientas docentes para la vuelta a las aulas
Proyecto SIESTTA 2.0 » SIESTTA 2.0
Edcamp Vancouver
EdCampNYC - We DO, DO you?
Block ads without a plugin - AdOut.org is a free online ad-blocker
Where do ideas come from?
¿Cómo funciona el Educamp? - EduCampMexico2010
The Role of the Educator in the Digital World
5 cosas que (aún) puedes enseñar a tus alumnos
EDUCAMP
Programa - Aplicaciones TICs II | Wiki | USAL Rosario - TIC en educación
EduCamp - Brief
flashmo_098_3d_curve_wall
25 collaboration tools you should not miss
eFront: Facebook for e-Learning
Search - #EducampMonteria
EduCamp Colombia - Montería
Innovación: El camino para el cambio de paradigmas by Hector Melo on Prezi
simplebooklet.com
Modelo tcpk
10 Tips to Help Master Prezi
Google Apps for Education Demonstration Video
Creating Blogger Pages
20 Things I Learned About Browsers and the Web
Promising Practices in Assessment and Evaluation by Dean Shareski on Prezi
Why Blog?
Online converter - convert video, images, audio and documents for free
Learn It In 5 - Home
Dean Shareski: How To Make Better Teachers
Iniciativa Intel® Educación: Programa Intel® Educar
20 Things I Learned About Browsers and the Web
Mashup en estado puro, imperdible… | El caparazon
PIM, la antesala del PLE | Educ@Xip
Personal Information Management: PIM 2009 Workshop - Home
DocumentManagementSoftware - kognite - List of document and information management, thinking and writing software - Project Hosting on Google Code
your class everywhere
Social Learning Tools for the School Classroom
educampco [licensed for non-commercial use only] / Mi Ambiente Personal de Aprendizaje
Brain Rules: Brain development for parents, teachers and business leaders | Brain Rules |
educampco [licensed for non-commercial use only] / Bienvenida
educampco [licensed for non-commercial use only] / FrontPage
Desarrollo del Taller
Lingr
Hoja Herramientas
Aprendizaje en un mundo conectado: Cuando participar (y aprender) es "hacer click"
¿Qué es un EduCamp?
EduCamp Colombia (reloaded)
educampcolombia - Agenda_Monteria