TOOLS
Making your app real-time is a huge boost and WebSockets give you the ability to add bi-directional communication over a persistent connection to your application to increase interactivity and user engagement. web-socket-js is a natural polyfill for the JavaScript WebSocket API transferring data through Flash Sockets when WebSockets aren't available. To use native WebSockets in versions of Firefox before 11, the prefixed MozWebSocket should be used. The protocol backing the Web Socket API has become an IETF standard, but Safari did not implement that version until Safari 6.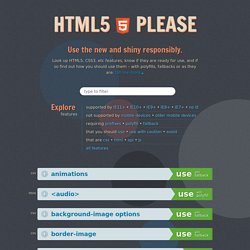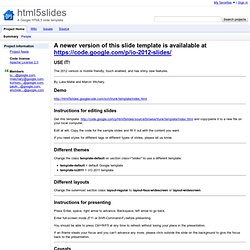 The 2012 version is mobile friendly, touch enabled, and has shiny new features. By Luke Mahé and Marcin Wichary. Demo http://html5slides.googlecode.com/svn/trunk/template/index.html
Come avrete capito, quando si parla di realizzare web app o siti web, il futuro è l' . Forse dovuto dalle pressioni fatte da Apple , forse perchè è veramente il miglior modo per realizzare contenuti compatibili con tutti i dispositivi, fatto è che dobbiamo aggiornare il bagaglio culturale. Non tutti ne hanno voglia o sono all'altezza e quindi oggi vediamo una lista dei tool online che ci permettono di scrivere codice in modo semplice e senza averne alcuna nozione. Volete creare un sito web in HTML5? è perfetto per creare modelli in modo pulito e veloce. Volete sapere se Firefox è compatibile con i canvas HTML5?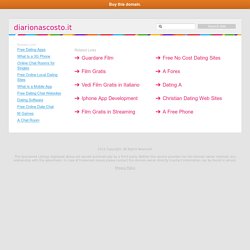 Lista dei Tool online per scrivere codice in HTML5 « DiarioNascosto v3.0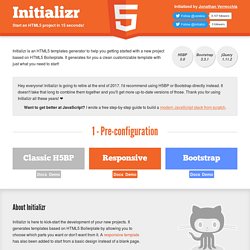 About Initializr Initializr is here to kick-start the development of your new projects. It generates templates based on HTML5 Boilerplate by allowing you to choose which parts you want or don't want from it. A responsive template has also been added to start from a basic design instead of a blank page.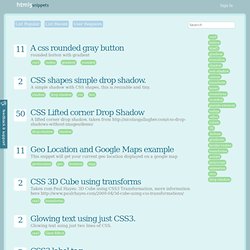 rounded button with gradient A simple shadow with CSS shapes, this is resizable and tiny. A lifted corner drop shadow, taken from http://nicolasgallagher.com/css-drop-shadows-without-images/demo/ This snippet will get your current geo location displayed on a google map Taken rom Paul Hayes: 3D Cube using CSS3 Transformation, more information here http://www.paulrhayes.com/2009-04/3d-cube-using-css-transformations/ Glowing text using just two lines of CSS.
Advertisement Front-end development is a tricky beast. It's not difficult to learn, but it's quite difficult to master. There are just too many things that need to be considered; too many tweaks that might be necessary here and there; too many details to make everything just right. Luckily, developers and designers out there keep releasing useful tools and resources for all of us to learn, improve our skills and just get better at what we do. Such tools are valuable and helpful because they save our time, automate mundane tasks and hence help us focus on more important things.