TOOLS
HTML5 Please - Use the new and shiny responsibly. Free HTML5 Slideshows - SlideMyPics. Html5slides - A Google HTML5 slide template. The 2012 version is mobile friendly, touch enabled, and has shiny new features.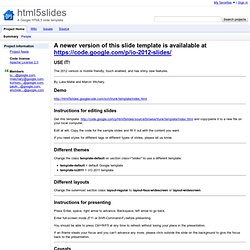 By Luke Mahé and Marcin Wichary. Demo. Lista dei Tool online per scrivere codice in HTML5 « DiarioNascosto v3.0. Come avrete capito, quando si parla di realizzare web app o siti web, il futuro è l' .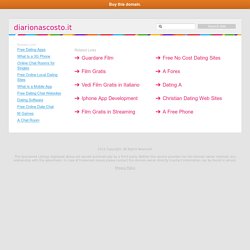 Forse dovuto dalle pressioni fatte da Apple , forse perchè è veramente il miglior modo per realizzare contenuti compatibili con tutti i dispositivi, fatto è che dobbiamo aggiornare il bagaglio culturale. Non tutti ne hanno voglia o sono all'altezza e quindi oggi vediamo una lista dei tool online che ci permettono di scrivere codice in modo semplice e senza averne alcuna nozione. Volete creare un sito web in HTML5? È perfetto per creare modelli in modo pulito e veloce. Volete sapere se Firefox è compatibile con i canvas HTML5? Initializr - Start your HTML5 project in 15 seconds! HTML5 Snippets.
Useful HTML-, CSS- and JavaScript Tools and Libraries - Smashing Magazine. Advertisement Front-end development is a tricky beast.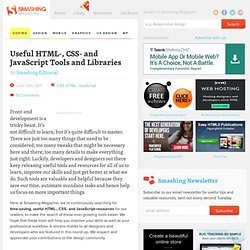 It's not difficult to learn, but it's quite difficult to master. There are just too many things that need to be considered; too many tweaks that might be necessary here and there; too many details to make everything just right. Luckily, developers and designers out there keep releasing useful tools and resources for all of us to learn, improve our skills and just get better at what we do. Such tools are valuable and helpful because they save our time, automate mundane tasks and hence help us focus on more important things.
---