Firefox addons
Pixlr Grabber :: Componenti aggiuntivi per Firefox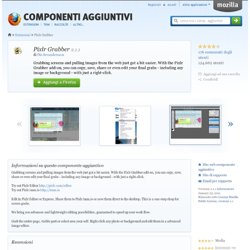 Grabbing screens and pulling images from the web just got a bit easier. With the Pixlr Grabber add-on, you can copy, save, share or even edit your final grabs - including any image or background - with just a right-click. Try out Pixlr Editor http://pixlr.com/editorTry out Pixlr imm.io http://imm.io Edit in Pixlr Editor or Express, Share them to Pixlr imm.io or save them direct to the desktop. This is a one-stop shop for screen grabs.
Firepicker :: Componenti aggiuntivi per Firefox
End-User License Agreement for CodeBurner for Firebug
Version 1.6 Version 1.6 is a comprehensive upgrade, that includes new reference-data from the SitePoint Reference. The support tables now show information for Google Chrome, and the latest versions of Firefox, Safari, Opera and IE. This version also adds at-rules to special search (when looking-up a selected element from the HTML panel), and includes a number of smaller enhancements to the user-interface. And finally, Firebug support itself has been extended to Firebug 1.7.0, and browser support to Firefox 4.0.x and Flock 2.6.x.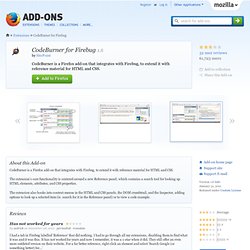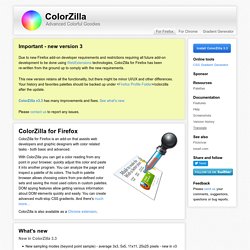 ColorZilla for Firefox is an add-on that assists web developers and graphic designers with color related tasks - both basic and advanced. With ColorZilla you can get a color reading from any point in your browser, quickly adjust this color and paste it into another program. You can analyze the page and inspect a palette of its colors. The built-in palette browser allows choosing colors from pre-defined color sets and saving the most used colors in custom palettes.
Downloading Youtube videos is dead simple now, no fiddling with external software's and copy pasting URL's. This cross-platform, cross-browser web-browser addon lets you download videos right from the Youtube page while you surf and enjoy. Direct video download links from Youtube servers for maximum speeds coupled with instant high-quality (192kbps) MP3 audio downloads at blaxing fast speeds without leaving the Youtube website.
Easy YouTube Video Downloader - Simple And Fast Direct Video Downloads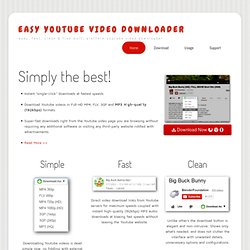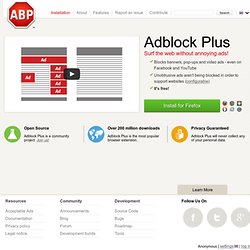 Download Firefox Adblock Plus Firefox is a free and open source browser available for Windows, OS X, Linux, and Android which supports addons. Addons are extensions to your browser to improve privacy and security and the way you view the web. Since its launch in 2006, Adblock Plus has continuously been the most popular addon for the Mozilla Firefox web browser. Adblock Plus for Firefox is more than a popup blocker. Are you troubled by banners, overlays and other annoying advertisements?