Careers
The Future of Nanotechnology"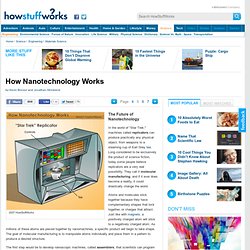 In the world of "Star Trek," machines called replicators can produce practically any physical object, from weapons to a steaming cup of Earl Grey tea. Long considered to be exclusively the product of science fiction, today some people believe replicators are a very real possibility.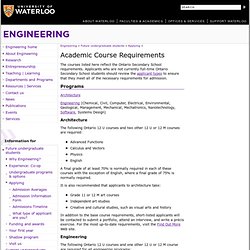 Academic Course Requirements | Engineering
The courses listed here reflect the Ontario Secondary School requirements. Applicants who are not currently full-time Ontario Secondary School students should review the applicant types to ensure that they meet all of the necessary requirements for admission. Programs
5170_en
Nanotechnology in Medicine - Nanomedicine
Nanotechnology in medicine (sometimes referred to as nanomedicine)involves techniques already being used or currently under development, as well as longer range research into the use of manufactured nano-robots to make repairs at the cellular level .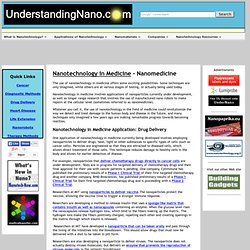 Nanotechnology (sometimes shortened to "nanotech") is the manipulation of matter on an atomic and molecular scale. The earliest, widespread description of nanotechnology[1][2] referred to the particular technological goal of precisely manipulating atoms and molecules for fabrication of macroscale products, also now referred to as molecular nanotechnology. A more generalized description of nanotechnology was subsequently established by the National Nanotechnology Initiative, which defines nanotechnology as the manipulation of matter with at least one dimension sized from 1 to 100 nanometers.