Tarot Cards & Divination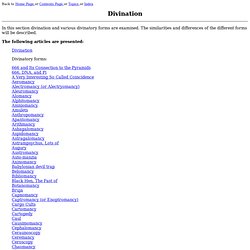 Divination
In this section divination and various divinatory forms are examined. The similarities and differences of the different forms will be described. Divination Divinatory forms:
How to read Tarot Cards (part IV): Preparing your deck for use |
Friends of Wild Iris is a non-profit , 501(c) 3, organization established in 2006 to support the community space traditionally represented by Wild Iris Books. We have found that the mission of a "safe space" for our community often differs from the motive of a for-profit organization. We want to continue to provide a community center for the sharing of ideas and exploration of how we can better impact our society. Mission Statement: To create social, educational and cultural opportunities to empower a diverse feminist community.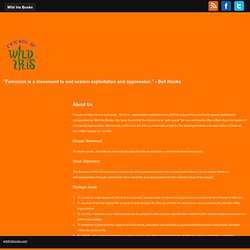 Guide to Reviewed TAROT BOOKS
Learning the Tarot - An On-Line Course
Learning the Tarot - An On-line Course Welcome to Learning the Tarot - my course on how to read the tarot cards. The tarot is a deck of 78 picture cards that has been used for centuries to reveal hidden truths.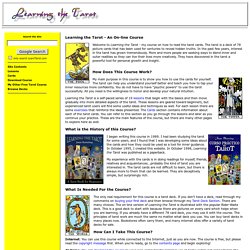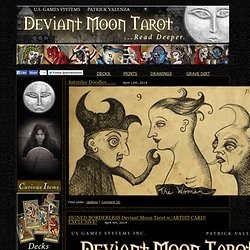 Deviant Moon Tarot
Ok, some new news! I Spoke to someone at US Games today and found out that the shipment of borderless decks from China will dock in the US on January 15th–then it will take a few days to get inventoried by USG. As soon as that happens, I will get your decks to you right away…so sorry for the delay, but the next two weeks will fly! Have a great 2014! Regards, Patrick Filed under: Updates | Comment (0)
Because Tarot cards are such a powerful and flexible magical (or "magickal") tool, it deserves special attention. Reading tarot cards is both an art and a science. Reading tarot cards is a science because magic is a precision science, so all procedures need to be duplicatable and produce reliable results.
Tarot Card Spreads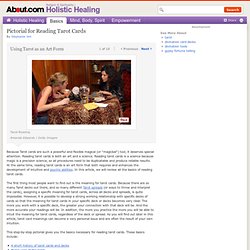 The Lovers tarot card is about love and love affairs, but The Lovers implies a doubt or hesitation in where a relationship is at. Is the right person for me? In our friends and partners we look for kinship, some kind of similarity, as this familiar. The Lovers is really about choice - is this what we really want? A weak Lovers card shows a lack of faith in our ability to make choices. If we screwed up in our choice of partner, where else has our judgement gone awry?
The Lovers divinatory meanings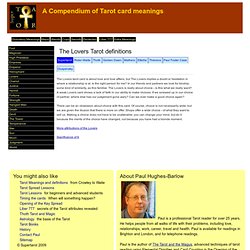 Daily Spreads
All Rights Reserved. These mediations may work best with a BOTA (Paul Foster Case) or Rider Pack (Waite) Tarot Deck. Fool Meditation 9/30/75 Adapted from "Understanding the Tarot", column six, by Bill Heidrick (First published in "Gnostica") The Fool embodies whirling wind blowing between worlds. The Fool is pure existence, without substance or form.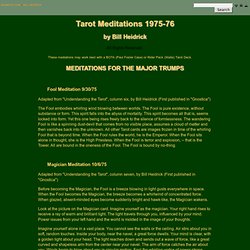 Tarot Meditations
Oracle Card Reading For Divine Guidance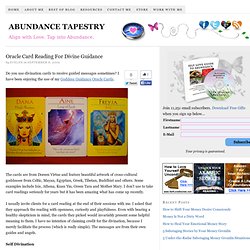 Do you use divination cards to receive guided messages sometimes? I have been enjoying the use of my Goddess Guidance Oracle Cards The cards are from Doreen Virtue and feature beautiful artwork of cross-cultural goddesses from Celtic, Mayan, Egyptian, Greek, Tibetan, Buddhist and others.
Tarot FAQ by Michael Star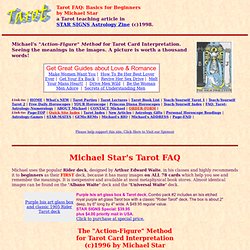 Michael's "Action-Figure" Method for Tarot Card Interpretation. Seeing the meanings in the images. A picture is worth a thousand words! Link-to: | HOME | What's NEW | Tarot Parties | Tarot Lectures | Tarot Book List | Teach-Yourself Tarot 1 | Teach-Yourself Tarot 2 | Free Daily Horoscopes | YOUR Horoscope | Princess Diana Horoscopes | Teach-Yourself Index | FAQ: Tarot-Astrology-Numerology | ABOUT Michael | CONTACT Michael | ORDER-FORM | Link-to: Page-TOP | Quick Site Index | Tarot Index | New Articles | Astrology Gifts | Personal Horoscope Readings | Astrology-Games | STAR-MATES | GEMs-REMs | Michael's BIO | Michael's ADDRESS | Page-END | Please help support this site. Click Here to Visit our Sponsor Michael uses the popular Rider deck, designed by Arthur Edward Waite, in his classes and highly recommends it to beginners as their FIRST deck, because it has many images on ALL 78 cards which help you see and remember the meanings.
Runes, Tarot Cards & Other Divination Tools | Sacred Mists
Tarot, Astrology, I-Ching, Numerology, Feng Shui and Psychics: T
There are very many uses to gain insight into the future, yourself, and anything that you can think of really. I will provide a list of many different kinds of divining, then elaborate on those that are more widely used today.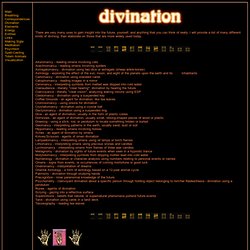 The House of Hekat
Association for Tarot Studies
78 Notes to Self: A Tarot Journal
Tarot cards, reviews, information and insight, at Illumination T
This your website's holding page. Please refer to your welcome email to start building your site and setting up your new email accounts. This welcome page is named index.html and is located in your public_html folder.
Mystic Eye Tarot Symbols Glossary!
Raven's Tarot Site
Main Page - Tarotpedia
'Kelly', on 22 March 2010 - 09:35 PM, said: I want this deck. The depictions are realistic, beautiful and haunting...quite different from the cartoonish vampire decks. Take a look at the some of the cards:http://janetboyer.co...rnal_Night.htmlWhat do you think?
Vampires Tarot of the Eternal Night - Darkness Forums
The Tarot Garden Database: General Search
There is an excellent choice of Goddess tarot decks available. These decks can be both an excellent way of familiarizing yourself with the attributes of the various Goddesses and a means of gaining a greater insight into your life. The Goddess Tarot: by Kris Waldherr is probable the most well known Goddess deck. The intention behind these cards was to "create a tarot deck that would speak directly to women using our stories, while incorporating the archetypal power and symbols of the tarot." There is even a tiny pocket sized version and a Goddess inspiration oracle.
Goddess Tarot Cards
Index for Goals and Career Spreads
Symbols
This page presents a glossary and some discussion of a wide variety of different types of symbols used on tarot cards, to serve as a convenient reference for tarot readers and students. Click on a topic below to go directly to that section. I. ColorsII. Elements and Landscape III.
The Tree of Life and the Wheel of the Year Revisited
In Pagan and Druid practice alike this festival marks the beginning of the harvest and its abundance, and heralds the approach of autumn and the cold half of the year. The Irish god Lugh gives his name to this festival in many traditions; a solar god, he also had the title Samildanach, "possessing all skills." In ancient Ireland this was a season of horse races, athletic contests, and bardic competitions.
INTRODUCTION TO TAROT AND THE TREE OF LIFE
Tarot Garden Library: The Higwayman -- a Tarot Game for Readers
Numerology, Tarot, Astrology, Kabbalah, Lunar calendar 2010, Cha
Tarot Reading Psychic - Your Free Tarot Reading Guide
Understanding Relationship Tarot Spread
Tarot Muse
Karma Card Readings