Interaction
Interactive Mirror - Blog.LitStudios.com
I.P.C.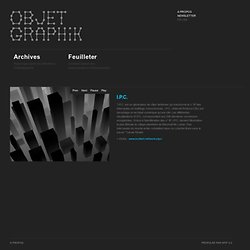 "I.P.C. est un générateur de villes fantômes qui transforme le n° IP des internautes en buildings monochromes, I.P.C. (Internet Protocol City) est davantage un archipel numérique qu'une cité. Les différentes visualisations d'I.P.C. correspondent aux 256 dernières connexions enregistrées. Grâce à l'identification des n° IP, I.P.C. devient l'illustration la plus littérale du village planétaire de Marshall Mc Luhan.
Tony Oursler | Online
Ex-îles / installation interactive / espace hybride
Installation interactive | Espace hybride Ex-îles est une installation interactive composée d'un bassin de cinq mètres sur deux de vingt centimètres de haut rempli d'eau lumineuse et d'une extension numérique sur internet. L'interaction peut se faire à partir de l'espace physique ou du site. De chaque côté du bassin se trouvent deux îles, l'une est « réelle », l'autre virtuelle.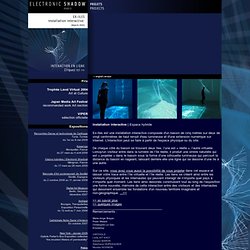 Namnlöst dokument
Polygon Playground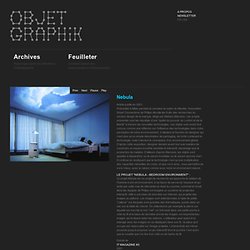 Article publié en 2001 : Présentée à Milan pendant la semaine du salon du Meuble, l'exposition Smart Connections de Philips dévoile les fruits des recherches du secteur design de la marque, dirigé par Stefano Marzano. Les projets présentés sont les résultats d'une "quête du pouvoir, du confort et de la liberté" à travers les nouvelles technologies. Les objets sont avant tout conçus comme une réflexion sur l'influence des technologies dans notre perception de notre environnement.
Nebula
Video Gallery
With a new CEO driving a new corporate strategy, the energy and transportation giant Alstom needed to make a big impression. Total Immersion created an Augmented Reality driven presentation for Alstom to share its vision of the future with 700 of its most important worldwide managers. With CEO Patrick Kron directing the experience, a 3D city of the future rose up from the stage.
· pablo valbuena ·
Christiaan Postma
alvinaronson.com
Interactive Oracles
Deskrama is a portable development from Digitarama, an interactive space viewing machine that reacts to a viewer's bodily movement. Digitarama The current system uses an LCD panel for display, and another earlier version deploys a video projecter that enables a feather light screen. See the video demonstration below. video: Deskrama Projector (low quality, 1.2Mb, Windows Media Player 9) video: Deskrama Projector (med. quality, 2.4Mb, Windows Media Player 9)
Deskrama Body
vh1 holiday card / stop motion animation on the Behance Network
UnitedVisualArtists » Work
Daniel Rozin Shiny Balls Mirror
Electroland - Cameron McNall and Damon Seeley
www.miguel-chevalier.com
Theo Watson Projects - 2009
Body Navigation « ole kristensen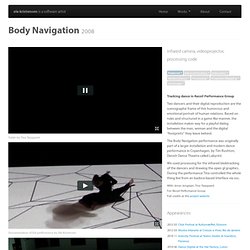 Infrared camera, videoprojector, processing code