Editions livres, magazines
Luc Spooren - Photo par Élodie Picard Du 7 au 11 septembre 2009, le Centre pour l'édition électronique ouverte a organisé son Université d'été de l'édition électronique ouverte. Nous mettons à votre disposition les comptes rendus des conférences et des cours donnés durant cette semaine de formation.
Compte rendu : « L'impression à la demande : une révolution pour l'objet-livre ? »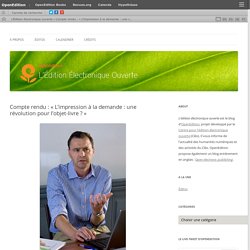 MediaSPIP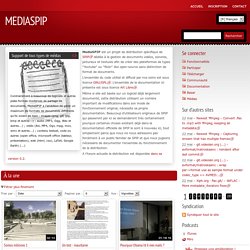 Contrairement à beaucoup de logiciels et autres plate-formes modernes de partage de documents, MediaSPIP a l'ambition de gérer un maximum de formats de documents différents qu'ils soient de type : images (png, gif, jpg, bmp et autres...) ; audio (MP3, Ogg, Wav et autres...) ; vidéo (Avi, MP4, Ogv, mpg, mov, wmv et autres...) ; contenu textuel, code ou autres (open office, microsoft office (tableur, présentation), web (html, css), LaTeX, Google Earth) (...)
What do I get with my subscription? Your subscription enables you to read thousands of professionally published, popular books in a wide variety of genres on Scribd.com and on supported mobile devices. In addition, you will have full access to millions of user-contributed written works that have been published on Scribd like short stories and essays. How many books can I read each month?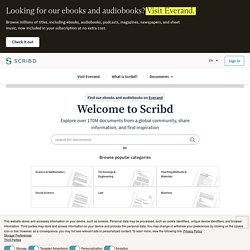 pressbooks.com