Books
Image by Jane Mount, Courtesy 20x 200 Yes, we read Freedom this year and yes, it was good. As Esquire put it, it "was one great slab of a book, at a time when most books have given up on greatness."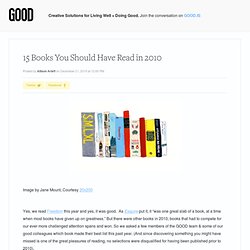 New Book Releases - Fall Books at WomansDay.com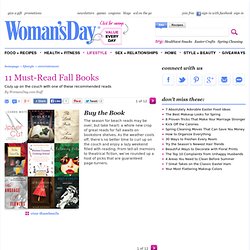 Romance and scandal delightfully intertwine in Rules of Civility , a gripping read from first-time novelist Amor Towles. The story opens in 1937, with protagonist Katey Kontent and her friend Eve out celebrating on New Year's Eve in Manhattan. That night, they meet Tinker Grey, a dashing yet enigmatic banker.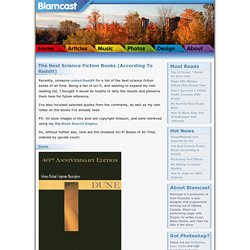 Recently, someone asked Reddit for a list of the best science fiction books of all time. Being a fan of sci-fi, and wanting to expand my own reading list, I thought it would be helpful to tally the results and preserve them here for future reference. I've also included selected quotes from the comments, as well as my own notes on the books I've already read. PS: All book images in this post are copyright Amazon, and were retrieved using my Big Book Search Engine . So, without further ado, here are the Greatest Sci-Fi Books of All Time, ordered by upvote count:
By Gina Barreca, Ph.D. It's a dreary day, so I thought I'd indulge myself and come up with a list of my favorite comedies. A caveat, however: this is not a fancy English-professor-y list of the finest, most exquisitely crafted, most erudite or intellectually sophisticated works on paper in the language. This is a list of the books that make me laugh until my mascara starts to run. These are books to read over your first cup of coffee or just before you go to sleep . Remember: a day you've laughed is day you haven't wasted--even if you didn't get out of bed.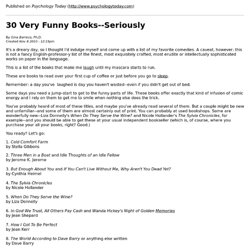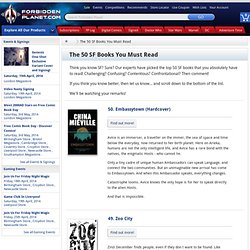 11. Ringworld Pierson's puppeteers, strange, three-legged, two-headed aliens, have discovered an immense structure in a hitherto unexplored part of the universe. Frightened of meeting the builders of such a structure, the puppeteers set about assembling a team consisting of two humans, a puppeteer and a kzin, an alien not unlike an eight-foot-tall, red-furred cat, to explore it.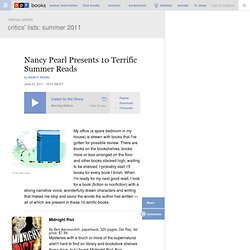 Nancy Pearl Presents 10 Terrific Summer Reads
Chris Silas Neal My office (a spare bedroom in my house) is strewn with books that I've gotten for possible review. There are books on the bookshelves, books more or less arranged on the floor and other books stacked high, waiting to be shelved.
The short story is sometimes an under-appreciated art form. Within the space of a few pages, an author must weave a story that's compelling, create characters readers care about and drive the story to its ultimate conclusion — a feat that can be difficult to accomplish even with a great degree of savvy. Yet these authors have mastered the art of the short story, turning condensed pieces into memorable works of literature that stick with readers long after they've finished. So if you're looking for something to read between classes , get you into literature or just keep you entertained, pick up one of these short stories. Sad and Shocking Tales These short stories prove that it doesn't take a whole novel to leave you stunned and still thinking about a narrative weeks after reading.