Breakfast
Baked Eggs with Bacon and Spinach. Do y'all remember the scene in Runaway Bride (that's an Oscar contender if I've ever seen one…) where Julia Roberts realizes that she doesn't know how she likes her eggs?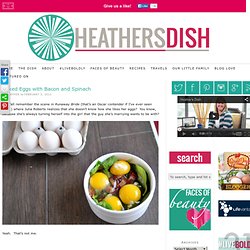 You know, because she's always turning herself into the girl that the guy she's marrying wants to be with? Yeah. That's not me. I know how I like my eggs, although I will say that it depends on the day. Buttermilk Blueberry Breakfast Cake | alexandra's kitchen — recipes, photos, food. I swear buttermilk is magic.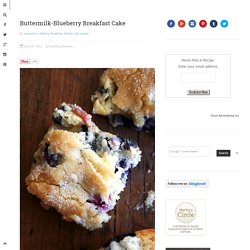 I've dwelled on this before. Buttermilk seems to turn everything to gold. Super-moist, super-delicious gold. Anyway, I needed a simple, summery, breakfasty, cake-like-but-not-dessert-like recipe to make this morning. Cheesy Florentine Biscuit Cups. March 22, 2011 1:37 pm · Posted by Lauren G I looove refrigerated Pillsbury biscuits, mostly because I like popping open the can, but they're also delicious and easy to make.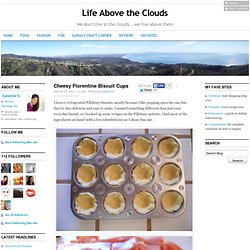 I wanted something different than just your everyday biscuit, so I looked up some recipes on the Pillsbury website. I had most of the ingredients on hand (with a few substitutions) so I chose this one. Pop Up Pancakes. We love to eat breakfast for dinner, it's easy and I have all the ingredients.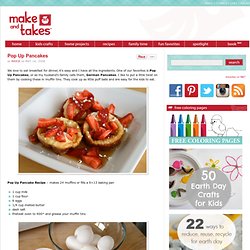 One of our favorites is Pop Up Pancakes, or as my husband's family calls them, German Pancakes. I like to put a little twist on them by cooking these in muffin tins. They cook up as little puff balls and are easy for the kids to eat. Make-Ahead Muffin Melts. This is another recipe from my mother's recipe collection.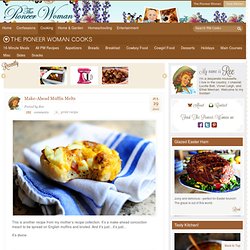 It's a make-ahead concoction meant to be spread on English muffins and broiled. And it's just…it's just… Bacon and Cheese Egg McMuffin Cups… It's Thursday!!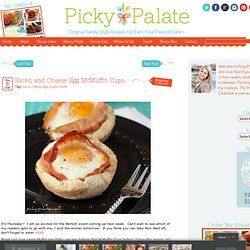 I am so excited for the Bertolli event coming up next week. Can't wait to see which of my readers gets to go with me, I pick the winner tomorrow! Jamaican Banana Fritters - ThatsSoYummy.com. There's a thing in my house that when you have ripe ol bananas either you make banana bread or banana fritters.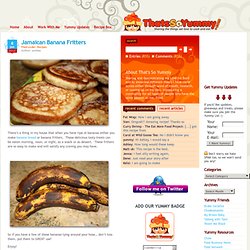 These delicious tasty treats can be eaten morning, noon, or night, as a snack or as dessert. These fritters are so easy to make and will satisfy any craving you may have. So if you have a few of these bananas lying around your hose… don't toss them, put them to GREAT use! Enjoy! Peel and mash the ripe bananas. Hash-Brown Eggs Recipe : Breakfast Hashbrown Casserole. If you are trying to eat better this year, this is a great breakfast recipe for you.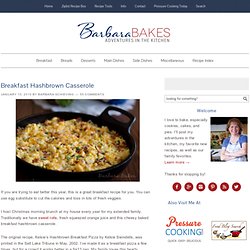 You can use egg substitute to cut the calories and toss in lots of fresh veggies. I host Christmas morning brunch at my house every year for my extended family. Traditionally we have sweet rolls, fresh squeezed orange juice and this cheesy baked breakfast hashbrown casserole. Crustless Quiche in a Cup. Crustless Quiche in a Cup by Rebecca Jun 3rd, 2010 // Breakfast, Most Popular, Picky Busters, Recipes I have found another way to combat pickiness.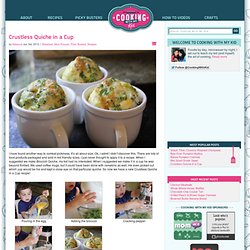 It's all about size. Ok, I admit I didn't discover this. There are lots of food products packaged and sold in kid friendly sizes, I just never thought to apply it to a recipe. Gordon's Berry Breakfast Drink Recipe. Favorite Family Recipes: Eggs. …se-filling.html Copyright Favorite Family Recipes 2012 Here are some more filling ideas: Sausage, scrambled eggs, & cheese (top with sour cream, cheese, and salsa): Cream cheese, whipped cream, & strawberries (topped with strawberry jam, whipped cream & sprinkled with powdered sugar) Cottage cheese & strawberries or peaches Cottage cheese, parmesan cheese, & tomatoes Butter, cinnamon, & sugar PB&J Boiled eggs (sli… [Read more...]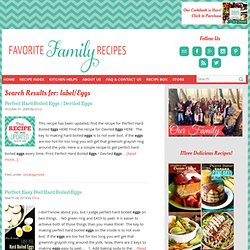 ---