FREE STUFF
Open Source Project Management with web2Project. It's easy to overlook open-source projects when exploring project management tools.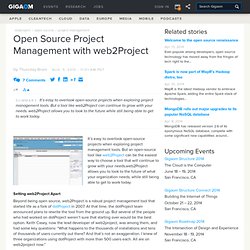 But an open-source tool like web2Project can be the easiest way to choose a tool that will continue to grow with your needs.web2Project allows you to look to the future of what your organization needs, while still being able to get to work today. Setting web2Project Apart Beyond being open source, web2Project is a robust project management tool that started life as a fork of dotProject in 2007. At that time, the dotProject team announced plans to rewrite the tool from the ground up. But several of the people who had worked on dotProject weren't sure that starting over would be the best option.
How to find free stuff | Yahoo! Green. Top10 - Lifehacker. Top 25 Open Source Project Management Apps. If you are a project manager or if you plan to become one — or even if you cannot manage your personal day-to-day tasks — you might require some help from a software system designed to simplify and streamline any project or multiple projects.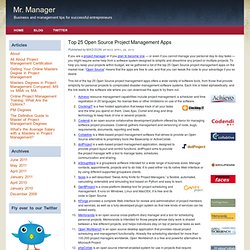 To help you keep your projects within budget, we've gathered a list of the top 25 Open Source project management apps on the market now. "Open Source" means that the apps are free to use, and that you can tweak the code to your advantage if you so desire. This list of the top 25 Open Source project management apps offers a wide variety of software tools, from those that provide simplicity for personal projects to complicated disaster-management software systems. Each link is listed alphabetically, and the link leads to the software site where you can download the apps to try them out. The 46 Best-ever Freeware Utilities.
English-courses
SMS-TEXT. Spinvox. Free_Online_classes.pdf (application/pdf Object) Invitation-Nation.
---