Poetry
Solitude - Ella Wheeler Wilcox. I Don't Remember... by Ash L Bennett. I don't remember, any more, The exact shape of your handsAs I held them in mine, Caressed them, Memorized the length of your fingers, The depth of your calluses.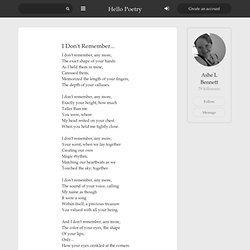 I don't remember, any more,Exactly your height, how muchTaller than meYou were, whereMy head rested on your chestWhen you held me tightly close. I don't remember, any more, Your scent, when we lay togetherCreating our ownMagic rhythm, Matching our heartbeats as weTouched the sky, together. I don't remember, any more, The sound of your voice, calling My name as thoughIt were a song Within itself, a precious treasure You valued with all your being. And I don't remember, any more, The color of your eyes, the shapeOf your lips, Only...How your eyes crinkled at the cornersAnd your laugh, as you told me, "I love you. " Weekly Poem: 'Visiting Auschwitz' | Art Beat. By Elana Bell what extra scrap of bread what glance from a slop-drunk SS what rage raised the rusted shovel struck it on the starving ground.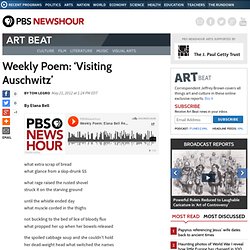 Do Not Stand At My Grave And Weep. I came across this poem recently in StumbleUpon.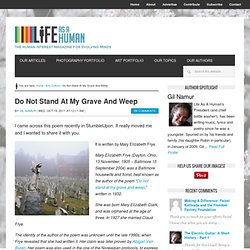 It really moved me and I wanted to share it with you. It is written by Mary Elizabeth Frye. Mary Elizabeth Frye (Dayton, Ohio, 13 November, 1905 – Baltimore 15 September 2004) was a Baltimore housewife and florist, best known as the author of the poem "Do not stand at my grave and weep," written in 1932. She was born Mary Elizabeth Clark, and was orphaned at the age of three. Home.
---