Socialmedia
Help - How to Delete Accounts from Any Website Tips, Solutions & How Tos. Deleting accounts you've created on Facebook, MySpace, AOL, and elsewhere on the Web isn't always easy.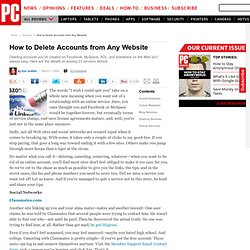 Here are the details on leaving 23 services behind. The words "I wish I could quit you" take on a whole new meaning when you want out of a relationship with an online service. Sure, you once thought you and Facebook or MySpace would be together forever, but eventually terms of service change, end-user license agreements mature, and, well, you're just not in the same place anymore. Sadly, not all Web sites and social networks are created equal when it comes to breaking up. With some, it takes only a couple of clicks to say good-bye. TSMRI - Social Media Conference 2011 (Tentative Schedule 11.20.2011)
Wired Campus. A draft social-media policy at Sam Houston State University—which would force anyone with a campus-related Twitter, Facebook, or other online account to give university administrators editing privileges—led to calls of censorship by students.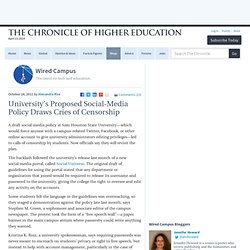 Now officials say they will revisit the plan. The backlash followed the university's release last month of a new social-media portal, called Social Universe. The original draft of guidelines for using the portal stated that any department or organization that joined would be required to release its username and password to the university, giving the college the right to oversee and edit any activity on the accounts. What Are We Doing With Social Media? | From the Bell Tower. Sorry, but the article or page you're looking was not found. In May 2013, Library Journal underwent a major server migration for its archived web content, which happened slightly sooner than originally expected. As a result, much of the content from 2004 to 2012 is currently unavailable to the public. However, this content has not been lost, and our web staff is in the process of converting these past articles for integration into the WordPress-based website you see here, which was launched in 2012. Many of these older articles have already been restored, and more will continue to be restored on an ongoing basis as they are cleaned up.
Mashable. Strategy. Facebook. Via:packrati.us 1. Measurement. Via:packrati.us 2. Via:packrati.us 3. Via:packrati.us 4. Via:packrati.us 5. Via:packrati.us 6.
Via:packrati.us 8. Via:packrati.us 9. Via:packrati.us 10. Via:packrati.us 11. Social Media Case Studies SUPERLIST- 23 Extensive Lists of Organizations Using Social Media (UPDATED) Are you using content marketing as part of your digital strategy to grow your business?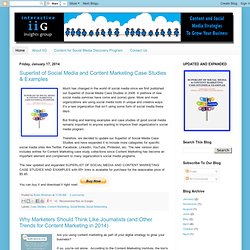 If so, you're not alone. According to the Content Marketing Institute, the lion's share of marketers (some 92%) report using content marketing. In the fast moving world of digital strategy, things are always changing. 60 Ways to Increase Your Influence Online. 12 Steps To Hiring A Social Media Manager. I think we can all agree by now that social media is here to stay.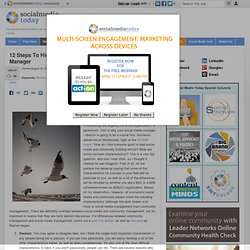 As such, the importance of formulating a social media strategy, executing on it, educating and aligning the whole organization, is paramount. This is why your social media manager / director is going to be a crucial hire. Five reasons corporations are failing at social media. "It's not rocket surgery."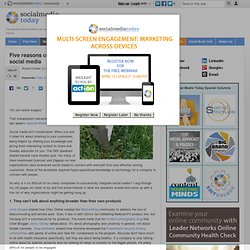 That malapropism became a bit of a mantra at last week's Inbound Marketing Summit. Social media isn't complicated. When you boil it down it's about listening to your customers, being helpful by offering your knowledge and giving them interesting content to share and thereby advocate for you. 5 Must-Read Social Media Marketing Studies. A lot is happening in the world of social media.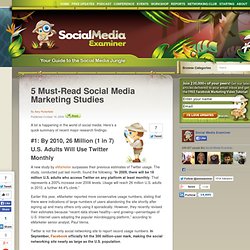 Here's a quick summary of recent major research findings: #1: By 2010, 26 Million (1 in 7) U.S. Adults Will Use Twitter Monthly. Lindsay Robertson. 16 social media guidelines used by real companies | Blog. In a post I wrote called the A-Z of social media for brands I decided that P stands for Policy.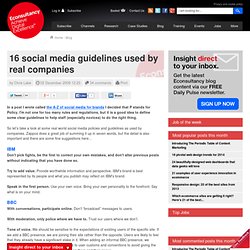 I'm not one for too many rules and regulations, but it is a good idea to define some clear guidelines to help staff (especially novices) to do the right thing. So let's take a look at some real world social media policies and guidelines as used by companies. Zappos does a great job of summing it up in seven words, but the detail is also important and there are some fine suggestions here... Don't pick fights, be the first to correct your own mistakes, and don't alter previous posts without indicating that you have done so. Try to add value. The Best TED Talks To Make Use Of Social Media. TED has been regaling us for years now with inspirational speeches about just about every important topic there is to talk about.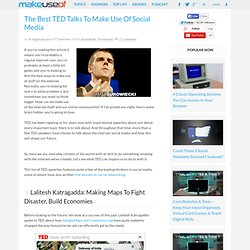 And throughout that time, more than a few TED speakers have chosen to talk about the internet, social media and how this will shape our future. So, here we are, everyday citizens of the world with an itch to do something amazing with the internet we've created. Let's see what TED can inspire us to do to with it. The Case For Social Media in Schools. A year after seventh grade teacher Elizabeth Delmatoff started a pilot social media program in her Portland, Oregon classroom, 20% of students school-wide were completing extra assignments for no credit, grades had gone up more than 50%, and chronic absenteeism was reduced by more than a third.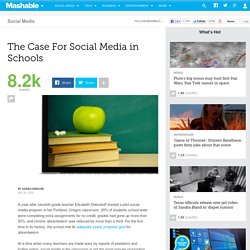 For the first time in its history, the school met its adequate yearly progress goal for absenteeism. At a time when many teachers are made wary by reports of predators and bullies online, social media in the classroom is not the most popular proposition. Twitter, Facebook, and social activism. At four-thirty in the afternoon on Monday, February 1, 1960, four college students sat down at the lunch counter at the Woolworth's in downtown Greensboro, North Carolina. They were freshmen at North Carolina A.
& T., a black college a mile or so away. "I'd like a cup of coffee, please," one of the four, Ezell Blair, said to the waitress. 11 Free Services for Scheduling Social Media Updates. 5 Social Media Lessons Learned from Whole Foods. As a company, Whole Foods has impressively embraced social media more than most, gathering over 1.2 million followers on Twitter and 123,000 fans on Facebook in the process. While it is easy to understand why a relatively young company or one started by a tech-savvy founder would so completely embrace social media communication tools, it is quite a bit more remarkable for an almost 30 year old established brick and mortar company with roughly 50,000 employees and over 270 stores worldwide to have done so.
I recently visited the Whole Foods headquarters in Austin, Texas to meet with members of their new media team, including Bill Tolany, the company's Senior Coordinator of Integrated Media, and Winnie Hsia, who oversees the @wholefoods account. I wanted to know how Whole Foods integrated social media tools into their communications strategy, and what lessons had they learned from doing so. Below are five of the lessons that Whole Foods shared with me during our chat. 1. In Over Your Head. 7 Levels of Social Media Engagement. There are seven stages to social media engagement from shallow monitoring to deep peer to peer economies. How deep is the rabbit hole of social media? Is your organisation doing the minimum they can do, or are they quite advanced? RT @HarvardBiz Five Tips for Smarter Social Networking #socialnetworking #socialmedia. By John Hagel III and John Seely Brown | 8:00 AM January 31, 2011 We are all trying to figure out how to get more value from online social networks like Facebook and Twitter.
Most of us are just skimming the surface in terms of the potential these networks offer us as individuals. To realize this potential, we need to become more active orchestrators of our social networks, setting the tone and drawing out others. Practices are still evolving, but here is some brief, and often contrarian, advice that comes from our decades of experience studying networks and the way people act within them: 5 New Paradigms for a Socially Engaged Company. Soren Gordhamer is the organizer of the Wisdom 2.0 Conference, which brings together staff from Google, Facebook, Twitter and Zynga with others to explore living with awareness and wisdom in our modern age, at the end of February in Silicon Valley.
He is SorenG on Twitter. The age of social media is not just changing our personal lives, but is increasingly affecting how business is conducted. No longer satisfied with strictly top-down models that view employees as cogs in a system, businesses are quickly adapting to a new paradigm that emphasizes connection, collaboration and innovation. When people in companies and teams feel engaged, the benefits are significant. Towers Watson (formerly Towers Perrin), the global professional services firm, interviewed 90,000 employees in 18 countries, and found "companies with high employee engagement had a 19% increase in operating income and almost a 28% growth in earnings per share.
The Three C's of Social Networking: Consumption, Curation, Creation. Ten Mindful Ways to Use Social Media. Top Free Social Media Monitoring Tools You May Not Know About | Smedio | The New Media and Social Web Guide for Business and Marketers. 10 Apps for Monitoring Social Media. 75+ Social Media Resources for Artists and Designers. 26 Essential Social Media Resources You May Have Missed. Social Media Today | The 39 Social Media Tools I'll Use Today. The 39 Social Media Tools I'll Use Today | Blogging and Content Creation | Social Media Consulting - Convince & Convert. A special report on social networking: Yammering away at the office.
The 10 Stages of Social Media Business Integration. 3 Ways Educators Are Embracing Social Technology. How Social Media Has Changed Us. 7 Tools to Better Manage Your Social Networks. 039;s Social Media Guide for Small Businesses. Ten Commandments of Social Media. B.L. Ochman's blog: 10 Things Social Media Can't Do. 10 badass social media visualisations | Blog. How to Blog Effectively. HOW TO: Deal With Social Networking Overload.
The "Must-Have" Tool Kit of Social Media Citizen. 6 Promising And Open Source Social Networking Softwares To Create Your Own. 20 Tips to Define And Manage Your Social Networks [Part 1]
---