Travel
The repeat visitor's guide to Bangkok
The Impact Of Social Media On Travel And Tourism [INFOGRAPHIC]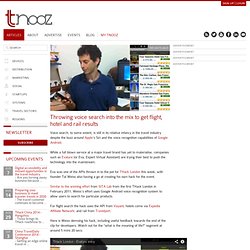 Voice search, to some extent, is still in its relative infancy in the travel industry despite the buzz around Apple 's Siri and the voice recognition capabilities of Google Android . While a full blown service at a major travel brand has yet to materialise, companies such as Evature (or Eva, Expert Virtual Assistant) are trying their best to push the technology into the mainstream. Eva was one of the APIs thrown in to the pot for THack London this week, with founder Tal Weiss also having a go at creating his own hack for the event.
Throwing voice search into the mix to get flight, hotel and rail results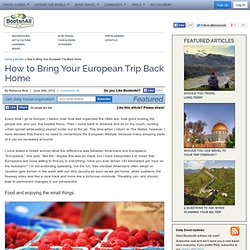 How to Bring Your European Trip Back Home
Every time I go to Europe, I swoon over how well organized the cities are, how good looking the people are, and yes, the heated floors.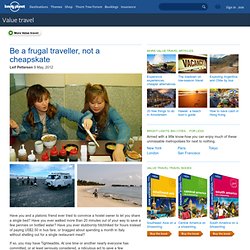 Have you and a platonic friend ever tried to convince a hostel owner to let you share a single bed?
Be a frugal traveller, not a cheapskate - Adventure Travel
World's Most Scenic Cruise Itineraries Slideshow at Frommer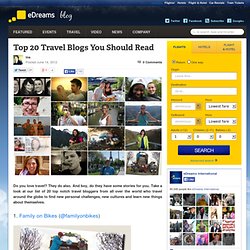 Ina Posted June 14, 2012
Top 20 Travel Blogs You Should Read | Travel Blog - eDreams
DogVacay Adds Airbnb Investor Andreessen Horowitz To Its Pack Of Backers, Aims To Become The Place For All Pet Services
DogVacay launched in March this year as an Airbnb for dogs — offering owners an alternative to soul-less kennels and expensive dog sitting services for when they need to leave town and leave their pooches behind.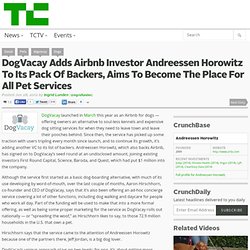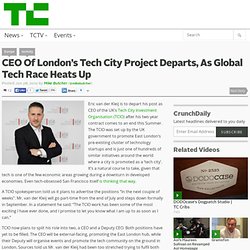 CEO Of London's Tech City Project Departs, As Global Tech Race Heats Up
Eric van der Kleij is to depart his post as CEO of the UK's Tech City Investment Organisation (TCIO) after his two year contract comes to an end this Summer.
Top 10 Most Astonishing Hotels - SweetyDesign. Home design, hotel design, celebrity homes
Here are the list of the most unusual hotels.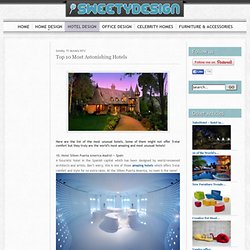 The Most Amazing Places On Earth To Travel
Posted on: May 20th in Beautiful Places , Travel by Becky Padmore .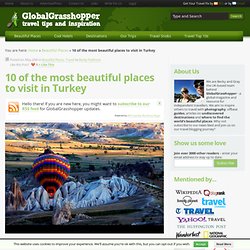 10 of the most beautiful places to visit in Turkey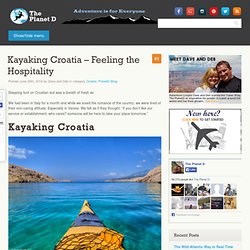 Feeling the Hospitality while Kayaking Croatia
You are here: Home » Eastern Europe » Croatia » Kayaking Croatia – Feeling the Hospitality 46 Email Share Stepping foot on Croatian soil was a breath of fresh air.
10 favourite TBEX 12 moments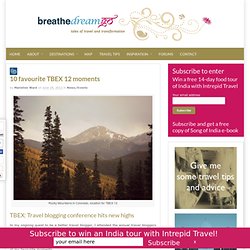 Rocky Mountains in Colorado, location for TBEX 12 In my ongoing quest to be a better travel blogger, I attended the annual travel bloggers conference, TBEX , that took place over the weekend of June 14-16 at Keystone Resort in Colorado , about an hour outside of Denver — and about 10,000 feet above sea level!
For years we've been told that "this year will be the year of mobile". Unfortunately, for many of us, this tiresome line became mundane and predictable years ago.
Are small tourism businesses really ready for the mobile revolution?
Tripku allows adventure travellers to plan, get social, hook up and go
Running with a traditional commission model Chile-based Tripku is an application marrying trip planning for adventure travellers with social networking, itinerary sharing and finding buddies to go with. The concept, first open beta just released, comes from Beatriz Cardona and Alice Neves as well as part-timers Jesus Salgado and Shaheen Samavati and a partnership with Path11 .com – a team of developers and user-experience specialists.
Moving to a different culture in Istanbul The landing announcement echoes through the plane triggering the memories of 12 years ago.
Second time Visiting Turkey | Ottsworld UniqueTravel Experiences
By DANA MATTIOLI Orbitz has found that Apple users spend as much as 30% more a night on hotels, so the online travel site is starting to show them different, and sometimes costlier, options than Windows visitors see. Dana Mattioli reports.
On Orbitz, Mac Users Steered to Pricier Hotels
HOW TRAVEL AGENTS CAN MAXIMIZE LAST MINUTE BOOKINGS WITH IAVRA.COM
B2B, holiday rental company helps Villa Agents fill up their summer calendars with a special offer for new Travel Agents
IAVRA
MOMONDO NAMED OFFICIAL PARTNER OF SENSATION TRAVEL
Ten Travel Tips for Beginners
What Makes a Good Travel Blog?
European Train Travel | Ottsworld UniqueTravel Experiences
How design students think the travel guide of the future might look
More Travelers Take Their Tech With Them [STUDY]
News Headlines
Hotel Blogs - When Hotel Marketing gets Social: When hotel groups rewrite a story: RoomKey
IPK World Travel Monitor: Results of 2011 and some forecasts for 2012 | ETFI Tourism Research Blog | Academic research and trend analysis of developments influencing the future of tourism and leisure
A beginner's guide to Serbia
Kayak acknowledges privacy breach, says problem resolved
cheap flights search engine
Which travel sites are most visible in organic search?
Techie Traveler
Google Rumored To Launch ITA-Powered Travel Search Product Soon
travelers wifi, travelers and internet, tablets and travel, Technology Digital
Momondo Expands in the Nordic Countries
Central Reservation System | Online Hotel Marketing Services, Hong Kong and Philippines Hotel, Spa and Restaurant Software
Social media really does matter to travel brands
The EuroZone Crisis and its Impact on Tourism
What Else? TripCraft, TouristEye, Venere-HotelsCombined, Dolphin Dynamics-STA, Revoo
Wanderlust's top 7 travel essentials | Inspire Me
It's peak travel season for investors
Italy's best-kept secrets
Three questions travel bloggers must address right now
Five Ways to Screw up Your Vacation
Paris: Pack the perfect picnic with these meats from the butcher | Budget Travel Tips – EuroCheapo
Five Foods To Avoid in Italy
$10 billion lost per year in travel scams
How Do You Know When a Place is Safe?
Last-minute travel app HotelTonight books $23M in funding
10 of the best cheap eats in Penang | Travel
TripAdvisor Gets More Social by Opening Reviews to Friends of Friends - Tricia Duryee - Commerce
Is TripAdvisor Now A Social Network? | Water Cooler
Twigmore shows how to use friends on Facebook to find locals in a destination
Best Airlines | Unbiased, Data-Driven Comparisons.
Super-creepy! Privacy in the age of Big Data and personalization in travel
50 things to do for free in Asia from Hostelworld
Traveler's Road to Decision 2011
Travel writers' favourite tiny and unusual airports | Travel
ETC-%20April%202012%20Trends%20and%20Outlook_final2
gezifesto : People online in tourism m
mmmule
Five Tips for Traveling in Europe
Travel Industry Statistics and Popular Destination Information - KAYAK
İstanbul Şehir Fırsatları
Seyahat Önerileri
Planning Travel on the Web
Crowdsourcing at TripAdvisor
Crime Comparison Between Istanbul, Turkey And Barcelona, Spain
Food Prices in Barcelona, Spain