National & International Humanitarian Organisations
European Commission - Humanitarian Aid & Civil Protection
14/04/2014 – Due to the rapidly deteriorating humanitarian situation in South Sudan, the European Commission is ready to boost its life-saving assistance by €45 million to prevent an appalling tragedy in the country which is affecting the whole region. 11/04 –The European Union is stepping up its joint efforts to contain the spread of the first outbreak of Ebola in West Africa and assist those affected by the deadly virus. The Commission has increased its funding for immediate health operations, experts and risk assessments to €1.1 million, and is contributing with medical equipment to help accelerate diagnosis. 08/04 – Today's Commission communication on reducing the impact of natural and man-made disasters constitutes a cornerstone in shaping a common EU position.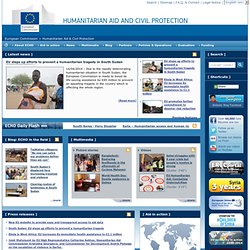 The Humanitarian Centre
What we do The Humanitarian Centre's aim is to identify and solve problems that tackle the root causes of poverty and inequality and to alleviate their enduring symptoms. We do this in partnership with one another, by creating the space and conditions that allow us to listen and learn especially from our partners in communities and countries where poverty and inequality are most devastating. This approach enables us to take bold but thoughtful steps forward and to generate real solutions that make a tangible difference to communities worldwide. The Centre supports over 45 member organisations, through training and networking (for example, in marketing, volunteer management and monitoring and evaluation). Find out more!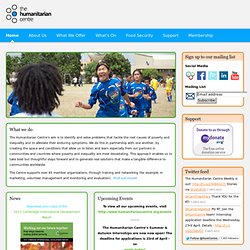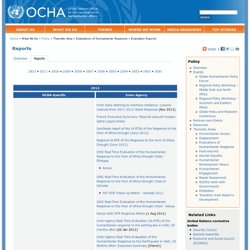 Return to top > Evaluation of the Protection Standby Capacity (ProCap) and Gender Standby Capacity (GenCap) Projects (Dec 2011) Management Response Plan (MRP) to GenCap ProCap Evaluation Report (April 2012) 5-year Evaluation of the Central Emergency Response Fund (CERF): Annexes/Synthesis - Country Reports: El Salvador Afghanistan
Reports
print back to main Russia's system of international development assistance is being established. The strategic vision of the substance and priorities of Russia's international development assistance policy is presented in the Concept of Russia's Participation in International Development Assistance approved by the Russian President on 14 June 2007. A legal framework for Russia's cooperation on international development assistance is laid out by the Constitution of the Russian Federation, the Russian Foreign Policy Concept, the Russian Security Concept, and the Budget Code of the Russian Federation.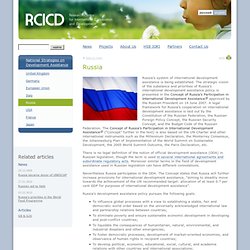 Russia — RCICD.org
CBHA - The Consortium of British Humanitarian Agencies
"We are caught in a race between the growing size of the humanitarian challenge, and our ability to cope; between humanity and catastrophe. And, at present, this is not a race we are winning."" "… being good is not going to be good enough given the challenges ahead. The scale, frequency and severity of rapid onset humanitarian disasters will continue to grow in the coming years, and at an accelerating pace.
Federal Emergency Management Agency
NIMS and National Preparedness Click here to subscribe to the NIMS mailing list The National Incident Management System (NIMS) identifies concepts and principles that answer how to manage emergencies from preparedness to recovery regardless of their cause, size, location or complexity. NIMS provides a consistent, nationwide approach and vocabulary for multiple agencies or jurisdictions to work together to build, sustain and deliver the core capabilities needed to achieve a secure and resilient nation.