National & International Humanitarian Organisations
European Commission - Humanitarian Aid & Civil Protection
The Humanitarian Centre
What we do The Humanitarian Centre is a unique network that tackles some of the most complex aspects of global poverty. It does this by creating cross-fertilisations between Cambridge's world-class minds, harnessing the expertise of our community. It brings together otherwise disparate specialists in technology and business with development practitioners in the field and students – to come up with effective solutions. No other organisation does this. The Centre also supports 40 member organisations, through training in marketing, volunteer management and monitoring and evaluation.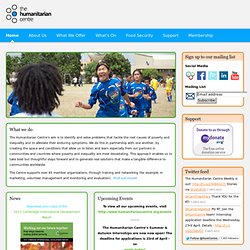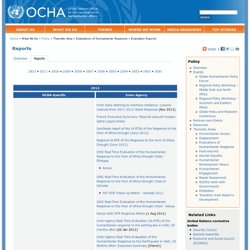 Return to top > Evaluation of the Protection Standby Capacity (ProCap) and Gender Standby Capacity (GenCap) Projects (Dec 2011) Management Response Plan (MRP) to GenCap ProCap Evaluation Report (April 2012) 5-year Evaluation of the Central Emergency Response Fund (CERF): Annexes/Synthesis - Country Reports: El Salvador Afghanistan
Reports
print back to main Russia's system of international development assistance is being established. The strategic vision of the substance and priorities of Russia's international development assistance policy is presented in the Concept of Russia's Participation in International Development Assistance approved by the Russian President on 14 June 2007. A legal framework for Russia's cooperation on international development assistance is laid out by the Constitution of the Russian Federation, the Russian Foreign Policy Concept, the Russian Security Concept, and the Budget Code of the Russian Federation.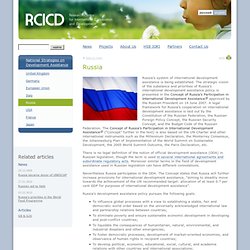 Russia — RCICD.org
CBHA - The Consortium of British Humanitarian Agencies
"We are caught in a race between the growing size of the humanitarian challenge, and our ability to cope; between humanity and catastrophe. And, at present, this is not a race we are winning."" "… being good is not going to be good enough given the challenges ahead. The scale, frequency and severity of rapid onset humanitarian disasters will continue to grow in the coming years, and at an accelerating pace.
Federal Emergency Management Agency
NIMS and National Preparedness Click here to subscribe to the NIMS mailing list The National Incident Management System (NIMS) identifies concepts and principles that answer how to manage emergencies from preparedness to recovery regardless of their cause, size, location or complexity. NIMS provides a consistent, nationwide approach and vocabulary for multiple agencies or jurisdictions to work together to build, sustain and deliver the core capabilities needed to achieve a secure and resilient nation. Consistent implementation of NIMS provides a solid foundation across jurisdictions and disciplines to ensure effective and integrated preparedness, planning and response.