Clasico
Música clásica
El término música clásica aparece por primera vez en el Oxford English Dictionary en 1836 y señala las composiciones europeas más destacadas del siglo anterior,[1] siendo el nombre habitual que reciben la música culta, académica o docta de Occidente.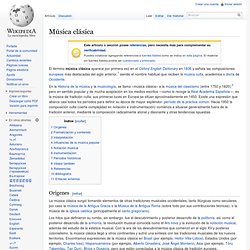 The Classics Network -- online resources for literature, philosophy, and the humanities
Compositor Avant -Garde György Ligeti
György Sándor Ligeti (pronunciado lígueti) fue un gran compositor en avant-garde húngaro judío (que residió en Austria y luego se naturalizó), ampliamente considerado como uno de los más grandes compositores de música clásica (sobre todo instrumental) del siglo XX. Nació en Dicsőszentmárton (la actual Târnăveni en Rumania) el 28 de mayo de 1923 y falleció en Viena el 12 de junio de 2006. No sólo es conocido en los círculos musicales clásicos, sino también por el gran público, sobre todo gracias a que el director de cine Stanley Kubrick usó sus obras como parte de la banda sonora de varias de sus películas: 2001: Una odisea del espacio, El resplandor y Eyes Wide Shut.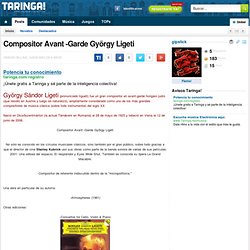 BinAural Collaborative Hypertext: Authoring Tool