Biblioteca digital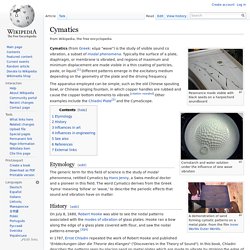 Resonance made visible with black seeds on a harpsichord soundboard Cornstarch and water solution under the influence of sine wave vibration
Cymatics - Wikipedia, the free encyclopedia
From the book Once a guy stood all day shaking bugs from his hair. The doctor told him there were no bugs in his hair. After he had taken a shower for eight hours, standing under hot water hour after hour suffering the pain of the bugs, he got out and dried himself, and he still had bugs in his hair; in fact, he had bugs all over him. A month later he had bugs in his lungs.Having nothing else to do or think about, he began to work out theoretically the life cycle of the bugs, and, with the aid of the Britannica, try to determine specifically which bugs they were. They now filled his house. He read about many different kinds and finally noticed bugs outdoors, so he concluded they were aphids.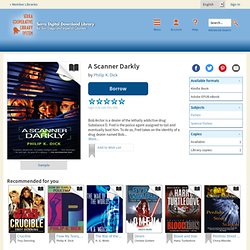 Serra Digital Download Library - A Scanner Darkly
LibriVox: Search Results
Programación y horarios del canal "TV UNAM" en México - ¿Qué hay en tu tele?
Search Results
1363910761.jpeg (JPEG Image, 401 × 393 pixels)
Fragmento del hueso con el que se llevó a cabo el estudio Foto Ap Afp Periódico La Jornada Jueves 27 de junio de 2013, p. 2 París, 26 de junio.
La Jornada: Descifran el genoma de un caballo de hace 700 mil años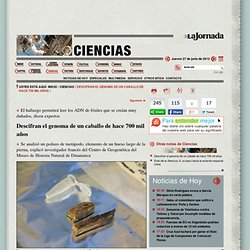 Visual Literacy: An E-Learning Tutorial on Visualization for Communication, Engineering and Business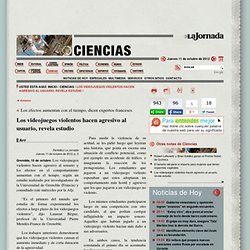 Los videojuegos violentos hacen agresivo al usuario, revela estudio
Afp Periódico La Jornada Jueves 11 de octubre de 2012, p. 3 Grenoble, 10 de octubre. Los videojuegos violentos hacen agresivo al usuario y los efectos en el comportamiento aumentan con el tiempo, según un estudio realizado por investigadores de la Universidad de Grenoble (Francia) y consultado este miércoles por la Afp. Es el primero del mundo que estudia de forma experimental los efectos a largo plazo de los videojuegos violentos , dijo Laurent Bègue, profesor de la Universidad Pierre Mendès-France de Grenoble. Los trabajos anteriores demostraron que los videojuegos violentos causan el aumento inmediato y de corta duración de la agresividad.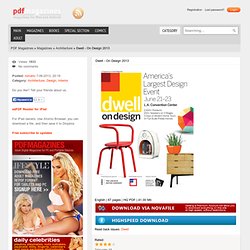 Views: 1208 No comments Posted: romario 7-06-2013, 20:19 Category: Architecture , Design , Interior Do you like? Tell your friends about us. ezPDF Reader for iPad For iPad owners: Use Atomic Browser, you can download a file, and then save it to Dropbox Free subscribe to updates
Dwell - On Design 2013 » PDF Magazines - Download Free Digital Magazines in PDF Format for iPad, Android Tablets and PC
Cacumen | juegosdeingenio.org
Cacumen
The Clip Report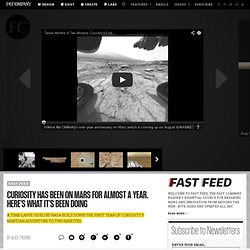 In time for Curiosity's one-year anniversary on Mars, which is coming up on August 6, NASA's Jet Propulsion Laboratory released a 2-minute time-lapse video of images taken from the rover's front-facing camera. Shot with a fisheye lens on Curiosity's Hazard-Avoidance Camera, the video shows the rover exploring a brave new world, collecting samples and drilling inside the Red Planet. For its upcoming one-year anniversary on Aug. 6, we dug into NASA's archives to highlight some of Curiosity's milestones to date. Nov. 26, 2011 : Curiosity embarks on the first leg of its journey: traveling 354 million miles to Mars. Aug. 6, 2012 : It finally arrives, touching ground on Bradbury Landing.
Curiosity Has Been On Mars For Almost A Year. Here's What It's Been Doing | Fast Company | business + innovation
Designer Magazine February
En Vivo - Centro de Cultura Digital - Mexico
México es Cultura (01 800 285 88 72) - Conaculta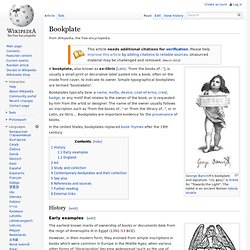 A bookplate, also known as ex-librīs [ Latin , "from the books of..."], is usually a small print or decorative label pasted into a book, often on the inside front cover, to indicate its owner. Simple typographical bookplates are termed "booklabels". Bookplates typically bear a name , motto , device , coat-of-arms , crest , badge , or any motif that relates to the owner of the book, or is requested by him from the artist or designer.
Bookplate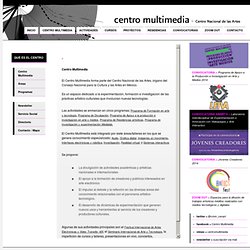 Centro Multimedia
El Centro Multimedia forma parte del Centro Nacional de las Artes, órgano del Consejo Nacional para la Cultura y las Artes en México. Es un espacio dedicado a la experimentación, formación e investigación de las prácticas artístico-culturales que involucran nuevas tecnologías. Las actividades se enmarcan en cinco programas: Programa de Formación en arte y tecnología , Programa de Divulgación , Programa de Apoyo a la producción e investigación en arte y medios , Programa de Residencias artísticas , Programa de Investigación y experimentación Medialab. El Centro Multimedia está integrado por siete áreas/talleres en los que se genera conocimiento especializado: Audio , Gráfica digital , Imágenes en movimiento , Interfases electrónicas y robótica , Investigación , Realidad virtual , y Sistemas interactivos Se propone:
Descarga cultura.unam.mx - El podcast cultural de tu Universidad
Enlace de bibliotecas digitales
Enlace de bibliotecas digitales
Enlace de bibliotecas digitales
Enlace de bibliotecas digitales
Enlace de bibliotecas digitales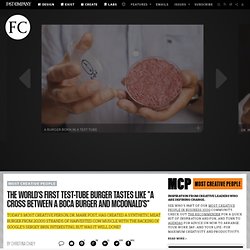 Would you eat a burger made from 20,000 strands of lab-harvested cow muscle tissue? Dr. Mark Post , today's Most Creative Person, is trying to sell the world on a future filled with sustainable, synthesized, and, hopefully, succulent meat. At a London press conference today, the Maastricht University professor served burger versions of Cultured Beef , the world's first lab-grown meat and the culmination of five years of research. Post's inaugural public taste-testers were the food scientist Hanni Rützler and Josh Schonwald , the author of The Taste Of Tomorrow: Dispatches From The Future Of Food . Post and his fellow researchers create Cultured Beef by harvesting the muscle cells of a live cow in what they say is a painless process.
The World's First Test-Tube Burger Tastes Like "A Cross Between A Boca Burger And McDonald's" | Fast Company | business + innovation
La reacción nacional en Acción Nacional
PDF Books Planet - Download Free PDF Books