Html_sites 5
On | The Portfolio and Blog of Tudinh Duong | London, UK. The Superest: Who is the superest hero of them all? /// WE ARE ISO /// HOME /// Simian Mobile Disco. Carsonified. About Us | Ragged Edge Design. Ragged Edge Design is an independent, young and ambitious creative agency based in London.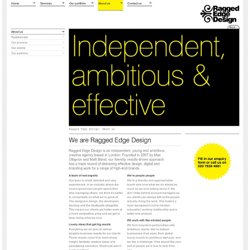 Founded in 2007 by Max Ottignon and Matt Bland, our friendly, results driven approach has a track record of delivering effective design, digital and branding work for a range of high-end brands. A team of real experts Our team is small, talented and very experienced. In an industry where the most experienced people spend their time managing others, we think it's better to concentrate on what we're good at. Jamie Gregory / Freelance Graphic Designer / Online Portfolio.
The Official Squarespace Blog - Blog. Design Hotels - Made by Originals. El Candor | Art Director & Designer Walter Pistoletti. Black Estate Vineyard – Omihi Waipara. New Zealand Wine. SiteInspire | Home | inspiring web design and CSS gallery.
FINCH :: Fresh Creative. AKTIVA Agència de Disseny. Home : Thumbdive. 53mondays - Ecological Website and Blog - Experts at play. Fröjd. [gb] Studio / we build web apps. we build brands. Bauer – konzept & gestaltung gmbh – Designbüro für Kommunikationsdesign. East Creative, ontwerp - fotografie - compleet. Pixelcraft - Design, Branding and Web Consultancy. TOCH STUDIO / Art Direction & Motion Design. Brian Burns / mrbrianburns.com / Home. Tyler Finck, Sursly, The New Site.
Hello Monday. 160over90 is a Branding Agency. Newincreative | Portfolio of Interactive Designer Nguyen Le. Kanella. John Cartago - Edmonton Web & Graphic Design. Helium Workx. Purple, Rock, Scissors | Orlando Web Design Company | New York Web Design. Plustwelve.com « Ottawa Web Design. :: coolcolors :: Resn - Interactive Agency. Luigi Bormioli. FRIEZE — Design by Bjørn Friese. Welcome | BARITCHI™ Klipp og Lim. MEDIA ARC. Ordinary Kids - About Ok. The portfolio of Bryan Katzel | Design, illustration & stuff to make you smile.
Design work life. McFaul Studio. SUPERGRAPHICS. Stopdesign.
---