Chart API
cgSceneGraph
Using Fabric.js, you can create and populate objects on canvas; objects like simple geometrical shapes or complex shapes consisting of hundreds or thousands of simple paths or good old images You can add text and dynamically manipulate its size, alignment, font family, and other properties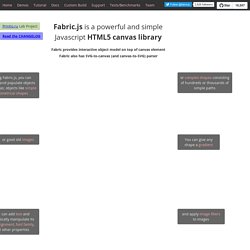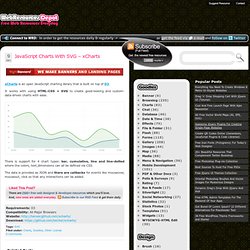 xCharts is an open JavaScript charting library that is built on top of D3. It works with using HTML-CSS + SVG to create good-looking and custom-data-driven charts with ease. There is support for 4 chart types: bar, cumulative, line and line-dotted where the colors, text,dimensions can all be defined via CSS.
JavaScript Charts With SVG – xCharts
PhiloGL: A WebGL Framework for Data Visualization, Creative Coding and Game Development
CHAP Links Library
HTML Canvas Library
README.md jStat - JavaScript Statistical Library Build Prerequisites In order to build jStat, you need to have GNU make 3.8 or later, Node.js 0.2 or later, and git 1.7 or later. (Earlier versions might work OK, but are not tested.) Windows users have two options:
jStat : a JavaScript statistical library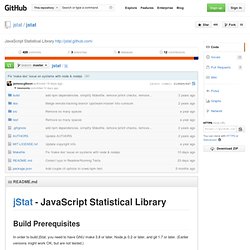 README.md three.js JavaScript 3D library The aim of the project is to create a lightweight 3D library with a very low level of complexity — in other words, for dummies. The library provides <canvas>, <svg>, CSS3D and WebGL renderers. Examples — Documentation — Migrating — Help
Javascript Graphics Library jsDraw2D draw line, circle, rectangle, polygon, curve, ellipse.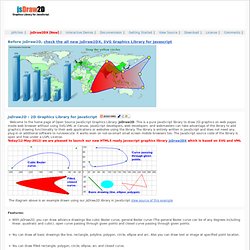 var gr=new jsGraphics(document.getElementById("canvas")); var redPen=new jsPen(new jsColor("red"),1); var greenPen=new jsPen(new jsColor("green"),3); var bluePen=new jsPen(new jsColor("blue"),1); var curvePoints=new Array(new jsPoint(28,35),new jsPoint(52,16),new jsPoint(177,38),new jsPoint(149,85),new jsPoint(57,92)); var bezierPoints=new Array(new jsPoint(-283,10),new jsPoint(-206,95),new jsPoint(-24,90),new jsPoint(-56,10)); var closedCurvePoints=new Array(new jsPoint(-265,-50),new jsPoint(-68,-23),new jsPoint(-114,-50),new jsPoint(-58,-95)); var polyPoints=new Array(new jsPoint(160,-50),new jsPoint(190,-80),new jsPoint(240,-15),new jsPoint(260,-67)); gr.setOrigin(new jsPoint(300,100)); gr.setCoordinateSystem("cartecian"); gr.showGrid(20); plotPoints(curvePoints); plotPoints(bezierPoints);
README.md Graph Drawing Library VivaGraphJS is a free graph drawing library for JavaScript. It is designed to be extensible and to support different rendering engines and layout algorithms. At the moment it supports rendering graphs using WebGL, SVG or CSS formats. Note: Please visit anvaka/ngraph to check next evolution step of this library. ngraph supports rendering graphs to images, 3d graphs rendering, integration with gephi and more.
anvaka/VivaGraphJS - GitHub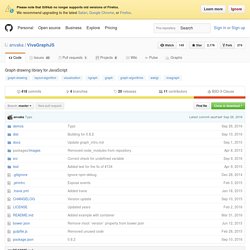 13 Chart and Graph plotting javascript plugins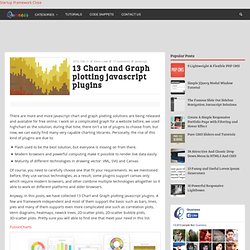 There are more and more Javascript chart and graph plotting solutions are being released and available for free online. I work on a complicated graph for a website before, we used highchart as the solution, during that time, there isn't a lot of plugins to choose from, but now, we can easily find many very capable charting libraries. Personally, the rise of this kind of plugins are due to: Flash used to be the best solution, but everyone is moving on from there.Modern browsers and powerful computing make it possible to render live data easily.Maturity of different technologies in drawing vector: VML, SVG and Canvas. Of course, you need to carefully choose one that fit your requirements. As we mentioned before, they use various technologies, as a result, some plugins support canvas only which require modern browsers, and other combine multiple technologies altogether so it able to work on different platforms and older browsers.
Jason Follas Jason Follas is an Architect for Perficient, helping clients located in the greater Detroit region (including Toledo, where he lives and leads the Northwest Ohio .NET User Group). For nearly two decades, he has created interesting solutions based on Microsoft technologies, including an aircraft load planning system used by an air freight company, geospatial web applications, and material blend optimization software. He is a frequent speaker at conferences and user groups across the United States, and helps to organize CodeMash, a conference held every January in Ohio.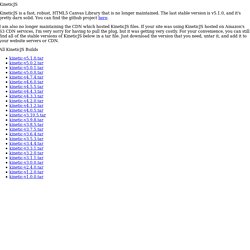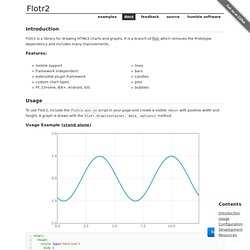 Introduction Flotr2 is a library for drawing HTML5 charts and graphs. It is a branch of flotr which removes the Prototype dependency and includes many improvements.
flotr2
Tquila/jOrgChart - GitHub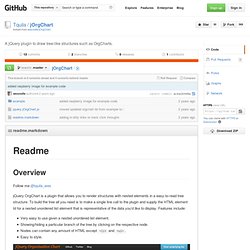 readme.markdown Readme Overview Follow me @tquila_wes jQuery OrgChart is a plugin that allows you to render structures with nested elements in a easy-to-read tree structure. To build the tree all you need is to make a single line call to the plugin and supply the HTML element Id for a nested unordered list element that is representative of the data you'd like to display.
D3.js is a small, free JavaScript library for manipulating documents based on data. D3 allows you to bind arbitrary data to a Document Object Model (DOM), and then apply data-driven transformations to the document. As a trivial example, you can use D3 to generate a basic HTML table from an array of numbers.
Peity (sounds like deity) is a simple jQuery plugin that converts an element's content into a simple <svg> mini pie 2/5 line 5,3,9,6,5,9,7,3,5,2 or bar chart 5,3,9,6,5,9,7,3,5,2 and is compatible with any browser that supports <svg>: Chrome, Firefox, IE9+, Opera, Safari. Download version 2.0.0 Uncompressed 7.1Kb jquery.peity.js