Technical Fun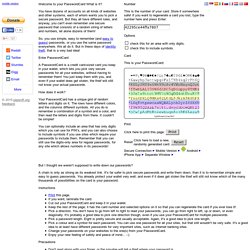 mobile version Share on redditReddit Share on twitterTwitter Share on stumbleuponStumble Share on diggDigg Share on emailEmail More Sharing ServicesMore © 2014 pepsoft.orgfeedback Welcome to your PasswordCard - 103,431 printed so far!
This article contains a comprehensive list of free security-related programs or web applications for Windows XP and later Windows PC-based operating systems. The few non-free programs on this list are included because they are of high merit (in our opinion) and lack a comparable free alternative. This list also includes links to webpages that contain security-related information.
Probably the Best Free Security List in the World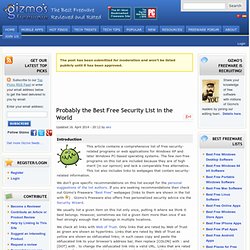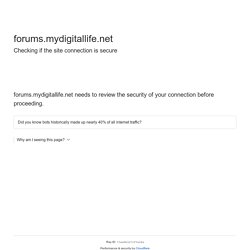 Windows Loader v2.2.1 The safe and easy way to activate Windows. AboutThis is the loader application that's used by millions of people worldwide, well known for passing Microsoft's WAT (Windows Activation Technologies) and is arguably the safest Windows activation exploit ever created. The application itself injects a SLIC (System Licensed Internal Code) into your system before Windows boots; this is what fools Windows into thinking it's genuine.The things you might want to knowIt works on 32-bit and 64-bit systemsIt's compatible with Windows 7 SP1 and all system updatesIt's compatible with all system languagesIt can be used to pre-activate WindowsIt allows you to install custom OEM informationIt features application integrity checkingIt supports hidden partitions and some complex setupsIt can work alongside Linux's GRUB or any other boot managerIt works with VMware, VirtualBox and Hyper-VIt works with most hard drive encryption software e.g.
peepmail - samy kamkar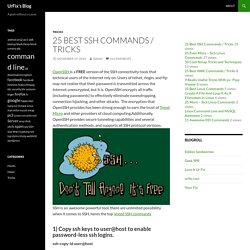 OpenSSH is a FREE version of the SSH connectivity tools that technical users of the Internet rely on. Users of telnet, rlogin, and ftp may not realize that their password is transmitted across the Internet unencrypted, but it is. OpenSSH encrypts all traffic (including passwords) to effectively eliminate eavesdropping, connection hijacking, and other attacks. The encryption that OpenSSH provides has been strong enough to earn the trust of Trend Micro and other providers of cloud computing.Additionally, OpenSSH provides secure tunneling capabilities and several authentication methods, and supports all SSH protocol versions. SSH is an awesome powerful tool, there are unlimited possibility when it comes to SSH, heres the top Voted SSH commands 1) Copy ssh keys to user@host to enable password-less ssh logins.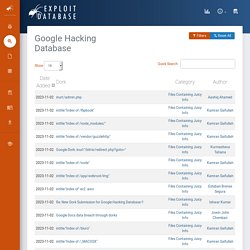 Welcome to the Google Hacking Database (GHDB)! We call them 'googledorks': Inept or foolish people as revealed by Google. Whatever you call these fools, you've found the center of the Google Hacking Universe! Advisories and Vulnerabilities (215 entries) These searches locate vulnerable servers. These searches are often generated from various security advisory posts, and in many cases are product or version-specific. Error Messages (68 entries) Really retarded error messages that say WAY too much!
Google serves almost 80 percent of all the search queries on the Internet, proving itself as the most popular search engine. However, Google makes it possible to reach not only the publicly available information resources, but also gives access to some of the most confidential information that should never have been revealed. In this post, you will find the information on how to use Google for exploiting security vulnerabilities that exists within many websites. The following are some of the ways to use Google for hacking: 1. Using Google to Hack Security Cameras: