Lifehacker
Printstagram - We Print Your Instagram Photos
DIY
Restaurant Deals, Happy Hours And Specials - Los Angeles - Bliss Cities German artistSimon Schubert folds paper to create architectural 'drawings'. In his series titled 'Papierarbeiten' (which means "paper work" in German), architectural drawings are created without any pen or pencil, color or shadings.
Artist Folds Creases On Paper To Form Architectural 'Drawings'
Breaking a bad habit is often easier said than done. Hipster Habit App, Improve Yourself In 30 Days
By: Ramsay | 76 intelligent opinions, add yours If you own a blog you probably know by now that one of the best ways to get subscribers is by making and eBook and giving it away for free on your blog in exchange for an email address. In fact, despite being used by thousands of bloggers around the world the old free eBook technique is still working wonders. That is, if you do it right. I often get emails from people asking me why their eBook isn't getting downloaded. And when a good friend sent me an SMS last week asking me if I'd written about how to make an eBook I thought I would address everything at once.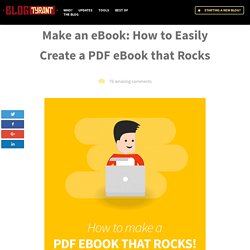 Make an eBook: How to Easily Create a PDF eBook that Rocks
How To Make An eBook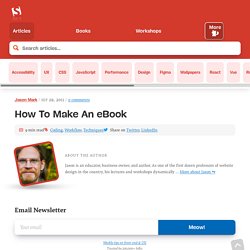 Making an eBook is easy, regardless of your coding experience. This is good, because 99.9% of your time should be spent on writing and getting your book out there, rather than on technology. EPUB And Kindle Any electronic book can be called an eBook, but because over 90% of all eBooks are read on Amazon's Kindle, Apple's iOS devices (iPad, iPhone and iPod) and the Barnes & Noble Nook, I'll focus on the formats for those platforms: EPUB This is an open standard adopted by Apple (iOS), Barnes & Noble (Nook) and many other makers of eBook readers (such as Sony). Thankfully, Amazon has said that its next Kindle will also support EPUB, but the newest version of Kindle doesn't support it.
The Free Recyclable Personal Organizer
Kid Towel Tote - Martha Stewart Kids' Crafts
Referring to the DreamHost section of the article, I am a current customer and have made a couple promo codes for my fellow lifehackers in the past, which are effective for the lifetime of your paid account with them: LH2FREE - Two free lifetime domain registrations (normally $9.95/year each) LHFREEIP - A free lifetime unique IP for SSL, anonymous FTP, etc (normally $3.95/month)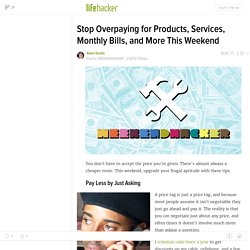 Stop Overpaying for Products, Services, Monthly Bills, and More This Weekend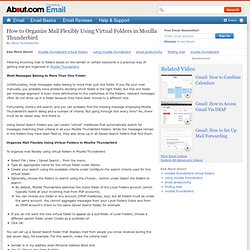 How to Organize Mail Flexibly Using Virtual Folders in Mozilla Thunderbird
Filtering incoming mail to folders based on the sender or certain keywords is a practical way of getting mail pre-organized in Mozilla Thunderbird. Most Messages Belong to More Than One Folder Unfortunately, most messages really belong to more than just one folder.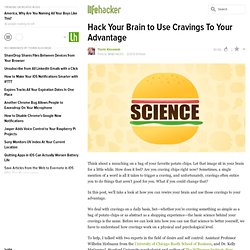 Interesting article, though it probably could be summed up by saying, "Remind yourself of better things to crave, and you might end up craving them instead." What I've found for food-related cravings is that if I deprive myself (intentionally or not) of food and become really really hungry..... then find something to eat, it doesn't matter if I normally dislike the food, I'm so grateful to alleviate my hunger that it tastes awesome. So I guess for bad food cravings try keeping some healthier foods nearby, and resist eating *anything* until you're so hungry you decide to eat the healthy snack..... usually for me, it suddenly tastes WAY better than how I imagined it would. Then you feel better in two ways: your hunger goes away, and you feel the pride/satisfaction of eating something healthy. Also, I know myself well enough that I know usually my cravings are just for something new or variety, often more than the food itself.
Hack Your Brain to Use Cravings To Your Advantage
Google: Here's What Our Sci-Fi Glasses Look Like
We're more than a quarter of the way through 2012, and as you may have noticed, we have failed to acquire silver jumpsuits or jetpacks. In fact, aside from that headset in your ear, smartphone in your pocket and tablet in your purse, everything is looking quite boringly un-futuristic. But if Google has its way, we will start wearing some very science fiction-like glasses by year's end.