Geospatial
Geospatial Data - Mapping - GIM International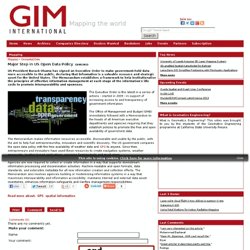 The Executive Order is the latest in a series of actions - started in 2009 - in support of increasing access to and transparency of government information. The Office of Management and Budget (OMB) immediately followed with a Memorandum to the heads of all American executive departments and agencies requiring that they establish policies to promote the free and open availability of government data. The Memorandum makes information resources accessible, discoverable and usable by the public, with the aim to help fuel entrepreneurship, innovation and scientific discovery. The US government compares the open data policy with the free availability of weather data and GPS to anyone.
Future-Directions-in-Spatial-Demography-Report
ActiveNick's #Geospatial Dev News
Location-enabled Society: Mapping tweets using real-time big data technology and privacy
In a very appropriately titled session Taking Society's Pulse in Real-time at the Creating the Policy and Legal Framework for a Location-enabled Society conference in Boston, one item really got people's attention focussed on the issues that arise from combining location with personal data. TweetMap is a technology that visualizes a large number of tweets on a map of the world. This is not the first time I have seen tweets mapped.
MaaS (Model as a Service) is the emerging solution to design, map, integrate and publish Open Data – Cloud Computing Best Practices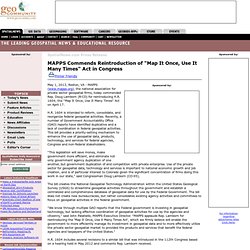 SpatialNews.com Press Release MAPPS Commends Reintroduction of "Map It Once, Use It Many Times" Act in Congress Printer Friendly May 1, 2013, Reston, VA - MAPPS (www.mapps.org), the national association for private sector geospatial firms, today commended Rep. Doug Lamborn (R-CO) for reintroducing H.R. 1604, the "Map It Once, Use It Many Times" Act on April 17. H.R. 1604 is intended to reform, consolidate, and reorganize federal geospatial activities.
unity SpatialNews
Summary: After some years of hype about cloud computing in general, the geospatial technology sector is seeing the emergence of a variety of interesting cloud-based geospatial products and services. Andes Consulting principal, Ignacio Guerrero, reviews the landscape of "the geospatial cloud" to provide a sense of the current state of the art. The title of this article was borrowed from a recent posting in Directions Magazine on Key Resources on Geospatial Cloud Computing.
Navigating Through the Nebulous Arena of "The Cloud"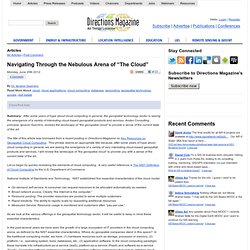 Federal Programs Promo 2013
Photo: The image of a GIS Analyst - #geospatial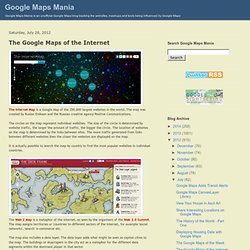 The Internet Map is a Google Map of the 350,000 largest websites in the world. The map was created by Ruslan Enikeev and the Russian creative agency Positive Communications. The circles on the map represent individual websites. The size of the circle is determined by website traffic, the larger the amount of traffic, the bigger the circle. The location of websites on the map is determined by the links between sites. The more traffic generated from links between different websites then the closer the websites are displayed on the map.
The Google Maps of the Internet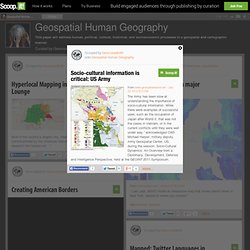 Socio-cultural information is critical: US Army | Geospatial Human Geography
The Army has been slow at understanding the importance of socio-cultural information. While there were examples of successful uses, such as the occupation of Japan after World II, that was not the cases in Vietnam, or in the current conflicts until they were well under way," acknowledged CW5 Michael Harper, military deputy, Army Geospatial Center, US, during the session, Socio-Cultural Dynamics: An Overview from a Diplomacy, Development, Defense and Intelligence Perspective, held at the GEOINT 2011 Symposium.
Louisville, home of the Kentucky Derby, great food, and this year's 2014 ASPRS annual conference. Held at the Galt House hotel, this year's conference offered a great mix of all things remote sensing over a three-day agenda. It was also co-located with a Joint Agency for Commercial Imagery Evaluation(JACIE) conference, which created a nice atmosphere where some of the best and brightest minds from science and academia could meet. Eyes in the Skies One of the most apparent trends I noticed at this show was the amount of exhibitors that had something to do with Unmanned Aerial Systems,or UAS. With the pending approval for UAS to fly commercially, many folks are beginning to offer services surrounding these sensors.
Educating Future Geospatial Analysts | ImagerySpeaks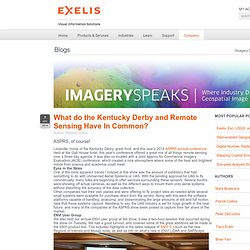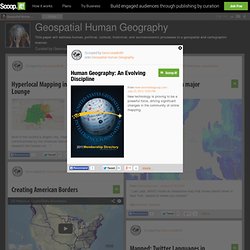 The founding principle of geopolitics is that place -- geography -- plays a significant role in determining how nations will behave. If that theory is true, then there ought to be a deep continuity in a nation's foreign policy. Israel is a laboratory for this theory, since it has existed in three different manifestations in roughly the same place, twice in antiquity and once in modernity. If geopolitics is correct, then Israeli foreign policy, independent of policymakers, technology or the identity of neighbors, ought to have important common features. This is, therefore, a discussion of common principles in Israeli foreign policy over nearly 3,000 years.
Human Geography: An Evolving Discipline | Geospatial Human Geography
Build Dynamic Mapping Applications with ArcGIS Runtime | Geographic Information Technology
sunfoundation: Heat Map Visualizes Your Daily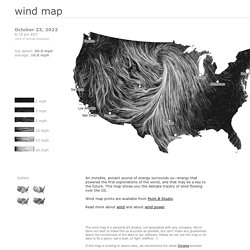 An invisible, ancient source of energy surrounds us—energy that powered the first explorations of the world, and that may be a key to the future. This map shows you the delicate tracery of wind flowing over the US. The wind map is a personal art project, not associated with any company.
Ten Things to Know about the Geospatial Technology Competency Model | Geographic Information Technology
SpatialDash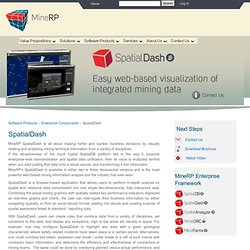 MineRP SpatialDash is all about making better and quicker business decisions by visually relating and analysing mining technical information from a variety of disciplines. If the attractiveness of the much hyped SpatialDB platform lies in the way it supports enterprise-wide standardisation and spatial data unification, then its value is multiplied tenfold when you start putting that data onto a visual canvas, and transforming it into information. MineRP's SpatialDash is available in either two or three dimensional versions and is the most powerful web-based mining information analysis tool the industry has ever seen. SpatialDash is a browser-based application that allows users to perform in-depth analysis on spatial and relational data consolidated into one single two-dimensional, fully interactive view.
GIS Technology Offers New Predictive Analysis to Business | Geographic Information Technology
Why every location tag on Facebook is big data in action | Geographic Information Technology
'Eye in the Sky': the case file on NGA Director Letitia Long
By Suzanne Kelly and Pam Benson Editor's note: In the Security Clearance "Case File" series, CNN national security producers profile the key members of the intelligence community. As part of the series, Security Clearance is focusing on the roles women play in the U.S. intelligence community On May 1, 2011, Letitia 'Tish' Long was at Central Intelligence Agency headquarters, watching the greatest intelligence-special operations mission of the past decade, unfold. "We were anxious.
More Geospatial Terminology Confusion | Geographic Information Technology
Geospatial Data, Geospatial Information or Geospatial Knowledge – Which Are You? | Geographic Information Technology
Counting Penguins from Space : Earth Imaging Journal | Geographic Information Technology
Sound Energy Policy Depends on Geospatial Standards | Energy Dimensions
By Lance McKee The "tragedy of the commons" has become a widely understood concept. Markets alone cannot keep that tragedy from playing out in countless ways as a human population of more than 7 billion demands resources for living. We therefore can't escape the need for well informed, well-coordinated energy policies at all levels of government. The increasingly familiar energy policy drama involves politicians, judges, business leaders, consumer advocates and environmental watchdogs debating legislation, regulation and fiscal policy. They can't reach consensus without facts about the commons that have been established by good science.
Open Nuclear Iran
Proceedings of the National Academy of Sciences (PNAS), Published Online 30 January 2012 Michael E. Dorcas, John D. Willson, Robert N.
Severe Mammal Declines Coincide with Proliferation of Invasive Burmese Pythons in Everglades National Park
What Is the Relationship of Cartography to the Map Today? | Geographic Information Technology
A Week of Geospatial Victory and Defeat | Geographic Information Technology
This week started with the news that the Federal Communication Mission would block LightSquared's broadband internet network because it interferes with GPS signals, which can be seen as a win for the awareness of the value of this important spatial positioning network. In stark contrast, there is news that the Pentagon's latest spending plan will significantly cut the EnhancedView satellite imagery program, which does a disservice to the value of current and accurate imagery as well as the ancillary commercial market that it supports.
NoSQL databases for geospatial data » Blog for Geodelivery project | Geographic Information Technology
Opinion: 'Big Data' Equals 'Big Hype' – What Do We Collect and Why? | Geographic Information Technology
Geospatial Centre for Biodiversity in the Works for Bolivia
3D Takes Hold for Enhancing Geospatial Data Analysis for Urban Planning | Geographic Information Technology
Will A "Geo-Divide" Arise Between Nations In The Future? | Geographic Information Technology
How Do Geomatics and Geospatial Technologies Link to Bioenergy? | Geographic Information Technology
Underground Naval Base at Qeshm Complete
Authorities turning to geospatial intelligence to fight crime « News by PTFS (Progressive Technology Federal Systems)
U.S. Army Selects TerraGo® Technologies Geospatial Collaboration Software to Support Warfighter Efforts
Big data – big hype or the next big thing? | Geographic Information Technology
Satellite Industry Growth To Continue Despite Challenging Environment | Geographic Information Technology
Big Data Predictions for 2012 | Geographic Information Technology
Geographic Information Technology
Breaking Down "Data Silos" for More Effective Geospatial Collaboration « Intergraph CONNECT
Geospatial Technology as a Core Tool - US News and World Report | Geographic Information Technology
Is Geospatial Special?
Timmons Group Selected by USCG to Support Enterprise Geospatial Architecture Development
What Could the Davos World Economic Forum Gain From Geospatial Understanding? | Vector One
LiDAR Supports Advanced Geospatial Analysis : Earth Imaging ... | Geographic Information Technology
SpaceNews.com | Civil Space, Military Space, Commercial Space, Satellite Communications.
Spatial Analysis Key to Making Sense of Big Data | Geographic Information Technology
GeoEye Selects Cleversafe for Satellite Imagery Active Archive
Defense Drawdown Provides Geospatial Opportunities | Geographic Information Technology
Overwatch Adds TerraGo® GeoPDF® Extension to its RemoteView Pro 3.2 Geospatial Analysis Tool
Google Earth Map Quiz w/ArcGIS | Geography Education
Understanding the Affect of City Desing on Human Activities
Pipeline corridor mapping using high-resolution digital aerial photogrammetry | From High Above