TechTool Lists
Great Free Web Resources on Language Arts. Educational Technology and Mobile Learning has recently started posting a series of " a-lits-of-articles " containing free resources pertaining to different subject areas.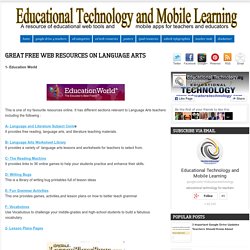 We are intent to provide teachers , no matter what discipline they teach, with an online springboard to help them better search for and find materials and resources relevant to the subject matter he/she is teaching. So after publishing free resources about Social Studies, Science, and Math, today we are providing you with a list of great free websites for Language Arts. Check it out and let us know what you think about it. 1- Education World This is one of my favourite resources online. 50 Must-Download Apps For Lifelong Learners. Added by Jeff Dunn on 2012-08-13 Long after degrees have been conferred and careers have been launched, many folks just can't seem to quit school.

For them, life provides an overstuffed cornucopia of educational opportunities that don't necessarily require hefty loans and navigating different professorial strategies. Those with a lust for learning who happen to also enjoy testing the limits of what the iPad offers definitely don't have to worry about finding resources to pique their fancy. 10 Awesome Free Tools To Make Infographics. Who can resist a colourful, thoughtful venn diagram anyway?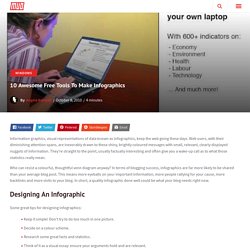 In terms of blogging success, infographics are far more likely to be shared than your average blog post. This means more eyeballs on your important information, more people rallying for your cause, more backlinks and more visits to your blog. In short, a quality infographic done well could be what your blog needs right now. Tools for Learners. The Best Sites For Learning About The History Of Technology | Larry Ferlazzo's Websites of the Day... I had included some links about computer history on The Best Eleven Websites For Students To Learn About Computers, but some new related links have recently been published.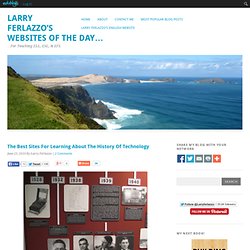 So I've decided to make topic its very own list, and expanded it beyond just computers. You might also be interested in The Best Sites Where Students Can Learn About Inventions and The Best Sites To Learn About The Internet. Web 2.0 teaching tools to enhance education and learning — Edjudo. 3D Projects Alice – Alice is an innovative 3D programming environment (free) Blender - Excellent open source 3D content creation suite (free, must install) PhotoSynth - A Microsoft web application that takes your photos, mashes them together and recreates a 3D scene out of them that anyone can view and move around in.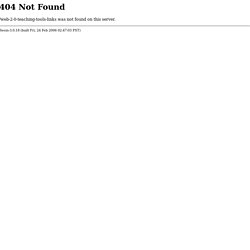 Windows only. (free) 100+ Google Tricks for Teachers. It's Google's world, we're just teaching in it.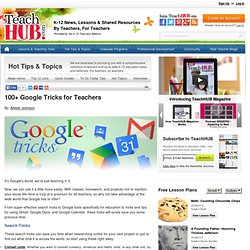 Now, we can use it a little more easily. With classes, homework, and projects–not to mention your social life–time is truly at a premium for all teachers, so why not take advantage of the wide world that Google has to offer? Digital Tools. Top 25 Free & Freemium Web Apps for College Students - StumbleUpon.
What do you need for college?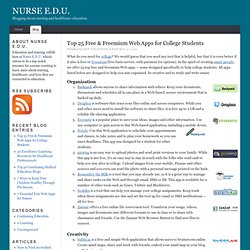 We would guess that you need any tool that is helpful, but that it is even better if it also is free or freemium (free basic service, with payment for options). In the spirit of creating smart people, we offer 25 top free and freemium Web apps — some designed specifically to help college students. All apps listed below are designed to help you stay organized, be creative and to study and write smart. Organization. The Best Web 2.0 Applications For Education In 2011 — So Far | Larry Ferlazzo's Websites of the Day...
I usually just do a year-end list on Web 2.0 Applications For Education and many other topics, but it gets a little crazy having to review all of my zillion posts at once.
So, to make it easier for me — and perhaps, to make it a little more useful to readers — I'm going to start publishing mid-year lists, too. These won't be ranked, unlike my year-end "The Best…" lists, and just because a site appears on a mid-year list doesn't guarantee it will be included in an end-of-the-year one. But, at least, I won't have to review all my year's posts in December… The Super Book of Web Tools for Educators. Ideas to Inspire. Multimedia Learning Resources - Educaplay. 15 Web Alternatives to Popular Desktop Software. Web applications have come a long way.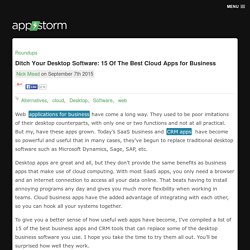 They used to be amateur imitations of their desktop counterparts, with only one or two functions and not at all practical. But my, have these web apps grown. Web apps these days have become so powerful and useful that in some cases, they've begun to replace desktop software. Desktop programs are great and all, but they don't provide the same benefits as web apps that make use of cloud computing.
With most web apps, you only need a browser and an internet connection to access all your data online. 7 Essential multimedia tools and their free alternatives. Why spend money on expensive multimedia tools when you can use comparable alternatives for free?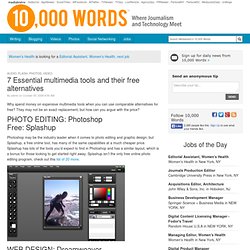 They may not be an exact replacement, but how can you argue with the price? PHOTO EDITING: PhotoshopFree: Splashup. Digital Portfolios. Note to all visitors to this page: This wiki is a collaborative learning space. If you want to contribute to this e-portfolio or digital portfolio page, please join the wiki and then add your thoughts, your notes or describe how you created digital portfolios for your students. Please say which programs the students used, or whether they utilized Web2 tools like blogs or Wikis. Thanks! General information about Electronic or Digital Portfolios Check out this great slide presentation about . ClassTools.net: Create interactive flash tools / games for education.
---