Photographers
A small collection of biographies and works by notable photographers, past and present. Apr 30
Annie Leibovitz - American Music
Bear Spirit: Kiliii Fish Photography « Native Voice
Bruce Weber Official Website
Berenice Abbott Archive
Diane Arbus ( pron.: / d iː ˈ æ n ˈ ɑr b ə s / ; March 14, 1923 – July 26, 1971) was an American photographer and writer noted for black-and-white square photographs of "deviant and marginal people ( dwarfs , giants , transgender people , nudists , circus performers) or of people whose normality seems ugly or surreal .". [ 2 ] Arbus believed that a camera could be "a little bit cold, a little bit harsh" but its scrutiny revealed the truth; the difference between what people wanted others to see and what they really did see – the flaws. [ 3 ] A friend said that Arbus said that she was "afraid . . . that she would be known simply as 'the photographer of freaks '"; however, that phrase has been used repeatedly to describe her. [ 4 ] [ 5 ] [ 6 ] [ 7 ]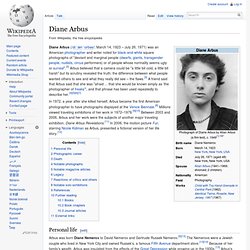 Diane Arbus
Collections - Photographers
Eugène Atget (February 12, 1857 – August 4, 1927) was a French photographer noted for his photographs documenting the architecture and street scenes of Paris. Organ Grinder (1898) An inspiration for the surrealists and other artists, his work gained wide attention only after his death.
Eugène Atget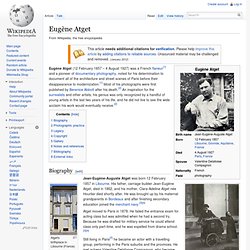 The Collection | Eugène Atget. (French, 1857-1927)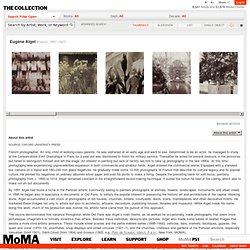 French photographer. An only child of working-class parents, he was orphaned at an early age and went to sea. Determined to be an actor, he managed to study at the Conservatoire d'Art Dramatique in Paris for a year but was dismissed to finish his military service.
George Eastman House Eugene Atget Series
Todd Webb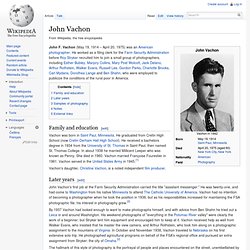 John F. Vachon (May 19, 1914 – April 20, 1975) was an American photographer . He worked as a filing clerk for the Farm Security Administration before Roy Stryker recruited him to join a small group of photographers, including Esther Bubley , Marjory Collins , Mary Post Wolcott , Jack Delano , Arthur Rothstein , Walker Evans , Russell Lee , Gordon Parks , Charlotte Brooks , Carl Mydans , Dorothea Lange and Ben Shahn , who were employed to publicize the conditions of the rural poor in America. [ edit ] Family and education
John Vachon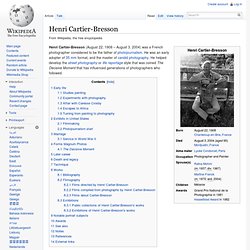 Henri Cartier-Bresson (August 22, 1908 – August 3, 2004) was a French photographer considered to be the father of modern photojournalism . He was an early adopter of 35 mm format, and the master of candid photography . He helped develop the " street photography " or " life reportage " style that has influenced generations of photographers who followed. [ edit ] Early life Cartier-Bresson was born in Chanteloup-en-Brie , Seine-et-Marne , France, the oldest of five children. His father was a wealthy textile manufacturer, whose Cartier-Bresson thread was a staple of French sewing kits.
Henri Cartier-Bresson
Henri Cartier - Bresson
Martin Munkácsi (born Mermelstein Márton ; Kolozsvár , Hungary , May 18, 1896; died July 13, 1963, New York , NY) was a Hungarian photographer who worked in Germany (1928–34) and the United States, where he was based in New York City. [ edit ] Life and works Munkácsi was a newspaper writer and photographer in Hungary, specializing in sports. At the time, sports action photography could only be done in bright light outdoors. Munkácsi's innovation was to make sports photographs as meticulously composed action photographs, which required both artistic and technical skill.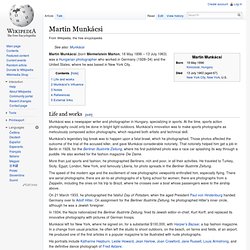 Martin Munkácsi
Jim Brandenburg Gallery
Alfred Stieglitz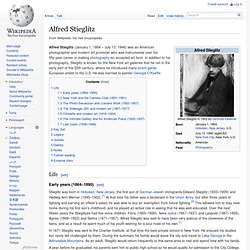 Alfred Stieglitz (January 1, 1864 – July 13, 1946) was an American photographer and modern art promoter who was instrumental over his fifty-year career in making photography an accepted art form. In addition to his photography, Stieglitz is known for the New York art galleries that he ran in the early part of the 20th century, where he introduced many avant-garde European artists to the U.S. He was married to painter Georgia O'Keeffe . [ edit ] Life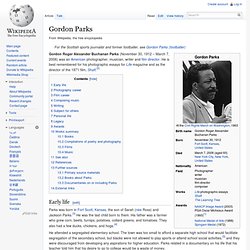 Gordon Parks
For the Scottish sports journalist and former footballer, see Gordon Parks (footballer) Gordon Roger Alexander Buchanan Parks (November 30, 1912 – March 7, 2006) was an American photographer, musician, writer and film director . He is best remembered for his photographic essays for Life magazine and as the director of the 1971 film, Shaft . [ 2 ] [ edit ] Photography career At the age of twenty-five, Parks was struck by photographs of migrant workers in a magazine and bought his first camera, a Voigtländer Brillant , for $12.50 at a Seattle, Washington pawnshop. [ 3 ] The photography clerks who developed Parks' first roll of film, applauded his work and prompted him to seek a fashion assignment at a women's clothing store in St.
Gordon Parks - Legends Online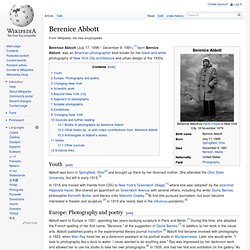 Berenice Abbott (July 17, 1898 – December 9, 1991), born Bernice Abbott , was an American photographer best known for her black-and-white photography of New York City architecture and urban design of the 1930s. [ edit ] Youth Abbott was born in Springfield, Ohio [ 1 ] and brought up there by her divorced mother. She attended the Ohio State University , but left in early 1918. [ 2 ] In 1918 she moved with friends from OSU to New York 's Greenwich Village , where she was 'adopted' by the anarchist Hippolyte Havel .
Berenice Abbott
Bernice Abbot Collection
Dorothea Lange (May 26, 1895 – October 11, 1965) was an influential American documentary photographer and photojournalist , best known for her Depression -era work for the Farm Security Administration (FSA). Lange's photographs humanized the consequences of the Great Depression and influenced the development of documentary photography . [ edit ] Early life Born of second generation German immigrants on May 26, 1895, at 1041 Bloomfield Street, Hoboken, New Jersey, [ 1 ] [ 2 ] Dorothea Lange was named Dorothea Margaretta Nutzhorn at birth. She dropped her middle name and assumed her mother's maiden name after her father abandoned the family when she was 12 years old, one of two traumatic incidents in her early life. The other was her contraction of polio at age seven which left her with a weakened right leg and a permanent limp. [ 1 ] [ 2 ] "It formed me, guided me, instructed me, helped me and humiliated me," Lange once said of her altered gait.
Dorothea Lange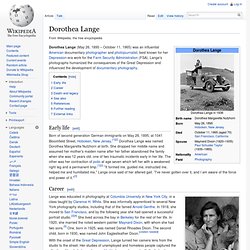 Description In the three decades since its acquisition by the Oakland Museum of California, the Dorothea Lange archive has received heavy use by scholars, researchers, and the general public. The astonishing range of subjects and themes addressed by Lange over a fifty-year career, coupled with her unusual sensitivity and vision, have made her photographs useful for publications and research in a wide variety of disciplines and fields. Background The insightful and compassionate photographs of Dorothea Lange (1895 - 1965) have exerted a profound influence on the development of modern documentary photography. Lange's concern for people, her appreciation of the ordinary, and the striking empathy she showed for her subjects make her unique among photographers of her day.
Dorothea Lange Collection 1919-1965
The Collection | Dorothea Lange. (American, 1895-1965)
Ansel Easton Adams (February 20, 1902 – April 22, 1984) was an American photographer and environmentalist best known for his black-and-white landscape photographs of the American West , especially of Yosemite National Park . [ 1 ] With Fred Archer , Adams developed the Zone System as a way to determine proper exposure and adjust the contrast of the final print. The resulting clarity and depth characterized his photographs and the work of those to whom he taught the system. Adams primarily used large-format cameras despite their size, weight, setup time, and film cost, because their high resolution helped ensure sharpness in his images.
Ansel Adams
Picturing the Century : Portfolio: Ansel Adams