Student Websites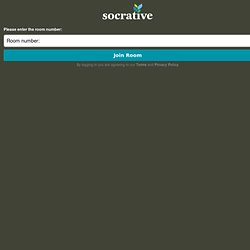 Age Restrictions. You may only use the Site and Services if you are: (i) at least 13 years of age; or (ii) if you are under 13 years of age, with the consent of your teacher or a legal parent or guardian. By using the Site and Services, you hereby represent and warrant that you are at least 13 years of age or, if you are under 13 years of age, that you have the consent of your teacher, legal parent, or guardian to use the Site and Services.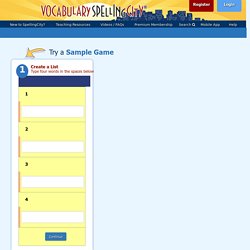 Expressing our Gratitude VocabularySpellingCity appreciates teachers and parents who recommend our site and mobile apps to colleagues and friends, share us on Facebook, follow us on Twitter, and other social media. Thanks to all teachers who have shared their best classroom practices using VocabularySpellingCity via online reviews, speaking at conferences and posting on social media about us. We especially appreciate the thoughtful input you give us to help guide our product development to better serve you and your students. The VocabularySpellingCity team has also developed Science4Us.com which provides an elementary core science curriculum specifically for kindergarten, first grade, and second grade.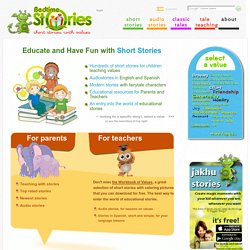 Hundreds of short stories for children teaching values Audiostories in English and Spanish Modern stories with fairytale characters Educational resources for Parents and Teachers An entry into the world of educational stories --- looking for a specific story?, select a value >>> or use the searchbox at top right Stories have an incredible educational value due to the their influence on memory, but also because... children love them!Our aim is to support and help you with this task.
Starfall.com opened in September of 2002 as a free public service to teach children to read with phonics. Our systematic phonics approach, in conjunction with phonemic awareness practice, is perfect for preschool, kindergarten, first grade, second grade, special education, homeschool, and English language development (ELD, ELL, ESL). Starfall is an educational alternative to other entertainment choices for children.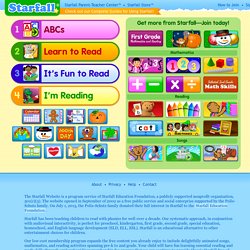 Scholastic Playground
Sadlier-Oxford
Readquarium